Car-bomb Blast

Top LeT man key plotter
Srinagar, September 13
Top Lashkar-e-Toiba militant Abdul Rahman has emerged as a key conspirator in the yesterday's car-bomb blast that killed three cops and a woman.


A senior police officer lays wreath on the coffins of policemen killed in a car-bomb blast at a police control room in Srinagar on Sunday. — PTI

Militant kills surrendered ultra's father
Udhampur, September 13
A Special Police Officer-turned-militant of Harkat-ul-Jehadi Islami (HUJI) today shot dead father of a surrendered ultra in the Chattroo area of Kishtwar district.
Vohra addresses troops in Ladakh
Srinagar, September 13
Governor NN Vohra, on the third day of his five-day visit to the Ladakh region, visited Tangtse and Pangong Lake in Nyoma sub-division of Leh district today and addressed the troops.
Five militants nabbed with grenades
Srinagar, September 13
Pulwama police claimed today that they had foiled grenade attacks in Srinagar and in Pulwama by arresting five militants, Bilal Ahmad Ganie, alias Pina, Bashir Ahmad Ganie, Mohammad Yaqoob Ganie, Muzaffer Ahmad Khan and Ajaz Ahmad Parra, alias Gandil, who is also an ex-militant of LeT outfit. The police said they have recovered four grenades from them.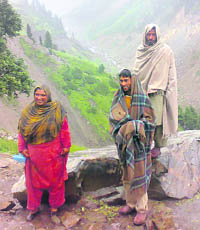 Militant infiltration down in Pir Panjal
Pir Ki Marg (Poonch), September 13
After about two decades since the militancy began in the state, the Pir Panjal Range, which was once a transit point for militants before entering Kashmir valley and saw heavy presence of terrorists, is now witnessing their negligible presence. Local sources said areas like Kanzal Pathri, Khud Pathri,Aagas, Ghainta Pahad, Pahol Kain, Mug Naad, Palang Pathri, Dabchi and Qatarkhad in the Pir Panjal mountain area which had massive forest cover used to witness a virtual flood of militants during the summer months.


A nomad family living in the Pir Panjal mountain range. Photo by writer

Kissan Panchayat held
RS Pura, September 13
Seeking reforms in the agriculture sector, the agriculturists of RSW Pura today held a Kissan Panchayat and urged the state government that the job of "research and development" in the agrarian sector be given to Sher-e-Kashmir University for Agricultural Sciences and Technology.
MP: Roads will be designed on modern lines
Rajouri, September 13
MP Madan Lal Sharma has said that the government is re-designing all the major roads in Jammu and Kashmir on the modern lines to ensure smooth traffic flow and better fuel efficiency.
Probe into denial of ration to BPL families
Udhampur, September 13
Minister for Consumer Affairs and Public Distribution and Transport Qamar Ali Akhoon today ordered probe into denial of ration to 200 Below Poverty Line (BPL) families living in the remotest areas of Kishtwar district.
Principal, teachers not being paid for months
Sunder Bani, September 13
Sukhdev Singh's first stint as the principal of Government Higher Secondary School, Bajabain, has been far from happy so far. Promoted and posted to the school at Bajabain, 10 km from the Pakistan border, Sukhdev Singh is yet to receive his first salary as principal.
Businessmen asked to pay taxes honestly
Jammu, September 13
Jammu and Kashmir Income Tax Commissioner BL Razdan has appealed to the business community of the state to pay their income tax returns with honesty.
Docs demand pay hike, threaten stir
Jammu, September 13
The Doctors Joint Action Committee (DJAC), Jammu, has threatened to go on an indefinite strike from next month onwards if the state government does not hike their pay band.
Spot people with H1N1, cops told
Lakhanpur, September 13
| | |
| --- | --- |
| A constable of the state police has no idea about diseases or how to check them. This is simply not in his police training. He is more at ease in running after criminals or eyeing suspects. But due to spreading of swine flu, his daily brief is to spot persons entering the state at Lakahnpur border with cold and fever like symptoms. | Swine flu check-up facility put in place at the Lakhanpur barrier. Photo: Anand Sharma |
Protect forest cover: Expert
Srinagar, September 13
Expressing concern over receding glaciers, shrinking wetlands, encroachment in lakes and shortage of drinking water, noted environmentalist and former mass media officer, Directorate of Ecology and Environment, Gurcharan Singh said there was a need to preserve forest cover so that basic requirements of people were met.
Operation Green begins
Udhampur, September 13
Under the Operation Green, the Udhampur police initiated a plantation drive in the District Police Lines (DPL), Udhampur, today.
Mazdoor union seeks redressal of grievances
Jammu, September 13
The Jammu wing of the Mazdoor Dastkar Union has asked the state government to redress their grievances by providing succour to the ailing sector.
Three of family killed in road mishap
Jammu, September 13
Tragedy struck the family of a BSF officer, when his wife and two children died while he suffered critical injuries, after his scooter he was riding on was hit by a truck on the Jammu-Pathankote highway near Sujjanpur last night.
Man killed
Jammu, September 13
Due to an old rivalry between two families, two brother allegedly killed a middle-aged man in Sahel Jagir village in Sidhra last evening.