Lensman thrashed by lawyers
Meanwhile, strike against court fee hike enters 5th day
Ludhiana, September 14
A lensman was allegedly thrashed by lawyers and some miscreants, while the former was covering the fifth day of strike by lawyers outside mini secretariat here today.
| | |
| --- | --- |
| A cameraman being thrashed outside the mini secretariat in Ludhiana on Monday. | Lawyers agitate against the hike in court fee. Tribune photographs |
Rift in BJP to fore again
Ludhiana, September 14
Factionalism in the BJP came to the fore again during the core committee meeting convened by Mayor Hakam Singh Giaspura here this evening.


Vet varsity students boycott classes
Protest against mgmt for providing insufficient training facilities
Ludhiana, September 14
Undergraduate students at Guru Angad Dev Veterinary and Animal Sciences University (GADVASU) today protested against the management for providing insufficient training facilities to handle artificial insemination and pregnancy diagnosis.
Teachers' body submits memo to Speaker
Ludhiana, September 14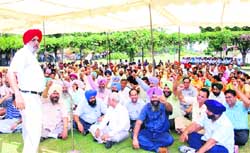 The Punjab Agricultural University Teachers' Association (PAUTA) today met Punjab Vidhan Sabha Speaker Nirmal Singh Kahlon and registered their protest against the non-implementation of the UGC scales for the PAU teachers.

PAU employees protest against the non-implementation of the Fifth Pay Commission by the state government in Ludhiana on Monday. A Tribune photograph
Pay hike brings troubles too
Ludhiana, September 14
Hike in the salary of private school teachers in accordance with the Sixth Pay Commission has increased problems for them, as the school authorities are applying all possible means to sack them from the job and hire temporary teachers on lesser pay scale.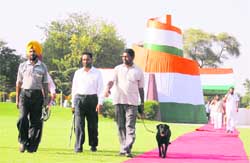 Dog squad conducts a security check in Whistling Woods before the arrival of Rahul Gandhi in Ludhiana on Monday. Tribune photo: Himanshu Mahajan
Seminar on Dot Net, Java
Ludhiana, September 14
The Indian Society for Technical Education (ISTE) Students' Chapter along with the training and placement cell of Guru Nanak Institute of Management and Technology (GNIMT) organised a seminar on "Dot Net and Java" technologies for its MCA students.
Defying poverty to achieve goals
Ludhiana, September 14
Certain boys from poor families have got so strong penchant for studies that they leave no stone unturned to achieve their goals. Notwithstanding poverty, these young lads in the age group of 11 to 18 years have taken up assorted jobs to earn their livelihood. All students from economically weaker sections are from Government Multipurpose School.
Coaching through satellite in city
Ludhiana, September 14
Affordable and high quality coaching through satellite link was yesterday showcased during a seminar organised by Educomp Solutions Ltd.
Experts dwell on importance of micronutrients
Ludhiana, September 14
Micronutrients, including zinc, iron, manganese, molybdenum, copper, boron and chlorine, are essential elements, which are required in small quantities by fruit crops compared to essential micronutrients.
Pashu Palan Mela on Sept 17, 18
Ludhiana, September 14
Guru Angad Dev Veterinary and Animal Sciences University (GADVASU), Ludhiana, will organise Pashu Palan Mela on September 17 and September 18. Cabinet Minister for Finance and Planning Manpreet Singh Badal, Punjab, will inaugurate the mela, while GADVASU Vice-Chancellor, Dr VK Taneja, will preside over the function.
Health department unaware of human sacrifices
Ludhiana, September 14
The blatant violation of the Drugs and Magical Remedies (Objectionable Advertisement) Act by the witchdoctors and quacks in absence of any check by the department of health and family welfare and the district administration is creating problems for illiterates approaching them for remedies for various health disorders.
Minimal invasive surgery on hip of 82-year-old
Ludhiana, September 14
An 82-year-old woman with cardiac diseases, who also suffered from fractured neck femur after a fall at home and refused surgery at other hospitals, was treated at Hero DMC Heart Institute (HDHI). She got admitted in HDHI and was stabilised by cheif cardiologist Dr GS Wander and his team. The patient was taken as a high-risk case after explainig the risk of anaesthesia and surgery to the familiy.
Encroachments: Bigots at it again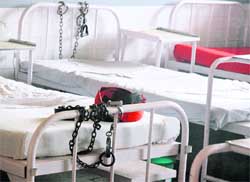 Encroachments on the public land are not easy to remove. And so is the case of keeping a check on illegal posters, display boards and hoardings on private and public property. Especially those pertaining to religious functions, be it yajnas, jagrans or discourses. The local civic body was once again made to face the ire of self-styled religious leaders after the police and municipal corporation staff on the directions of the higher authorities removed billboards of a few religious congregations. — Tribune photo: Himanshu Mahajan
MCPI calls for rollback of power tariff hike
Ludhiana, September 14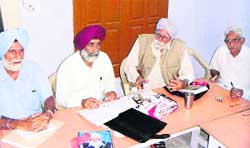 Coming down heavily on the state government for the hefty hike in the power tariff and the court fee, the Marxist Communist Party of India (MCPI) today called for immediate rollback of the anti-people decisions.




Comrade Jagit Singh Layalpuri addresses the party meeting at Doraha on Monday. Photo: Lovleen Bains
Poor working conditions bane of industrial workers
Ludhiana, September 14
The industrial city of Ludhiana is called the Manchester of India. All units be it rubber, plastic, hosiery, woolen, electroplating, dyeing, cycle parts, steel, etc., depend on industrial workers, who toil hard to make these units run smoothly and effectively.
Circus fails to delight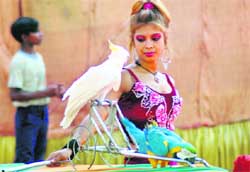 Ludhiana, September 14
The laugh riot of clowns, acts of acrobats and rare feat by animals do not evoke claps from an audience during circus any more. Once considered as an exciting medium of entertainment for children, it is a lacklustre affair now. The ongoing circus in the city has few takers. Empty seats do not encourage performers and an appeal to clap after every act only leaves them discouraged.
A circus show in progress in Ludhiana on Monday. Tribune photo: Himanshu Mahajan
Rally seeks justice for visually challenged
Ludhiana, September 14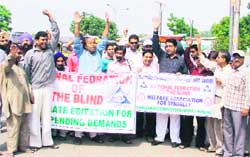 The National Federation of the Blind took out a protest march from Ludhiana to Chandigarh to press for their long-pending demands. The march started from Shimla Puri from the office of the district social security office and proceeded towards Samrala Chowk. General secretary of the federation Rajesh Mohan said the federation members will hand over their charter of demands to the Punjab Chief Minister.
Visually challenged take out a protest march against the state government in Ludhiana. A Tribune photograph
Ex-Deputy Speaker honoured
Amloh, September 14
The Young Farmers Club, Nanoki, organised a function to honour former Deputy Speaker Bir Devinder Singh at the club's school in Bhadson village near here yesterday.
Onam celebrated
Ludhiana, September 14
Onam, the biggest festival of Kerela, was celebrated by the South Indian Emigrant Association (SEWA). The traditional onasadya (Onam feast) was served on leaves and more than 700 Keralites and local people enjoyed the delicious food.axVarious cultural programmes were also performed by the children and members and were appreciated by all. Traditional folk dance Thirivathira, performed by the women wing of SEWA, was appreciated by all. The main attraction of the function was kathakali. — TNS
Artificial limbs distributed
Ludhiana, September 14
The Bharat Vikas Parishad held a free artificial limb distribution camp yesterday at the Viklang Sahayata Kender, Rishi Nagar.
7 birs destroyed in fire
Mandi Gobindgarh, September 14
Seven bir's (manuscripts) lying in the historical Gurdwara Chhevin Patshahi perished in a fire that broke out recently. A few devotees saw smoke emanating from the first floor of gurdwara and rushed to douse the flames. The devotees, however, managed to stop the fire from spreading into other portion of the gurdwara. Still, seven bir's were burnt in the fire. Members of the gurdwara committee said the fire broke out due to electrical short circuit.
Migrant's body found
Amloh, September 14
The body of Surjit Paswan (30), a migrant farm worker, was found hanging from the ceiling of a room this morning. Paswan was working as a farm labourer with Sodagar Singh of Noor Pura village for the past two months.


5 booked for assaulting boy
Mullanpur Dakha, September 14
The Humbran police yesterday booked five persons, including a Class XI student, for assaulting his classmate's father. Humbran SHO said both Kuldeep Singh, a Class XI student, Government Senior Secondary School, Humbran, and Jagdeep Singh, complainant Satwant Singh's son, a resident of Bhatha Dua village, Class XII student, studied in the same school.
Attempt to kill boy, 4 booked
Raikot, September 14
The illicit relationship between an aunt and a few persons led to the murderous attack on the nephew at Bassian village near here.
Foreman found dead
Ludhiana, September 14
A foreman working at a dyeing unit died under mysterious circumstances in Shakti Nagar late last night.


Football academy at govt school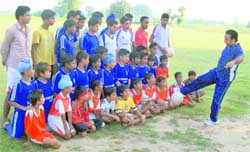 Mandi Ahmedgarh, September 14
Government High School, Andloo, Latala, has become one of the few schools in the area to have a Football Academy set up with assistance from the civic body. The school authorities feel that the facility has been provided with the view to making students' health conscious and refrain from social evils, including drug addiction.
A coach gives tips to the budding football players at Andloo. Photo by the writer