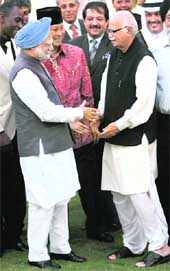 Prime Minister Manmohan Singh greets Leader of the Opposition LK Advani at an Iftaar hosted by him in New Delhi on Friday. Tribune photo: Mukesh Aggarwal
Batla Encounter
HC clean chit to police challenged
New Delhi, September 18
A petition was filed today in the Supreme Court against the Delhi High Court's order giving a clean chit to the city police in the Batla House encounter in which two suspected terrorists and a police officer were killed.
IAF gets new airstrip near China border
New Delhi, September 18
Even as a war of nerves continues between India and China, the Indian armed forces today activated yet another airstrip close to the Line of Actual Control (LAC) in the south-eastern part of Ladakh, adjoining China.
HC issues warrants against 'busy' officer
Chandigarh, September 18
Portraying himself to be too busy to answer the high court's summons in a case pertaining to the release of pensionary benefits of a 75-year-old war veteran has landed a senior bureaucrat in a spot.
Allahabad HC orders seizure of absconding husband's assets
Lucknow, September 18
In a ruling that is likely to have far-reaching consequences, the Allahabad High Court ordered attachment of the property of a husband who, despite having given an undertaking to the contrary, had unilaterally divorced his wife in a Sharia court and then fled the country.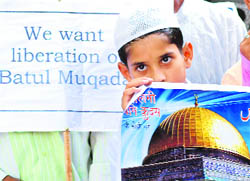 A boy holds a poster during a protest seeking liberation of the Palestinian territory occupied by Israel, in New Delhi on Friday. Tribune photo: Manas Ranjan Bhui
CoBRA officer killed in encounter
New Delhi, September 18
Security forces today lost an assistant commandant as they launched a major offensive against left-wing extremists. More than a dozen Naxals are believed to have been gunned down in different operations. This is a part of the major combing operations that the para-military forces have started.
Ex-MP's supporters stone Cong office
Mumbai, September 18
Supporters of Ramdas Athavale who heads his own faction of the Republican Party of India today attacked the offices of the Mumbai Regional Congress Committee to protest his eviction from a government bungalow.
Mamata hints at CBI probe into job scam
New Delhi, September 18
The differences between Railway Minister Mamata Banerjee and her predecessor Lalu Prasad Yadav are out in the open with the former suggesting that her ministry may refer allegations of irregularities in recruitment during the tenure of the latter to the CBI.
Alienation of upper castes erodes JD(U) base
Patna, September 18
By winning nine out of the 18 assembly seats in the Bihar byelections the opposition alliance of the Rashtriya Janata Dal and the Lok Janshakti Party has proved all polls predictions wrong.
Fresh trouble for Maya
Lucknow, September 18


In a fresh trouble for the Uttar Pradesh Chief Minister Mayawati, the Lucknow Bench of the Allahabad High Court today sent notices to her and her senior most Cabinet minister Naseemuddin Siddiqui in the controversial Taj Corridor case. However, the BSP national general secretary Satish Mishra declared that today's order would be challenged in the Supreme Court.
Statue Row
Cong condemns Maya's comments
Tribune News Service
New Delhi, September 18 The Congress has came down heavily on Uttar Pradesh Chief Minister Mayawati's comments that any attempts to demolish Dalit icons' statues will lead to a law and order situation.
Navy inducts stealth destroyer INS Kochi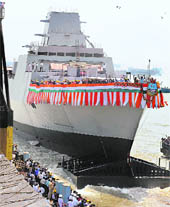 Mumbai, September 18
Admiral Nirmal Kumar Verma, who took over as Naval Chief recently, has called upon the country's defense establishment to beef up its indigenous warship building capacity. Launching INS Kochi, the Project 15-A Kolkata Class stealth destroyer built by the Mazgaon Docks Ltd here today, Admiral Verma stressed the need for putting in place a warship building programme. "The Navy is poised for growth and the time has come to conceptualise an indigenous warship building system. A serious relook at the inefficiencies of the Navy is also required," Verma said.

This handout picture released on Friday by the Press Information Bureau shows the launch of the INS Kochi at the Mazgon Dockyard in Mumbai. — AFP
Car bomb in Manipur Raj Bhawan triggers panic
Guwahati, September 18
A major disaster was averted today when the police timely detected a car laden with explosives and detonators inside the Governor's House at Imphal in Manipur.
No permanent commission for women in Army
New Delhi, September 18
The Centre today informed the Delhi High Court that there will be no permanent commission to serving woman army officers. Appearing for the Centre, Solicitor General Gopal Subramanium told a Division Bench of Justice Sanjay Kishan Kaul and Justice Ajit Bharihoke that the government rejected the serving officers' plea for permanent commission as they had already completed 14 years in service.
48 kg of heroin seized in Jaisalmer
Jaipur, September 18
Close on the heels of recovery of a huge cache of arms in border district of Barmer, the special operations group (SOG) of the Rajasthan police has now recovered 48 kg of heroin from the Mohangarh police station area in Jaisalmer.