Three women murdered
New Delhi, September 22
Three women were murdered in different parts of the national Capital. In two cases, the husbands of the victims are said to be behind the murders while, an elderly woman, daughter of a freedom fighter, was killed by unknown assailants.  A 24-year-old woman, Sunita, was hacked with an axe by her husband in a fit of rage in Nangloi. Her husband Sandeep Kumar surrendered before the police.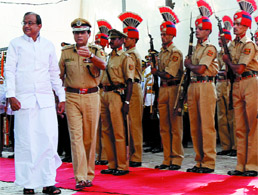 PC wants results from cops
New Delhi, September 22
Home minister P. Chidambaram demanded a 'result-oriented action' from the Delhi police and said that the increase in the number of police stations should reflect upon their functioning. He said this while addressing a function to mark the inauguration of 22 new police stations in the national Capital this morning.

Home minister P. Chidambaram with Delhi police commissioner Y.S. Dadwal at the inauguration of Sunlight Colony police station on Tuesday. Tribune photo

GB Nagar cops asked to submit property details
Noida, September 22
Policemen in Gautam Budh Nagar area are a worried lot these days. This is because they have been asked by the authorities to furnish details of their property and other wealth. Not just the policemen currently posted in the district, but the policemen who have served in the Noida circle in the past also have been asked to furnish details of their wealth.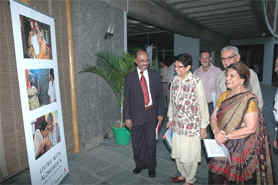 Kiran exhorts youth to help Alzheimer's patients
New Delhi, September 22
Expressing concern over the growing number of Alzheimer's patients, social activist and former IPS officer Kiran Bedi urged the youth to help them deal with the problem.

Former IPS officer Kiran Bedi with other officials at the inauguration of a function organised by the ARDSI in New Delhi on Tuesday. Tribune photo

Ministers may supervise Games projects
New Delhi, September 22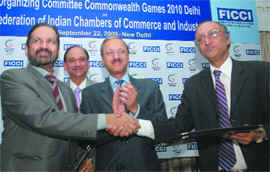 The Delhi government has decided to allot Commonwealth Games (CWG) projects to ministers for monitoring the construction works so that they could be completed in time, say sources. The decision was taken in the cabinet meeting held today, but was not made public.

Indian Olympic Association president and chairman of Commonwealth Games Organising Committee Suresh Kalmadi (L) with FICCI secretary general Amit Mishra (R) after signing an MoU in New Delhi on Tuesday. Tribune photo: Manas Ranjan Bhui

Games panel signs pact to facilitate trade
New Delhi, September 22
The Organising Committee Commonwealth Games (OC) seems to be keen on developing business through Games. After the Confederation of Indian Industries (CII), it is now the Federation of Indian Chambers of Commerce and Industry (FICCI) with whom the OC has signed an MoU to facilitate trade among the commonwealth fraternity.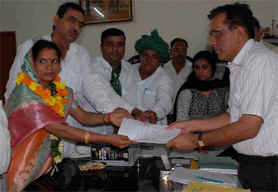 INLD candidate Anita Goswami files nomination for Haryana Assembly polls at Ballabhgarh in Faridabad on Tuesday. Tribune photo

Killer of Dadri traders' chief has confessed: Police
Noida, September 22
Dreaded criminal Nandu, alias Ravana, who had allegedly murdered Dadri Traders' Association chief Vinode Goel, has confessed to his crime. He has also provided information about his strategies and modus operendi to the police that took him on remand a few days ago.
20-yr-old girl falls prey to H1N1
New Delhi, September 22
Even as the city government has given the go-ahead for retail sale of Tamiflu drug, Delhi recorded its ninth fatality when a 20-year-old girl succumbed to influenza A (H1N1) virus today at the Safdarjung Hospital.
Swine flu: Gzb DPS shuts primary section
Ghaziabad, September 22
Delhi Public School at Indirapuram in Ghaziabad today closed down its primary section for a week as a precautionary measure after two of its students were reported to be affected by the swine-flu virus, officials said.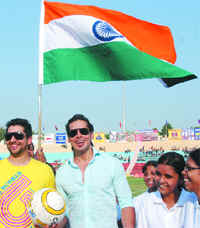 Actors Dino Morea and Aftab Shivdasani during the 'India First Campaign' at Ambedkar Stadium in New Delhi on Tuesday. Tribune photo: Manas Ranjan Bhui

Traffic jam at India Gate
New Delhi, September 22
Traffic jams were witnessed this evening in and around India Gate and adjoining areas.
Disabled woman raped in Gzb
Ghaziabad, September 22
A disabled woman was allegedly raped by a civic official here today. In her complaint to the police, the woman, who resides in the Pratap Vihar area under Vijay Nagar police station alleged that civic official Sunil Kumar Surya had been harassing her since long.
8 file papers
Gurgaon, September 22
Eight candidates, including former deputy speaker of Haryana Assembly, Gopichand Gehlot, filed their nominations for different Assembly seats in the district today. While Gehlot is the INLD nominee from the newly formed Badshahpur constituency, Gangaram and Sahida, also INLD candidates, filed their nominations for Patoudi and Sohna seats, respectively.
Cocaine seized
New Delhi, September 22
The crime branch has claimed to have busted a gang of foreigners allegedly involved in supplying cocaine.