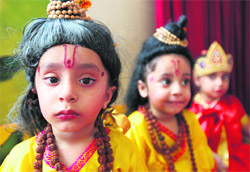 BROTHERS IN ARMS: Children dressed as Luv and Kush at Love Dale School in Ludhiana on Friday. Tribune photo Himanshu Mahajan
Standoff between railways, excise officials continues
Ludhiana, September 25
A meeting convened by Deputy Commissioner Vikas Garg between officials of the Northern Railway and the excise and taxation department here last evening to resolve the deadlock over the inspection of goods on the railway premises to check tax evasion, remained inconclusive. However, officials attending the meeting agreed to cooperate in the future.
Faulty signal at Sahnewal Chowk
Admn sleeps as commuters risk their lives
Sahnewal, September 25
The deadly combination of the red and green lights at the Sahnewal Chowk, a quadrivial point on the National Highway No. 1, still remains unchecked as the authorities, it seems, are least concerned about any mishap which can take place due to the 'confused judgement' on the part of the drivers and daily commuters.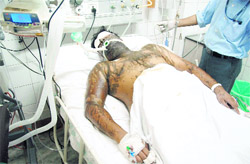 Acid Attack: Cops clueless
Ludhiana, September 25
The Haibowal police has made no headway in the case where acid was thrown on a couple at the Churpur road. The family of Sumit Tandon, the victim, is hoping that he would be able to identify the attackers.



Victim Sumit recuperates at the DMCH in Ludhiana. A Tribune photograph
Skewed gender ratio eclipses 'Sanjhi' art
Mandi Ahmedgarh, September 25
Skewed sex ratio in each family has resulted in slow death of art depicting the lifestyle of old Indian families through "Sanjhi".
PNDT Act IMA to support health dept
Ludhiana, September 25
The executive committee of the local Indian Medical Association (IMA) met Dr Maninderjit Singh, civil surgeon, wherein Dr Arun Mitra, senior vice-president, IMA, Punjab, assured the health authorities of full cooperation on issues like the implantation of the PNDT Act, swine flu, malaria and dengue.
MC officials transferred
Ludhiana, September 25
Municipal Commissioner AK Sinha today made some inter-departmental transfers. While superintendent Ashok Verma, who was holding charge of tehbazari D zone, has been transferred to the health branch, house tax superintendent Amardeep Singh has been shifted from zone- B to tehbazari D.
Traders urge govt to set up agro-fuel banks
Ludhiana, September 25
Breaking their silence after suffering 50 per cent loss in industrial production, industrialists have asked the state government to use agro-waste for power generation.
World Heart Day
Doctors stress on healthy lifestyle
Ludhiana, September 25
In order to create awareness on heart diseases, their prevention, management and treatment, the Hero DMC Heart Institute (HDHI) organised a series of awareness lectures on the eve of "World Heart Day" here today.
Industry to face 8-hr power cuts
Ludhiana, September 25
There seems to be no respite from prolonged power cuts, at least for the time being, as not only the duration of cuts during the day has gone up to more than eight hours but power cuts during the night are also on the cards for the next few days if huge gap of 550 lakh units between the demand and availability of power in the state is any indication.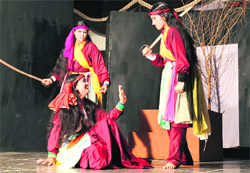 College students perform during the Panjab University Zonal Youth and Heritage Festival in Ludhiana. A Tribune photograph
Arya College principal accused of embezzlement
Ludhiana, September 25
Serious allegations of misutilisation of funds have been levelled against SM Sharma, principal, Arya College, by a member of the college managing committee and has sought probe into the allegations.
Horticulturist visits Hong Kong
Ludhiana, September 25
Head, department of horticulture, PAU, Dr Pushpinder Singh Aulakh was one of the members of a delegation of officers, who visited Hong Kong to attend Asia Fruit Logistica.
Plantation drive at Doraha College
Doraha, September 25
Volunteers of NSS and youth wing at Guru Nanak National College, Doraha, launched a tree plantation drive on the college campus today by planting as many as 900 saplings of a total of 50 varieties.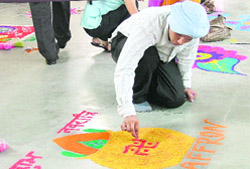 From Schools & Colleges
CIPHET signs MoU with Reuters
Ludhiana, September 25
RT Patil, director, Central Institute of Post Harvest Engineering and Technology (CIPHET), signed an MoU with Syed Hasan Jafar, senior content operations manager, Reuters Market Light, Reuters India Pvt. Ltd.

A boy takes part in rangoli contest being held at Punjab College of Technical Education in Ludhiana. A Tribune photograph
Talent hunt at RIMT
Mandi Gobindgarh, September 25
A talent hunt programme was jointly organised on RIMT Management and Computer Studies campus by RIMT -Institute of Management and Computer Technology, RIMT-School of Management Studies and Regional Institute of Management and Technology.


Body of retired JE found in canal
Khanna, September 25
Body of a retired junior engineer of the Punjab State Electricity Board (PSEB) was found in a canal near Mahpur village this afternoon.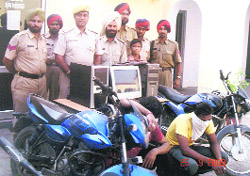 Gang of thieves busted
Ludhiana, September 25
With the arrest of two youths, the division No 8 police claims to have busted a gang of thieves and seized three stolen motorcycle and computer appliances from them here today. The accused were nabbed from the Shamshan Ghat area in Deep Nagar, while they were planning to steal a motorcycle parked outside a school.

Vehicle thieves in police custody. A Tribune photograph
Two booked for cheating
Jagraon, September 25
Two persons have been booked for cheating a woman on the pretext of sending her daughter to Canada. Sukhdev Kaur of Rurka village near Mullanpur in a complaint lodged with the police had stated that Tejwinder Singh Sekhon, the accused, and his wife, Kulwinder Kaur, lured her to send her daughter, Ramandeep Kaur, to Canada for a nanny course.
4 held for flesh trade racket
Ludhiana, September 25
The Haibowal police yesterday arrested four persons, including a woman, for allegedly running a flesh trade racket in the Civil City near Haibowal.
Two car thieves arrested
Jagraon, September 25
The Sudhar police had arrested two members of the interstate gang of car thieves and seized a stolen car from their possession.
Duplicate auto parts seized
Ludhiana, September 25
The Model Town police and a team of the enforcers of intellectual property rights (EIPR) seized a huge chunk of duplicate auto parts from a store located near the Attam Park Chowk in Model Town here today. However, store owner Ravinder Singh managed to escape.


Armyman, mother get life term
Ludhiana, September 25
An Armyman, Surinder Singh (28) of Raikot, and his mother Pararmjit Kaur (55) of Tajpur village, Raikot, have been sentenced to rigorous life imprisonment on the charges of killing Mandeep Kaur by setting her blaze, as she failed to fulfil their demand of more dowry.