As faith ebbs, sacred groves fear the axe
Jotirmay Thapliyal
Tribune News Service
Dehradun, September 28
Uttarakhand's sacred groves, which have survived for ages due to their religious sanctity, today face a grave challenge. Erosion of traditional beliefs and fast socio-economic development have put these groves in great danger.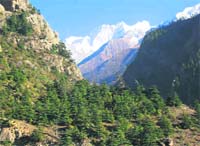 Niti valley in Chamoli district. A Tribune photograph
A study by Dehradun-based Wildlife Institute of India's scientists - Seema Dhaila Adhikari and BS Adhikari - have exposed the vulnerability of sacred groves in the country and Uttarakhand in particular.
The study reveals the threats in the form of fading traditional beliefs linked to these holy group of trees, development putting the protection of these groves on the back burner and ever-changing transformation in the traditional form of worship.
Though detailed surveys of sacred groves have not been done in Uttarakhand so far, some of the well-known sacred groves which support either an ecosystem or single species conservation are dedicated to a number of deities like Bhadraj (the deity who is known to teach cattle rearing), Mahasu, Shakumbari and Tarkeshwar Mahadev.
Other places such as Patal Bhubaneshawar (rocks and caves with calcareous tufa), Garanath, Binsar, Mayadevi Ashram and Narayan Ashram harbour various floral and faunal elements some of which could be rare, threatened and endemic species.
While sacred groves of smaller size dot Uttarakhand hills, there have been little efforts towards their proper documentation.
These groves have basically survived due to people's efforts and have been devoid of any legal protection barring those where the Archaeological Survey of India or State Forest Department are involved.
Suggesting a way forward, the Adhikari duo calls for coming up with an inventory for the sacred groves of Uttarakhand.
They suggested providing incentives to local communities towards maintenance and restoration of these groves while also appealing for the revitalisation of traditional values among people.
Reflecting the sorry state of affairs of the sacred groves in the state, villagers residing in Aali Bedni Bagjee Bugyals in Chamoli district had to struggle to make the forest authorities hear their complaint about a fungus attack in these meadows. Drynaria Mallis, popularly known as 'parjeeve bail', had taken over the sacred forests leading to the drying up of 'banj', 'burash', 'thunar' and 'kharsu' trees.
Interestingly, while the premier forest research institute of the country, the Forest Research Institute, after conducting a series of inspections had expressed concern over the spread of fern and had recommended its eradication, the Uttarakhand Forest Department's research wing had rather termed Drynaria Mallis as beneficial to the trees and ruled out that its roots in some way hurt the trees.
Describing it as "Bird Nest Fern", the State Forest Research Division claimed that uprooting of this fern could be detrimental to the trees in the sacred groves. In a letter, the division pointed that the fern was instrumental in protecting the trees against any possible drying up.
"These ferns absorb rain water for long which in turn is transferred to the tree thus preventing the latter from drying up during summers," Manoj Chandra, senior forest official had said in the letter.
He held that the roots of the fern never penetrated the host tree and, thus in no way, could harm the latter. So, any uprooting of this fern would amount to a forest crime.
The matter still continues to linger on with relief yet to come for these meadows. This reveals that protection of sacred groves has never been on the agenda of the forest authorities and despite last ditch efforts by the locals to protect them, the scenario looks dismal and discouraging.
What are sacred groves?
The first temples of worship, these sacred groves, came up due to primitive human societies that believed in nature worship.
If defined, the sacred groves are forest patches of varying size - from a few trees to several hectares.
They are dedicated to some deity or ancestral spirit and are sanctified to the extent that they become divine and cutting them becomes a taboo. Thus, they get protected in process and serve the bigger cause of tree conservation.
The way forward
Prepare inventory of the sacred groves in state
Providing incentives to locals to maintain groves
Revitalise traditional values among people