Platform for young talents
Dehradun, September 30
A creative bend of mind of Doonites was reflected today when a large number of people gathered at the venue for the first round of auditions held here under the aegis of Sinmit Communications, an event management company, and Swastik Pictures, a production house of Mumbai.
ICFAI college welcome freshers
Dehradun, September 30
ICFAI National College ICFAI National College under the aegis of ICFAI University, Dehradun, organised a welcome party for the fresh batch of BBA students today. The venue was Sam Manakshaw Multi Utility Hall of the college.

ICFAI National College organises refreshers party in Dehradun on Wednesday. A Tribune photograph

Doon footballers dream big
Dehradun, September 30
Young footballers from public schools in Dehradun are dreaming big. They wish to play for their district and state teams before making it to the national and international teams. They feel that in the near future India is expected to do well in all sports. But before that they want more exposure at the grass-root level.
Assn to help small, medium units
Dehradun, September 30
The Industries Association of Uttarakhand (IAU) today became the first body in the country to launch a model alternative to provide solutions of problems being faced by micro, small and medium enterprises (MSMEs) with the support of the Small Industries Development Bank of India (SIDBI) and the Department for International Development (DIFD), the UK.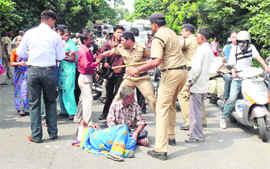 Assault on Youth
Residents protesting against police inaction lathicharged
Dehradun, September 30
The police had to resort to lathi charge to disperse people from the Dandipur area on the outskirts of Dehradun city who blocked the traffic on the bye-pass road in protest against the inaction of the police in an assault case.

An injured woman lies on the road following a police lathi charge on protesters in Dehradun on Wednesday. Tribune photo: Anil P Rawat

Auto-rickshaw operators stage dharna
Dehradun, September 30
Traffic police's campaign against erring Vikram and auto-rickshaw operators in the Shimla byepass area led to the staging of a dharna on the main road today.
Ex-serviceman drowned in canal
Dehradun, September 30
Ex-serviceman Dharm Prakash (41), a resident of Balmiki Basti, died after falling into an irrigation canal this morning.
Students poll in Ramnagar college on Oct 7
Dehradun, September 30
Students Union elections at Government Post Graduate College, Ramnagar, will held on October 7, while filing of nomination will take place in October 3.
Leopard carries off 3-year-old girl
Dehradun, September 30
A man-eating leopard took away a three-year-old girl from Simalkhet village in Almora district. According to police officials, the girl was attacked by the leopard in her house. The leopard grabbed the girl and vanished in the nearby forest.
U'khand, Jharkhand girls in q-finals
Dehradun, September 30
The Uttarakhand and Jharkhand teams have cruised into the quarterfinals of 6th Girls Sub Junior National Football Championship here today.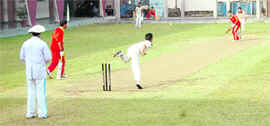 Heritage School triumph in cricket
Dehradun, September 30
The Heritage School won by 13 runs against Doon International School at the 2nd Rohitash Singh Memorial Inter-School Boys Super 8's Cricket Tournament 2009, here today.

A tie in progress during the Second Rohthas Singh Memorial Inter-school Boys Super 8 Cricket in Dehradun on Wednesday. A Tribune photo