The Centre has been approached for emergency assistance. A sum of Rs 100 crore has been released for the relief and rescue operations in affected areas

— BS Yeddyurappa, Karnataka CM
We're extremely vigilant and closely monitoring the situation. Relief and relief measures have been launched on war-footing. Food is being air-dropped.

— K Rosaiah, Andhra Pradesh CM
78-kg gold to add glitter to Tirumala
Hyderabad, October 3
Offerings are pouring in from devotees across the world for an ambitious project to goldplate the entire sanctum sanctorum of the famous Tirumala shrine in Andhra Pradesh, on the lines of Golden Temple of Amritsar.
Maya gives Bapu, Shastri statues a miss
Lucknow, October 3
Breaking a tradition being followed since independence, Chief Minister Mayawati this year did not care to garland the statue of the Father of the Nation Mahatma Gandhi at the famous GPO park on Gandhi Jayanti.
Dimple Yadav set for political debut
Lucknow, October 3
Dimple Yadav, daughter-in-law of Samajwadi Party president Mulayam Singh Yadav and wife of SP MP and state president Akhilesh Yadav will formally make her political debut at Firozabad tomorrow.
Ill-fated Reliance SEZ may sink Cong, NCP in Raigad
Mumbai, October 3
Industrialist Mukesh Ambani may not be a candidate in the forthcoming Maharashtra assembly elections, but his larger-than-life presence looms over more than half a dozen seats in and around Raigad district.
Jet plane makes emergency landing in Budapest
Mumbai, October 3
A Mumbai-bound Jet airways flight from Brussels carrying 224 passengers and 13 crew today landed at Budapest airport under emergency conditions after a technical snag in the aircraft. The flight 9W 227 landed at Budapest, capital of Hungary, safely and all passengers, including four infants, and the crew were safe, a Jet Airways spokesperson said.
Shiney out of jail
Mumbai, October 3
Bollywood actor Shiney Ahuja, who was on Thursday granted bail by the Bombay High Court in a rape case, was released today from the Arthur Road Jail where he spent 110 days.
BJP slams Cong over austerity drive
Jaipur, October 3
The state BJP today accused the ruling Congress of forgetting austerity and spending huge amount of money on golden jubilee celebrations of panchayati raj in Nagaur yesterday.
Army to procure 300 light tanks
Chandigarh, October 3
Even as the Indian Army continues to rectify problems that cropped up with its recently inducted T-90 main battle tanks, it has drawn up plans to procure about 300 light tanks.
Sanawarians celebrate 162nd Founder's Day
Sanawar, October 3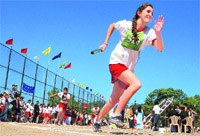 "Sanawar is not a school but an institution" - the words of former-Prime Minister IK Gujral seemed thoroughly justified as thousands of Sanawarians flocked to their alma-mater Lawrence School to celebrate its 162nd Founder's Day.



A participant in action during athletic meet at Lawrence School, Sanawar. Tribune photo: S Chandan
TN fishermen begin indefinite strike
Chennai, October 3
A day after the volunteers of Puthiya Thamizhagam, a Dalit outfit, based in South Tamil Nadu, attacked the Sri Lankan High Commission at New Delhi, various fishermen associations belonging to the coastal district of Nagapattinam today began an indefinite strike urging the Centre to protect them from attacks by the Sri Lankan navy and the Chinese soldiers accompanying them.
Suspicious ship near N-plant
Chennai, October 3
A suspicious Jeddah-bound ship yesterday raised suspicions after it was spotted near the Koodankulam atomic plant in Tamil Nadu. According to the police, the ship from Singapore with 10 Indonesian crew members entered Indian waters and was anchored off the coast due to bad weather."The mini cargo ship from Singapore with 10 Indonesian crew members entered Indian waters following bad weather and is likely to be empty. We have alerted the Coast Guard ," police said.— ANI
Cong-TMC alliance suffers setback
Kolkata, October 3
Railway Minister and Trinamool supremo Mamata Banerjee today said they would have to think twice if the TMC would jointly fight with the Congress in the forthcoming Assembly byelections in 10 seats against the CPI(M) after the Congress's betrayal role at the Mayor's election in Siliguri.
CBI seeks withdrawal of case against 'Q'
New Delhi, October 3
CBI today sought legal burial of the two-decade-old Bofors pay-off case by moving for withdrawal of the case against Italian businessman Ottavio Quattrocchi before a Delhi court that refused to pass any immediate order.
'Foreign varsities need to stick to quota laws'
New Delhi, September 27
Adherence to Indian laws, including on reservation, would be one of the pre-requisite conditions for foreign universities interested in setting-up their campuses, says HRD Minister Kapil Sibal, who favoured 100 per cent ownership for these international institutes.
Scuffle on AI flight
New Delhi, October 3
A pilot and the member of a cabin crew were injured when scuffled with each other mid-air on Air India's flight from Sharjah to Lucknow this morning.