Washington, October 11
The bestowing of the Nobel Peace Prize for 2009 on US President Barack Obama is been seen as the western world's repudiation of the presidency of his predecessor George W Bush. As word of the stunning peace prize selection sank in, Americans struggled to digest the news that some first mistook for a prank and others saw as an overreach, given that the president had been in office only 12 days when he was nominated for the award.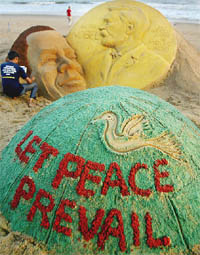 Sand artist Sudersan Patnaik gives final touches to a sculpture of US President Barack Obama at Golden Sea Beach in Puri, Orissa. — AFP
The award was "a sigh of collective relief that George Bush is no longer here," The Washington Times quoted Aaron David Miller, an adviser on Middle East issues to six presidents, as saying.
More than any concrete contribution Obama has made to world peace, the prize embodies "the international community's love affair" with a young, charismatic president who "listens, not lectures," he added.
Obama tried to appear grounded in reality, explaining that after being awakened with news of the honor, he was immediately confronted with more immediate family concerns, including the news of his dog's birthday and a daughter's observation that they were on the cusp of a three-day weekend.
"It's good to have kids to keep things in perspective," he chuckled.
Despite some early speculation that perhaps the president would politely decline the honor, Obama sent an e-mail to supporters explaining his decision to accept it.
"To be honest, I do not feel that I deserve to be in the company of so many...transformative figures. But I also know that throughout history the Nobel Peace Prize has not just been used to honour specific achievement; it's also been used as a means to give momentum to a set of causes," he said, describing the award as "a call for all nations and all peoples to confront common challenges.
After his embarrassment at the hands of the International Olympic Committee, which rejected Obama's personal pitch for Chicago as an Olympic host, the Nobel award represents a clear return to the prevailing narrative of Obama's campaign for the White House and the central theme of his early presidency - that he is attempting to "reset" relations with the rest of the world after an icy eight years under Bush.
French President Nicolas Sarkozy said the Obama choice "sets the seal on America's return to the heart of all the world's peoples".
UN Secretary-General Ban Ki-moon agreed that the Nobel announcement represented a symbolic welcoming of the new American approach. "President Obama embodies the new spirit of dialogue and engagement on the world's biggest problems - climate change, nuclear disarmament and a wide range of peace and security challenges," he said.
The president's political supporters welcomed such sentiments as a sign that Obama was delivering on his promise to rekindle relations between the United States and its top allies.
Mark Salter, an author and longtime adviser to Arizona Republican Senator John McCain, called the decision "morally reprehensible." "No president's statecraft, whether you agree with its direction or not, can be expected to bear fruit in less than nine months. I think the morally correct and politically shrewd response from the White House would have been to refuse the honour," Salter said.
The basis for the Nobel committee's decision was likely Obama's speech in Prague earlier this year, where he began to lay out his vision for eliminating nuclear arms. He is also working to beat an end-of-year deadline to write a new arms control agreement with Russia.
"This award reflects a new international consensus that whatever stability nuclear arsenals may have provided during the Cold War is now outweighed by the growing risks of proliferation and nuclear terrorism and that the only way in the long term to eliminate the nuclear threat is to eliminate all nuclear weapons," said former ambassador Richard Burt, the chief US negotiator for the Strategic Arms Reduction Treaty.
Denver talk-radio host Mike Rosen said: "It's obviously a slap in the face to George W Bush." John Bolton, who was the president's envoy at the UN, said he found the president appropriately "gracious and modest" in the way he accepted the Nobel Prize. "They want to reward a particular kind of American - an American who thinks like Europeans do," he said. — ANI