| | | |
| --- | --- | --- |
| | NEIGHBOURHOOD | |
Youth fest at Punjabi University from today
Tribune News Service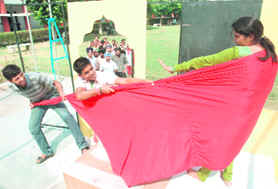 Participants during the rehearsal of youth festival in Patiala on Monday. A Tribune photograph

Patiala, October 19
General Shivdev Singh Diwan Gurbachan Singh Khalsa College (GSSDGSK College), Patiala, will host a three-day zonal youth festival of Punjabi University, Patiala zone, from October 20 to 22 to commemorate its golden jubilee year.
During the first session, on October 20, Hira Singh Gabria, Punjab Minister of Jail, Tourism and Cultural Affairs, will be the chief guest.
Prof Kirpal Singh Badungar, former president, SGPC, will preside over and Deepinder Singh, Deputy Commissioner, Patiala, will be the special guest.
Gidda, classical dance, creative dance, group shabad, classical vocal, semi-classical vocal, quiz (written), clay modelling, rangoli and on-the-spot painting contest would be organised.
In the second session, Dr Gurmohan Singh Walia, director education, SGPC, will be the chief guest, Shri SK Ahluwalia, director, Mahatma Gandhi Institute of Public Administration, will preside over. Ajitpal Singh Kohli, Mayor of Municipal Corporation, Patiala, will be the special guest.
Geet/gazhal, group song, classical instrumental (percussion), classical instrumental (non-percussion) and quiz will be organised.
Freshers take centrestage
Tribune News Service
Rajpura, October 19
Freshers' party was organised at the Gian Sagar Medical College and Hospital wherein freshers rubbed shoulders with their seniors and held the audience spellbound with their performance, last night.
The audience cheered youngsters during their performance. Bhangra was the star attraction of the event.
Heena and Rohit Batish of MBBS were selected Miss Fresher and Mr Fresher of Gian Sagar Medical College while Vidhi and Ruchir were crowned Miss Fresher and Mr Fresher of Dental College.
They bagged the honours after a three-round performance, which was judged by four senior faculty members.
Waheguru Pal Singh and Gurkirat of MBBS were adjudged Mr Handome and Miss Elegant, respectively.
Yamir and Jaspreet of BDS bagged the honours of Mr Handsome and Miss Elegant of Gian Sagar Dental College.
College toppers from Baba Farid University of Health Sciences were also felicitated on the occasion. Students excelling in the field of sports were awarded medals.
Barinder Bhangoo, chairperson of the Gian Sagar Educational and Charitable Trust, announced that the trust would continue to work for promotion of academic excellence among students.
Teachers' protest at admn complex
Tribune News Service
Fatehgarh Sahib, October 19
Members of the Schedule Cast and Schedule Tribe Teachers Union of Fatehgarh Sahib today raised slogans against the non-fulfillment of their long pending demands at administrative complex here.
Union members discussed their grievances with DEO (elementary) Surinder Singh and started raising slogans against the department.
Working of other departments got affected as employees and senior officials came out of their office after hearing the slogans.
Agitators left the complex after the intervention of Fatehgarh Sahib SHO Devinder Attri, who instructed them not to raise slogans at administrative complex.
Agitating members of the SC/BC teachers union alleged that the recent promotions given to different teachers were not acceptable to them, which were done on the basis of favouritism.
The DEO said all promotions had been done under the directions of the DPI. He said district administrative complex was not a place for agitations and department action was being recommended against those who instigated the agitation, he added.
The Deputy Commissioner listened to the grievances of teachers and assured help, he said.
Paddy heaps pile up in market
Tribune News Service
Fatehgarh Sahib, October 19
Failure of some government agencies to lift procured paddy from Sirhind grain market has created a glut like situation in the market.
With lifting season gaining momentum, many farmers have started bringing their produce to the market.
Hitherto, nearly 29,400 metric tonne paddy has been procured at Sirhind grain market. The government agencies have procured 28,885 metric tonne paddy and private traders have procured 13,255 metric tonne (44 per cent) paddy.
Commission agents, who do not have their own sellers are in a fix over the paddy storage. Agents said paddy heaps were piling up in their shops.
"Until the procured paddy is lifted for storage, a new crop
cannot be accommodated," they added.
Farmers are at the receiving end in the entire process.
President of the District Commission Agents Association Sadhuram Bhattmajra said claims regarding shortage of space were untrue.
Meanwhile, the deputy commissioner of Fategharh Sahib stated that out of 1.45 lakh metric tonne paddy, around 1.43 lakh metric tonne had been procured and an amount of Rs 84 crore had been given to farmers. The process of lifting and purchasing was going on smoothly, he added.
Thieves decamp with cash, jewellery
Tribune News Service
Dera Bassi, October 19
Thieves decamped with jewellery and cash after breaking into a house at Preet Colony, Dera Bassi last night.
According to police, Rajiv Puri, a resident of Preet Colony, alleged that last night he had gone to meet his relative at Chandigarh along with his family. When he came back, he found the lock of the main door was broken. Thieves ransacked his house and things were scattered all around, he added.
The owner told the police that 13 tola gold jewellery, Rs 22,000 and other valuables were missing.
A complaint has been lodged and investigations are on.
Gurmat sangeet students get scholarship
Tribune News Service
Patiala, October 19
A function was organised at Punjabi University, Patiala, wherein scholarships were given to meritorious students of department of gurmat sangeet.
Scholarships are being funded by Sikh Lehar Inc., USA, which provides scholarships for the promotion of qualitative recital of gurbani and its interpretation by the gurmat sangeet department's students.
Dr Gurnam Singh, professor and head, gurmat sangeet, said Sikh Lehar Inc. was making all efforts for the preparation and placement of Sikh preachers, ragis and gurmat sangeet teachers.
As many as 10 students of BA (hons) in gurmat sangeet and five students of MA gurmat sangeet were given scholarships of Rs 9,000 per semester. As many as 84 students have been given scholarships by the Sikh Lehar Inc amounting to Rs 7,56,000.