Bank staffer stabbed
Ludhiana, October 19
Panic spread in Phoolanwal after the body of a bank employee, who was stabbed to death, was spotted lying in a park here this morning.
68 shops to give way to flyover
All 68 affected shopkeepers will be provided with sites under the flyover
Ludhiana, October 19
Officials of the engineering branch of the Municipal Corporation (MC) today identified the sites from where 68 shops would be demolished to clear the way for construction of the proposed railway overbridge (ROB) in place of now dismantled Lakkar Pul.

PAU VC toured US
More focus on student exchange plan
Ludhiana, October 19
The three-week tour to the USA by Dr Manjit Singh Kang, Vice-Chancellor, Punjab Agricultural University, was claimed to be productive with more focus on collaborative programme with various US universities.
Luring tipplers with misleading ads
Ludhiana, October 19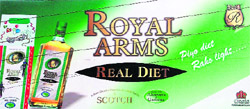 Liquor manufacturers and vendors are displaying misleading advertisements of different brands in contravention of excise rules to woo consumers.
Those putting up such misleading advertisements will have to feel the heat as they can be booked under the Punjab Excise Act 1914. I was not aware of the matter but now I will look into it — Excise officer
It contains toxins and damages the liver. It can never be termed as real diet and these advertisements are misleading the masses — DMCH doctor


| | | |
| --- | --- | --- |
| | | |
Toll road on NH-1 taxing for commuters
Doraha, October 19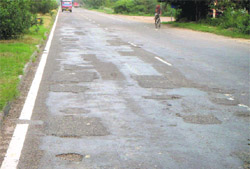 "The stretch is mostly roadworthy beyond Panipat and Jalandhar, but in no case within the toll precincts (between Jalandhar and Panipat) as major portion of this stretch contains deep potholes, is rough and even temporarily patched up" is a common observation made by the commuters who take to the National Highway No. 1 by chance or choice.

Temporary patch work being carried out on the NH-1. Photo by writer
Waterlogged streets a hell for residents
Ludhiana, October 19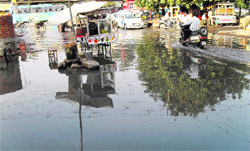 Sounds incredible but it is true that thousands of residents and shopkeepers in Bhagwan Nagar and Parbhat Nagar localities near Dholewal Chowk, alongside GT Road (National Highway 1) in the mega city have to traverse flooded roads and streets for weeks together at a stretch and couple of months put altogether during the year even if the weather remains dry all along.
Road flooded due to the overflowing sewage near the Dholewal Chowk in Ludhiana on Monday. Tribune photo: Himanshu Mahajan
Muslims want encroachment removed
Samrala, October 19
A large number of Muslims residing at Jaspalon village have demanded the nearly 18 kanals encroached upon by a few villagers since long be immediately be vacated.
Priyanka, Kashish win science quiz
Jagraon, October 19
The tehsil-level science exhibition was organised at Sanmati Vimal Jain Senior Secondary School here recently.
200 examined at health camp
Ludhiana, October 19
At least 200 patients were examined at a free medical camp organised at Gurdwara Guru Singh Sabha, Sarabha Nagar, here yesterday.
Thousands perform Govardhan Puja
Ludhiana, October 19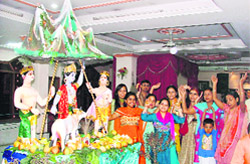 Thousands of residents performed Govardhan Puja and took part in Annakoot celebrations at Sri Jagannath Temple here today. A replica of Govardhan hill was created and was circumambulated by devotees, thus remembering the Govardhan pastime of Lord Krishna.


Devotees perform Govardhan Puja at Sri Jagannath Mandir in Ludhiana on Monday. Photo: Inderjeet Verma
Harinder, Annie Mr and Mrs Fresher
Ludhiana, October 19
Harinder Singh and Annie were declared Mr Fresher and Miss Fresher during annual function of the Bhutta Group of Educational Institutes that concluded at Bhutta College of Engineering and Technology at Bhutta village near here.
Pay panel: Ex-servicemen seek removal of anomalies
Ludhiana, October 19
The Punjab and Chandigarh units of the Indian Ex-services League has called upon the Centre to take immediate steps for the removal of anomalies in the recommendations of 6th pay commission and scrupulous implementation of one rank-one pension scheme, which has already been accepted in principle.
Pensioners give ultimatum to PSEB
Ludhiana, October 19
Irked over the apathetic attitude of the Punjab State Electricity Board (PSEB) authorities towards their genuine demands, the PSEB pensioners have served an ultimatum to stage a state-level dharna in Patiala on November 11 if their demands were not accepted within 15 days.
Secretariat still eludes Khamano residents
Khamano, October 19
In spite of having been given the status of a sub-division in 1992, Khamano still lacks its own civil secretariat where all government offices can be consolidated.
Diwali lights up lives of 4 youths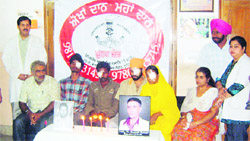 Ludhiana, October 19
As a perfect Diwali gift, families of two persons, Deepak Chawla and Beant Singh, who had died recently donated their eyes to four blind youths. The recipients included Shah Jahan (16), Amarinder Singh (25), Mandeep Singh (22) and Harminder Singh (22). Corneal transplants were performed at an eye and laser centre.
Four persons who received eyes donated by families of two heart attack victims in Ludhiana. A Tribune photograph
Upswing in car sales this year
Ludhiana, October 19
Defying economic slowdown, the sales of cars saw a positive growth in the city during the festival season this year.
PAU initiative to disseminate farm literature
Ludhiana, October 19
The university has been bringing out a variety of farm publications for the benefit of thousands of farmers and farm-women. To further strengthen the dissemination of farm literature in different parts of the state, Punjab Agricultural University authorities are approaching administrations of different districts of Punjab to enhance the outreach of farm literature, particularly monthly magazines "Changi Kheti" and "Progressive Farming" and "Package of Practices" for different crops, by involving village panchayats.


Liquor seized
Ludhiana, October 19
The police nabbed a person for liquor peddling and seized 150 boxes of liquor here today. The accused has been identified as Gurjit Singh Rubby, a resident of Dhoka Mohalla.
Woman thrashed
Ludhiana, October 19
A mother of five children was assaulted for raising voice against miscreants.
Encroachment Ex-sarpanch, 4 others booked
Jagraon, October 19
The Sidhwan Bet police has booked a former Sarpanch and four of his associates for encroaching upon and ploughing the panchayat's land. Mohinder Singh, sarpanch of Gorsian Kadarbaksh village, near Bhundri, has in a complaint lodged with the Sidhwan Bet police alleged that the panchayat after passing a resolution has moved an application for constructing a diary complex on the Shamlat of the village. The panchayat had given a piece of land on February 13 and the revenue department had already demarked it for the proposed diary complex and fixed poles on the land.
8 held for gambling, granted bail
Jagraon, October 19
The Ludhiana (Rural) police has arrested eight persons for gambling. But, the accused were released on bail after registering cases under Sections 13(3), 67 of the Gambling Act.


HC orders on minimum salary
Pvt schools take to window dressing
Mandi Ahmedgarh, October 19
Authorities of private schools affiliated with the Punjab School Education Board running in this part of Malwa are in a fix after being asked to submit affidavits regarding payment of salaries to their staff.


BSF, Jalandhar, Rest of Punjab bag tourney
Jagraon, October 19
The 19th Senior Basketball league matches, conducted in the memory of Arjuna Awardee and former captain of Indian basketball team Gurdial Singh Malli, were concluded yesterday.
Revised schedule leaves athletes high & dry
Mandi Ahmedgarh, October 19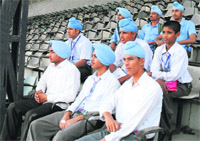 ulted in inconvenience and disappointment to hundreds of prospective participants of athletics meet and management committees of schools as they were turned away from the Guru Nanak Stadium, Ludhiana, today.


Students of Hargobind Public School, Thakkarwal, wait for their vehicle at Guru Nanak Stadium, Ludhiana.Tribune photo: Himanshu Mahajan
21 aspirants attend T-20 trials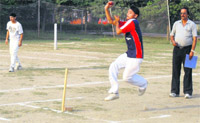 Ludhiana, October 19
The Ludhiana District Twenty20 Cricket Association conducted trials to select Ludhiana squad near the indoor multipurpose hall of Guru Nanak Stadium here today. Twenty-one aspirants attended the trials.

A bowler in action during trials conducted by the Ludhiana District Twenty20 Cricket Association on Monday. Tribune photo: Himanshu Mahajan
Roller skating meet
Ludhiana, October 19
The 12th edition of the Ludhiana District Roller Skating Championship will be held at the Leisure Valley Skating Rink, Sarabha Nagar, on October 31 and November 1, according to JS Dhaliwal, secretary, Ludhiana District Roller Skating Association.
5 LBA trainees for national camps
Ludhiana, October 19
Five trainees from the Ludhiana Basketball Academy have been selected to attend national coaching camps to be oraganised by the Basketball Federation of India to prepare the national teams for the FIBA Asian Basketball Championships under-16 boys and girls to be held at Malaysia and Balewadi in Pune district, respectively.