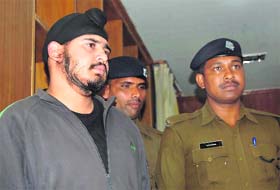 Simran, an accused in a firing incident on Om Kakkad, an ABVP leader, on Tuesday. The victim's friend Sachitr Gosain also suffered minor injuries in the incident. Tribune photo: Anil P Rawat
Malsi Deer Park animals to be shifted
Dehradun, October 29
Animals of the Malsi Deer Park on the Mussoorie Road will be shifted shortly even as Dehradun Forest Division gears up to convert the park into a mini-zoo. This comes on a directive of the Central Zoo Authority of India, which has asked Dehradun's forest officials to shift all animals from the park, barring deer.
Govt seeks Japan aid for Almora Medical College
Dehradun, October 29
The Uttarakhand government has formally applied for financial assistance from the Japanese government for setting up a medical college in Almora. The modalities regarding the financial assistance have to be worked out in the coming months.
LPG: Congress holds protest at supply office
Dehradun, October 29
Alleging a large-scale irregularities, Congress workers today staged a protest at the District Supply Office here. Led by Vinod Chauhan, members of the party gathered at the office alleging irregularities in the department's working.
Symbiosis' Seminar
Emphasis laid on environment protection
Dehradun, October 29
More than 800 students from elite schools and colleges of Dehradun participated in a day-long seminar, "Footprints", organised under the aegis of Symbiosis International University (SIU).


Skaters take out rally on National Disaster Day
Dehradun, October 29
On the occasion of National Disaster Day, Dehradun, skaters took out a Disaster Awareness Rally from Hotel Madhuban to the Gandhi Park. The Roller Skating Association organised the rally in collaboration with the Disaster Advisory Committee here today.

Roller-skaters take out a rally in Dehradun on Thursday. Tribune photo: Vinod Pundir
UKD condemns drive against encroachments
Dehradun, October 29
Agitated over the anti-encroachment drive conducted by the local Municipal Corporation at Bharmawaala on Shahstradhara Road, the Uttarakhand Kranti Dal (UKD) protested outside the MC office here today.
Sagon wood worth Rs 1.75 lakh seized
Dehradun, October 29
The Uttarakhand Forest Authorities have confiscated sagon wood estimated to be around Rs 1.75 lakh. Acting on a tip-off, a forest officials' team, led by Sub Divisional Officer RN Pande, along with protest officials Pitambar Dhyani, Nandram Singh, Shailendra Singh and Inder Lal, raided the house of Mahendra Singh of Kachnalgaxi village in the Kashipur region.
BHEL bags Rs 2 billion contract in Oman
Haridwar, October 29
The global economic meltdown seems to have no effect on public sector major and Navratna-accorded Bharat Heavy Electrical Limited (BHEL). Besides having 75 per cent share in electrical equipment in India, BHEL, of late, has been making inroads in the international market.
Home Guards seek regular jobs
Dehradun, October 29
The All-India Home Guards Welfare Association has sent a memorandum to the Chief Minister asking him to put them regular wages. According to the memorandum, almost 6,400 Home Guards jawans are working in the state, but unlike other employees of the state, they are not regular.


IMA's new warriors:

The Indian Military Academy (IMA) has gone a step further in strengthening its security by employing dog squads. Tracker, sniffer and guard dogs are now permanently placed at the academy. These highly trained dogs are utilised in exercises along with Gentlemen Cadets. These dogs can smell explosives and follow the scent of human beings to render invaluable services in the successful apprehension of infiltrators, saboteurs or enemy agents.