Police unearths fraud, smuggling network
Bureaucrats, bankers, cops hand-in-glove with gang
Panchkula, November 4
With the arrest of Lovelesh Aggarwal and Amardeep Singh Thakur, accused of selling vehicles already mortgaged with lending agencies, last month, the district police has unearthed a bank fraud and a liquor smuggling network involving police officials from Panchkula as well as Punjab.
Picnic Fiasco
School to get notice
Chandigarh, November 4
Reacting to the high drama at Shishu Niketan, Sector 43, on Saturday when at least 370 students, who had gone to a picnic to Morni, did not return hours after the scheduled arrival time, the UT education department is out to serve a show-cause notice on the school.


Speaking Out
Failure of authorities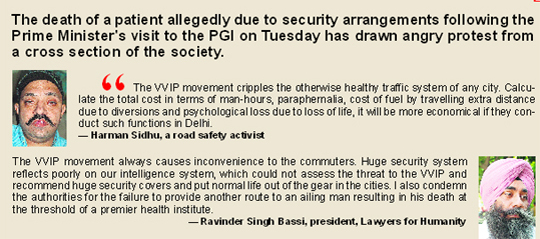 Overflowing sewage chokes Sector 52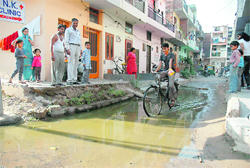 Chandigarh, November 4
Residents of Sector 52 are forced to live under unhealthy conditions for the past fortnight with sewerage water overflowing on the streets and water entering their houses due to blocked pipes.




Sewage spilling onto a street at Karsan Colony, Sector 52, in Chandigarh. A Tribune photograph
Spreading awareness on provident fund
Chandigarh, November 4
A five-day vigilance awareness week is being organised by the Regional Office of Employees' Provident Fund Organisation (EPFO) here from November 3 to create awareness among employees about the services rendered by the EPFO.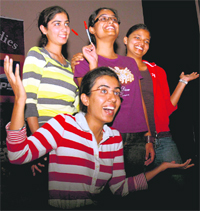 Mass communication students enact a play during their fest 'SOCH' at Punjab University in Chandigarh on Wednesday. Tribune photo: Manoj Mahajan
Emphasis on better communication
Chandigarh, November 4
SOCH '09, media festival of School of Communication Studies (SCS), was inaugurated at law auditorium here today.
Workshop on direct taxes code
Chandigarh, November 4
A workshop on "Implications of new direct taxes code" was organised by the PHD Chamber today to enable its members to understand the Direct Taxes Code (DTC).
Role of optics, photonics highlighted
Chandigarh, November 4
Underlining that optics and photonics were critical technologies, widespread in every aspect of day-to-day life, Dr Pawan Kapur, director, Central Scientific Instruments Organisation (CSIO), observed that today's optics were bringing home high-speed communication like video streaming and broadband applications.
Consultants from Chandigarh to set up museums in Gujarat
Chandigarh, November 4
The Gujarat government, in collaboration with Chandigarh Science and History Museum, plans to set up three mega and mini museums in their state, which would depict rocks and fossils of their area.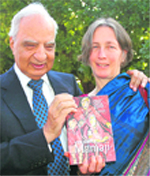 Man who sees many worlds
Chandigarh, November 4
'Daddyji'. The word became familiar to the literary world of the West because it was the title of Ved Mehta's 1972 book on his father. 'Mamaji' followed in 1979 because his sisters protested that he had been partial towards their father and had been unfair to the mother.



Ved Mehta and Linn Cary Mehta pose with 'Daddyji' at Panjab University, Chandigarh, on Wednesday. Tribune photo: Manoj Mahajan
Annual flight safety meeting held at Air Force station
Chandigarh, November 4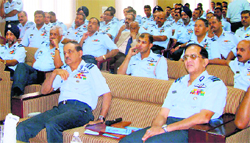 Around 180 officers, including base commanders, squadron commanders, engineering officers and flight safety officers, from various stations and units under the Western Air Command attended the annual flight safety council meeting held at the Chandigarh Air Force Station today.
IAF officers during the annual flight safety council meeting in Chandigarh on Wednesday. A Tribune photograph
'Allow free entry to emergency'
Chandigarh, November 4
Ajay Jagga, president of the local unit of the Janata Party, expressed shock on the death of Sumeet Parkash Verma, an Ambala resident, who allegedly died in a traffic jam at the PGI during Prime Minister's visit here yesterday.
Asthma cases up due to stubble burning
Lax implementation of laws restraining farmers from burning paddy stubble, the region is reeling under the perennial problem of smoke which poses a serious environmental and health hazard. There is 40-50 per cent increase in the number of children and adults at urban hospitals and rural dispensaries suffering from asthma, bronchitis, laryngitis followed by distress and difficulty in breathing.
Tips on how to protect skin in winter
When the weather starts getting colder, skin starts becoming dry and irritated. Cold weather can cause many skin problems as dry and cold air drains away essential moisture from the skin.
Cyprus eyes Punjabi tourists
Ludhiana, November 4
After the visit of President of India Pratibha Patil to the Republic of Cyprus, it has become the favourite destination for tourists. Cyprus is awaiting the maximum Indian tourists this year and tourists from Punjab are going to form the major chunk. Punjabis being experimental in testing new destinations, there are great expectations from them.
Relief to marla house owners near, yet so far
Chandigarh, November 4
Officials propose, babus dispose -- that seems to sum up the working of the Chandigarh administration. Certain "people-friendly" decisions of the administration to grant relief to thousands of marla house owners regarding need-based changes in their dwelling units in the city seem to have hit a stumbling block at the hands of the lower bureaucracy at the estate office (EO).
Power men seek revised pay scales
Chandigarh, November 4 The UT Power-men Union yesterday criticised the Chandigarh administration for and non-implementation of the Punjab State Electricity Board finance circular regarding the revision of pay scales. President of the union Ram Sarup said: "The Centre and the state governments had revised pay scales of its employees on October 15, which was also applicable to the UT employees." — TNS


Ugly Face of City Beautiful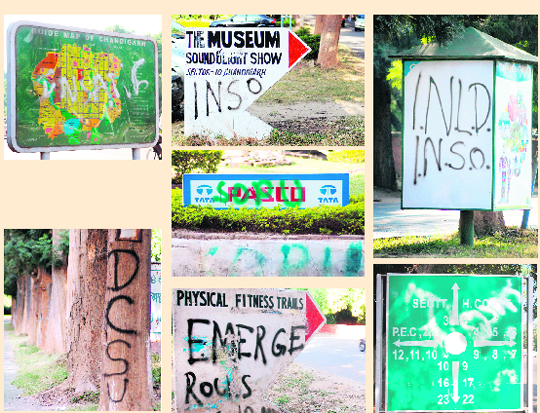 Defacement of signboards captured by The Tribune lensman S Chandan in Sectors 3, 9 and 10 in Chandigarh.
From Schools & Colleges
Seminar on moral education for students
Mohali, November 4
Swami Ram Tirtha Public High School, Phase IV, Mohali, has introduced moral education for students to help them distinguish between wrong and right.
Students' rally against corruption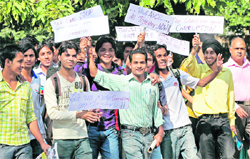 Chandigarh, November 4
Accompanied by their teachers, as many as 150 students of Government Middle School, Sector 46, took out a rally on the occasion of "Vigilance Awareness Week" here today.




Students take out a rally on vigilance awareness week in Sector 11, Chandigarh, on Wednesday. A Tribune photograph
Delegates from St. Kabir visit govt school
Chandigarh, November 4
In what may be termed as the practical beginning of the much-professed partnership initiative programme for quality education in government schools, a delegation from St. Kabir Public School, Sector 26, visited Government High School, Mauli Jagran, to analyse the academic and infrastructural position of the school.