Cellphone ban to change anti-terror steps
Srinagar, November 6
A significant but lesser known upshot of the prepaid mobile ban in the state would be a big change in the way security forces are taking on militants here.
Pre-paid connections scored on manageability
Jammu, November 6
The ban on pre-paid mobile connections in the state is likely to affect about more than 38 lakh subscribers in Jammu and Kashmir.
Troop withdrawal creates fear psychosis in Rajouri villages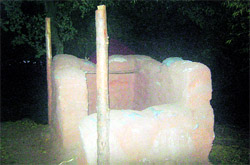 Kalakote, November 6
Call it withdrawal of troops or redeployment, reduction in the number of security personnel in this militancy-infested region has created fear psychosis among the residents here. The recent attack on Rukhsana's house has added to that element of fear.

This bunker in Bagla village of Kalakot tehsil was, till a few days ago, manned by security forces round-the-clock, but now all such bunkers in the village wear a deserted look. A Tribune photo
Shutdown in Kulgam
Srinagar, November 6
Kulgam district observed a shutdown today following a call by hardline Hurriyat leader Syed Ali Shah Geelani. There were reports of clashes among separatist supporters and the police.
PM's Talks Offer
Farooq asks Geelani to reciprocate
Srinagar, November 6
Union Minister for New and Renewable Energy Farooq Abdullah has asked hard line APHC leader Syed Ali Geelani to reciprocate to Prime Minister Manmohan Singh's appeal for talks to find a solution to the Kashmir issue.
Minister cautions officers
Jammu, November 6
Minister for Revenue, Relief and Rehabilitation Raman Bhalla yesterday warned revenue officers to either perform to the best of their abilities or face action.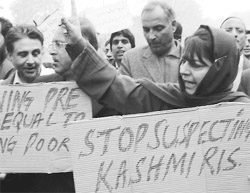 PDP protests against phone ban
Srinagar, November 6
Hundreds of PDP supporters were joined by local residents to protest against the ban on prepaid mobile connections as they raised slogans against the Centre's decision.




PDP chief Mehbooba Mufti and other party leaders protest against ban on pre-paid mobile phone connections in the state, at Srinagar on Friday. Tribune photo: Amin War
Harsh for removal of pay anomalies of lecturers
Jammu, November 6
Panthers Party MLA Harsh Dev Singh supported the demand of XII lecturers regarding removal of their pay anomalies and their placement in pay band-III instead of pay band-II in conformity with recommendations of the SL Bhat Committee.
Protest against teacher's "detention"
Jammu,November 6
Around 100 people today staged a protest demonstration outside the office of the IGP, Jammu zone, accusing the police of harassing a school teacher in the name of investigations into a murder case.
Student body serves ultimatum on varsity
Jammu, November 6
The Jammu Justice Students Federation (JJSF) today served a seven-day ultimatum on the University of Jammu to identify BEd colleges fleecing the students by charging exorbitant admission fee.
Govt 'befooling' farmers
Jammu, November 6
Expressing concern about the shortage of fertilisers in the Jammu region, president of the Kissan Morcha Choudhary Sukhnandan today charged the Agriculture Minister as well as officers of the Agriculture Department with befooling farmers of the area by giving conflicting statements.
'Water shortage forcing people to migrate'
Jammu, November 6
Due to the scarcity of drinking water,residents of some areas of Rajouri district are planning to migrate to other places.
Power Shutdown
To carry out urgent work and branch cutting on the 33 KV G-6 feeder emanating from 220/132/33 KV Grid station, Gladni, the power supply to Malik Market, Channi Himmat, MES Sunjwan, Fruit Complex, Channi Rama and its adjoining areas shall remain affected on November 7 from 7 am to 10 am.An official press note said,the shutdown shall be subject to fair weather conditions.