PUNJAB
HARYANA
JAMMU & KASHMIR
HIMACHAL
REGIONAL BRIEFS
NATION
OPINIONS
LETTERS
BUSINESS
SPORTS
WORLD
Sunday, November 8, 2009, Chandigarh, India
Updated at 3:00 am (IST)

Round 1: 9 make it to Team Hooda
Chandigarh, November 7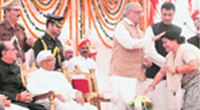 Six Cabinet ministers and three ministers of state -- that's the tally of team Bhupinder Singh Hooda after round one of his ministry expansion in Haryana.
Chief Minister Bhupinder Singh Hooda blesses Geeta Bhukkal, MLA from Jhajjar. Randeep Singh Surjewala, Haryana Governor Jagan Nath Pahadia and Ajay Singh Yadav look on during the oath-taking ceremony at Haryana Bhavan in Chandigarh on Saturday. Tribune photo: Manoj Mahajan

Highlights

Portfolios at a glance*

Haryana page: Sonia sets up panel to monitor new govt

Ajay Yadav gets Finance, Surjewala Public Health
CAST YOUR VOTE
Should capitation fee be abolished?

EDUCATION
JOBS & CAREERS
HEALTH & FITNESS
SCIENCE & TECHNOLOGY
REAL ESTATE
SPORTS
Peaceful bypolls see heavy turnout
Over 60 pc voting in Assembly segments; Firozabad witnesses 53 pc polling
New Delhi, November 7
Over 60 per cent of voters turned out today in the byelections to one Lok Sabha and 31 Assembly seats spread over seven states. The polling was by and large peaceful with the security forces and paramilitary personnel keeping a strict vigil in all the constituencies.
When Yeddyurappa cried
Bangalore, November 7
In a rare instance in Indian politics, Karnataka Chief Minister BS Yeddyurappa, facing revolt from a few ministers and legislators, today shed tears publicly at his plight, having struggled for decades to bring the Bharatiya Janata Party (BJP) to power.
Advt
NDA 60 Glorious Years
1857 The First Challenge
E - Revolution 2005:
A Two-day IT conclave
Assembly Elections - 2005
Turbans
Chandigarh is 50
125 Years of The Tribune
India: The Tasks Ahead
India at Sixty
A Tribune Supplement
EARLIER FEATURES
On Sundays


On Saturdays
Road contract to Chinese firm could be cancelled
Shimla, November 7
Himachal government could rescind the Rs 350-crore road construction contract awarded to a Chinese firm, Longjian Road and Bridge Company with the work practically coming to a halt with work visa for only 11 of the 200 Chinese workers being granted.
Gidderbaha grain market clocks hundred
Snuff snuffed out; paddy, cotton, barley come in
Gidderbaha (Muktsar), November 7
There was a time when parrots and peacocks took more space in the Gidderbaha grain market than farmers coming to sell their produce.
Tawang dons festive look to receive the Dalai Lama
Guwahati , November 7
The Tawang district administration and the local Buddhist community have worked in complete coordination to ensure perfect arrangements for the Tibetan spiritual leader in exile the Dalai Lama's visit tomorrow.
— A tribute by H K Dua
Prabhash Joshi — The man who felt the pulse of the people


With the death of Prabhash Joshi, journalism in India, particularly Hindi journalism, has lost a towering figure. Not only did he introduce a new idiom into Hindi journalism, he took it close to the people at the grassroots.
Obvious Pak link to Headley plot: PC
November 7, 2009

Cong, NCP clinch deal
November 6, 2009

No immediate relief from price rise: Pawar
November 5, 2009

Highest PU honour for Manmohan Singh
November 4, 2009
Finally, SC judges declare assets
November 3, 2009
Centre ready with anti-Naxal plan
November 2, 2009
IOC blaze leaves ghost towns
November 1, 2009
India wants peace in S-Asia: PM
October 31, 2009
Shun violence for peace talks, separatists told
October 30, 2009
Ready for talks if Pak curbs terror: PM
October 29, 2009