Operation Demolition to begin from elite area
Ludhiana, November 11
The MC would begin its first phase of demolition drive from Ferozepur Road tomorrow, covering Mall Road, Fountain Chowk, Cemetery Road and Rani Jhansi Road.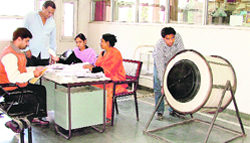 Draw for GLADA plots today
Ludhiana, November 11
The Greater Ludhiana Area Development Authority (GLADA) will hold a draw for the allotment of 158 residential plots of 200 sq yards and 250 sq yards in Sector 39-A on Chandigarh Road here tomorrow.
A GLADA employee checks the working of a fibre glass drum to be used for the draw in Ludhiana, on Wednesday. Photo: Inderjit Verma
Inaction emboldens pvt bus operators
Ludhiana, November 11
The failure of the District Transport Office (DTO) to check the plying of private buses has given a free hand to bus operators.
Lottery racket busted
Ludhiana, November 11
The CIA-I police has arrested four persons for running a fake lottery racket at New Kundanpuri and seized Rs 4.92 lakh from their possession.
Tables turn? Husbands thrown out of home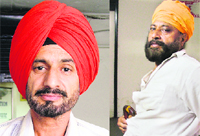 Ludhiana, November 11
Until now, only women would complain of domestic violence, but this time around two men, Sukwinder Singh (45) and Jeet Singh (60), have claimed that they have been subjected to violence and driven out of the house by their wives.




Sukwinder Singh Jeet Singh

Symposium on vet surgery
Ludhiana, November 11
"The art and science of surgery, imaging and anaesthesia have made a significant progress in recent years. Thoracic, abdominal, orthopaedic, ocular and laparoscopic surgeries in human beings as well as animals are now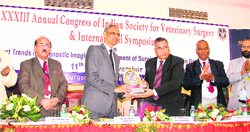 routine procedures," said Dr RCM Kaza, chairperson, Foresee India, department of surgery, Maulana Azad Medical College, New Delhi, during the 33rd Annual Congress and International Symposium of Indian Society of Veterinary Surgery (ISVS) on "Current trends in Diagnostic Imaging and Management of Surgical Affections in Dairy Animals" today.
Delegates during a vet surgery conference at GADVASU on Wednesday. A Tribune photograph
Doctor accused of pocketing bribe seeks fresh probe
Mandi Ahmedgarh, November 11
Accusing his senior of trying to implicate him in a false case, Dr Avinash Jindal, formerly posted at the Pakhowal civil hospital, has demanded a fresh inquiry into the allegations made by Rajinder Singh, a resident of Chaminda village. Jindal was issued a charge sheet for allegedly accepting a bribe of Rs 50,000.
Unregistered medical practitioners seek first aid training
Amloh, November 11
A meeting of unregistered medical practitioners presided over by president Sukhdev Singh Bhambri urged the SAD-BJP government to fulfill the promise they made in the election manifesto.
Swine Flu
Sample sent for testing
Ludhiana, November 11
The district health authorities today sent a swab sample of a resident of Sant Nagar to the PGI for testing.
At the Crossroads
When land of birth beckons


There has always been a tendency to go to a foreign land for better prospects. It can also be the case of greener pastures across the hedge. Leaving the land of one's birth is like passing through a dark tunnel with the eyes fixed on the glimmering light at the other end. The dream world provides new incentives, accompanied by new expectations. When things fall into a pattern and the aching limbs get the needed repose, the mind gets into the nostalgic mood. Then the situation is akin to-"And we are here as on a darkling plain swept with confused alarms of struggle and flight".
Kanwaljit
Forms for VAT return still not available to traders
Ludhiana, November 11
Panic has gripped the traders as the last date for the filing of annual Value Added Tax (VAT) return is November 20 and still Form C, H and F are not available to them.
Training on industrial safety norms
Ludhiana, November 11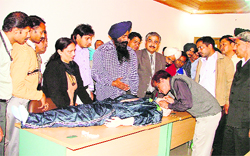 Under the guidance of director of factories Raminder Singh, Punjab, a two-day training programme was organised by the Punjab Industries Safety Council in collaboration with the Directorate of Factories, Punjab, here today in which more than 55 participants took training on the first day.


Industry representatives impart training on safety norms in Ludhiana on Wednesday. A Tribune photograph
Cooperative Society Polls
Clash averted as cops step in
Mandi Ahmedgarh, November 11
Timely action by the police averted a major clash between two factions of members of the Cooperative Agricultural Service Society of Dhulkot and Jurahan, who had confronted each other on the election issue of the executive body today.
Election of society members deferred
Mullanpur Dakha, September 11
Following a clash between the Akali and Congress factions, the election of members of the Bharowal Cooperative Society had to be deferred.
Encroachments galore at GT Road
Sirhind, November 11
Encroachments galore at the GT Road, which passes through Sirhind. Construction of this road was initiated by Emperor Sher Shah Suri from Kolkata to Peshawar in Pakistan. Though he failed to complete this road, it was completed by Mughal Emperor Humayun.
Displaced riot victims await compensation
Ludhiana, November 11
Twenty-five years after getting displaced following the 1984 anti-Sikh riots, most of the victims who were promised shelter, jobs and financial help, are still awaiting the promises to be fulfilled.
Delegation from Orissa visits PAU
Ludhiana, November 11
A 15-member team of technocrats from Orissa visited Punjab Agricultural University here today.
PAU Polls: Field staff hold meeting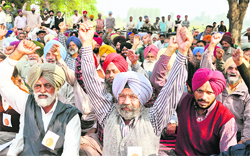 Ludhiana, November 11
An election meeting of PAU field staff was organised near tube well number 5, in which a large number of field staff, tractor drivers and other employees of PAU attended the meeting regarding their long pending demands.



Employees raise slogans in favour of the PAU Employees Forum in Ludhiana on Wednesday. A Tribune photograph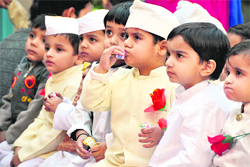 Children dressed as Jawaharlal Nehru at St Xavier Playway School in Ludhiana on Wednesday. Tribune photo: Himanshu Mahajan
From Schools and Colleges
World Education Day celebrated
Ludhiana, November 11
The World Education day was celebrated at Guru Nanak Model Senior Secondary School, Doraha.
Training programme
Ludhiana, November 11
Under the technical supervision of Directorate of Extension Education, PAU, women members of the PAU kisan club namely Gurdev Kaur Deol, Karmjit Kaur, Bhagwant Kaur, Harmit Kaur and Harinder Kaur Saini, along with their in charge Dr Rupinder Kaur Toor, will be attending a training programme on "low cost napkins from cotton refuge" from November 12 to 14 at Lady Irwin College, New Delhi.
Federation to join hands with teachers' union
Doraha, November 11
The Non-Government Colleges Management Federation of Punjab and Chandigarh has decided to join hands with the Punjab and Chandigarh College Teachers Union to protest against the government with regard to their long-pending demands.
Green Grove excels in powerpoint contest
Doraha, November 11
Green Grove Public Senior Secondary School, Khanna, claimed top position in the inter-school powerpoint competition organised at Tagore International Senior Secondary School, Sahnewal, recently.


Psychotropic medicines seized, grocer arrested
Jagraon, November 11
The Jagraon police yesterday held a grocery shop owner for selling habit-forming medicines from his shop illegally.
2 convicted of smuggling poppy husk
Ludhiana, November 11
The court of Additional Sessions Judge Kishore Kumar has convicted Maghar Singh, Khamano, Fatehgarh Sahib, and Makhan Singh, Guddu Kalan village, Mansa, on the charges of possessing poppy husk.
Fog to keep police on toes
Mandi Ahmedgarh, November 11
Poor visibility due to fog is suspected to create problems for the police. With more NRIs visiting their native places during winter, snatchers and robbers get more chances to try their luck.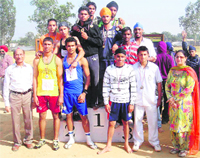 Guru Nanak school win overall meet
Mullanpur Dakha, November 11
The two-day athletics meet of Sahodaya Schools (west zone) Ludhiana championship concluded here at the Baddowal Stadium.





Winners of the Sahodaya Schools Athletics meet at Mullanpur Dakha. A Tribune photograph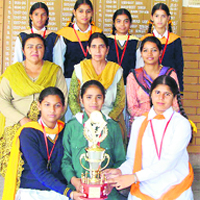 Students felicitated by school
Mullanpur Dakha, November 11
Guru Teg Bahadur National Public Senior Secondary School girls, Diljot Kaur, Kirandeep Kaur, Rupenjeet Kaur and Simranjeet Kaur, who represented Punjab in the Under-14 Football National Games, were felicitated by the school management committee on their return today.





Soccer players with their trophy at Mullanpur Dakha on Wednesday. A Tribune photograph
Sukhbir Badal to distribute sports kits on Nov 16
Ludhiana, November 11
The players, who were waiting for the sports kit scheduled to be distributed among them in April, would have to wait for some more time.