Common pass for Metro, DTC buses on cards
New Delhi, November 12
Following the travel trend of world's major cosmopolitan cities, Delhi is planning to have common travel tickets for Metro and Delhi Transport Corporation (DTC)buses.
Metro in Noida marks dawn of new era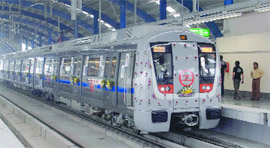 Noida, November 12
Thursday will go down as a historic day for Noida as state Chief Minister Mayawati flagged off the first Metro Rail from City Centre, Sector 32 Noida at 3.55 pm, heralding an era of comfortable and speedy travel for the common people of Noida and adjoining areas.

The first Delhi-Noida Metro, which was flagged off from the Akshardham station in New Delhi, hits the Noida City Centre station on Thursday. Tribune photos
Residents gung-ho about journey
Residents were feeling jubilant as Metro Rail entered Noida today. After the inauguration ceremony, crowd of people managed to go up at City Centre Metro Station where UP Chief Minister Mayawati had flagged off the Metro train an hour before.
4 charred to death
New Delhi, November 12
Four persons were charred to death when a major fire broke out in a house in Rampura in the Keshavpuram area of north-west district this morning.
11-year-old crushed; family alleges murder
New Delhi, November 12
An 11-year-old boy was crushed to death by an unknown vehicle in the Vasant Vihar area of south Delhi last night.
3 dead, 20 hurt as slab of building collapses
Noida, November 12
Three workers from Bihar were killed and 20 seriously injured when a concrete slab of an under-construction building fell on them in the early hours today while they were sleeping.
22-year-old dies of H1N1
New Delhi, November 12
Even as dengue continues to spread in the Capital, registering 38 fresh cases today, Influenza A (H1N1) virus is back, with a 22-year-old girl of Sangam Vihar succumbing to the virus at Safdarjung Hospital last night.
Man shot at by bikers
New Delhi, November 12
Three unknown bikers shot at a man at a petrol pump in Dwarka last night. The victim Vinay Nautiyal who received a bullet injury in the chest has been admitted to the Ayushman Hospital. His condition is said to be critical. The incident took place when Vinay had stopped his car at a gas station for refueling. —TNS
Coldest Nov day in 5 years
New Delhi, November 12
Looks like its time to pull out your pullovers and jerseys that would save you from the chill that Delhi winters are famous for.
Sameer Thapar yet to file complaint against cops
New Delhi, November 12
The Delhi police is yet to receive formal complaint from Sameer Thapar, managing director, JCT Mills and JCT Limited, regarding his alleged harassment by the Chanakyapuri police on Saturday morning from a city night club, mistaking him to be one of the mischief-makers along with Sahil Dhingra, a city businessman.