PUNJAB
HARYANA
JAMMU & KASHMIR
HIMACHAL
REGIONAL BRIEFS
NATION
OPINIONS
LETTERS
BUSINESS
SPORTS
WORLD
Every Wednesday & Saturday
Govt out to rescue child labourers
According to a survey, while there are 987 minors working as labourers in the state, 430 have so far been rescued and rehabilitated
Jakhani (Udhampur), November 13
A few months ago, Vikram, a resident of Ramnagar, was working as a "bonded" labourer at a tea stall where he had to clean utensils throughout the day with a nominal salary. Without the permission of the owner, he could not even dare to step out of the stall. Whenever he tried to leave his job, he was severely beaten up by the owner.
Orphaned, they seethe with anger against ultras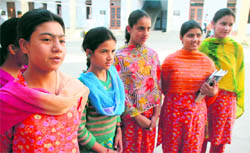 Jammu, November 13
The armed conflict raging between the security forces and militants in the state for about 30 years now has orphaned many children.
Militancy-hit children at Ved Mandir Balika Niketan in Jammu. Photo: Inderjeet Singh

Darbar moves to 'city of protests'
November 14, 2009
Over 3,500 killed in Jammu region in 5 yrs
November 7, 2009
Jammu gangs at death's door
November 4, 2009
Katra stinks, courtesy untreated garbage
October 31, 2009
Reasi suffers water pangs
October 28, 2009
Norms for setting up phone towers sought
October 24, 2009
Sex ratio alarming at sub-dist level
October 21, 2009
Staff want arrears in full, govt says not possible
October 14, 2009
40 villages shortlisted for uplift
October 10, 2009
VDC members sans salaries for months
October 7, 2009
SRTC stir costs govt Rs 7.5 cr
October 3, 2009