PUNJAB
HARYANA
JAMMU & KASHMIR
HIMACHAL
REGIONAL BRIEFS
NATION
OPINIONS
LETTERS
BUSINESS
SPORTS
WORLD
Every Wednesday & Saturday
40 villages shortlisted for uplift
Srinagar, October 9
The government has selected 40 villages for development under a special programme aimed at an all-round development of the villages by upgrading facilities in the sectors of road, communication, public health engineering, power distribution, health and education.
Kathua girl stands tall against odds
Jammu, October 9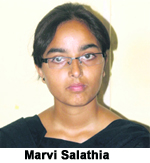 It has been a tough ordeal for Marvi Salathia so far, who hails from small town Hatli Morh in Kathua, to fulfil her dreams against her parents' wishes. A month and half after leaving her home, she called upon the Chief Minister to pave her way for her uninterrupted studies. Her confidence stems from the support that she is getting from student organisations - Jammu University Research Students Executive Association, Jan Jagran Manch and Progressive Students Association.
Favouritism alleged in Ranji team selections
Jammu, October 9
The Jammu and Kashmir Cricket Association (JKCA) is mired in controversies as the players who applied for the trial matches have alleged malpractices in the selection procedure for the Ranji Trophy team.
VDC members sans salaries for months
October 7, 2009

SRTC stir costs govt Rs 7.5 cr
October 3, 2009
No clue to weapon used in crime
September 30, 2009
Mission Dosti between India, Pak
September 26, 2009
Cook found dead at minister's house govt employee
September 23, 2009
Road connectivity with rly stations top on agenda
September 19, 2009
Deaths fail to move PHE Department
September 16, 2009
Irate residents lock schools
September 12, 2009
Tobacco products being sold openly to minors
September 5, 2009
Kathua stadium faces neglect
September 2, 2009
'Accidental' hospital ill-equipped to treat mishap victims
August 29, 2009
Anara awaits relief
August 26, 2009