Poor response to BJP's membership drive
Jammu, November 20
With much publicity the BJP had distributed membership slips to its workers in August, but most of the workers have not returned the slips. The membership drive of the state unit of the BJP has got a lacklustre response in the state.
Three SRTC employees hurt in cane charge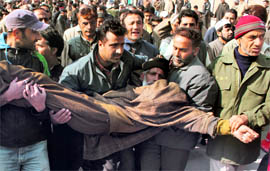 Srinagar, November 20
Three employees of the SRTC were injured when the police resorted to cane charge, preventing them from a protest march. The protesting SRTC employees, demanding the release of salaries for the past six months and implementation of the Sixth Pay Commission recommendations, were on their way to the office of the Kashmir Divisional Commissioner when they were prevented near the Jehangir Chowk.
SRTC employees carry a colleague injured in police action in Srinagar on Friday. Photo: Amin War
Omar chairs civil-military liaison conference
Jammu, November 20
A civil-military liaison conference with the state government was held at the Banquet Hall, Wazarat Road, Jammu, under the chairmanship of Chief Minister Omar Abdullah yesterday.
Army celebrates 61st Poonch Link-up Day
Jammu, November 20
The Poonch brigade of the Army celebrated the 61st Poonch Link-up Day with gaiety and fervour today.
CM gives aid to patients
Jammu, November 20
Chief Minister Omar Abdullah today sanctioned medical aid worth Rs 41.46 lakh in favour of 233 critically ill patients. The cases have been scrutinised and recommended by the Medical Aid Committee.
200 orchardists participate in awareness camp
Jammu, November 20
Department of Horticulture, Udhampur has organised an awareness camp under the Rashtriya Krishi Vikas Yojana today.
Central govt staff hold meeting
Jammu, November 20
A meeting of the Central Government Employees' Welfare Coordination Committee, Jammu, was held in the conference hall of the Principal Accountant General's office here yesterday. The meeting was chaired by Gautam Sen, Principal Controller of Defence Accounts (Northern Command).
Two killed, 27 hurt in mishaps
Jammu, November 20
Two persons were killed and 27 others injured in road mishaps in Jammu here today. A matador overturned at Patoli Morh today, resulting the death of Rajeshwar Singh, a student of Raina Higher Secondary School in Seri. In another incident, a tractor fell into a gorge on its way from Mandi to Shien Dara, near Poonch, killing Mushtaq Ahmed, a resident of Seri Chouhan.
Man held with fake currency
Jammu, November 20
The police today claimed to have busted a fake currency racket by arresting a man and seized fake currency notes worth Rs 4.5 lakh from his possession.
Sportspersons felicitated
Jammu, November 20
Minister for Higher Education Abdul Gani Malik and Minister for Youth Services and Sports RS Chib today felicitated students of Bhargava Degree College, who brought laurels to the state in Junior Asian Judo and Junior National Kick-boxing championships at Samba today.
Army renovates school building
Jammu, November 20
Fulfilling the longstanding demand of local residents, the Commanding Officer of the Arnora-based Rashtriya Rifles inaugurated and handed over Government Girls Middle School, Khankot, after the Army carried out renovation and repair works under the operation Sadbhavna.
IED defused
Jammu, November 20
A major tragedy was averted when the Army today detected a 5 kg of IED placed by the roadside by militants in Rajouri district.
Former MP calls on CM
Jammu, November 20
Former Rajya Sabha member, Ven Thiksay Rimpochey, today called on Chief Minister, Omar Abdullah to discuss matters pertaining to development of Ladakh, here. MLA Nobra T Namgiyal was also present here.