Sutlej bridge to open to heavy traffic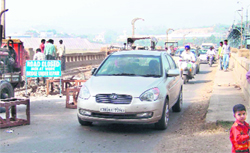 Ropar, November 24
Bridge over the Sutlej will re-open from November 25 midnight onwards to heavy traffic. Central works division (CWD) XEN, Karnail Singh, said: "The repair work over bridge had been completed. Around 51 expansion joints of bridge were replaced and surface re-laid for smooth flow of heavy traffic," he said. The bridge was closed on November 6.
The bridge over the Sutlej under repair in Ropar on Tuesday. A Tribune photograph
Cyber crime cell opened
Fatehgarh Sahib, November 24
Director General of Punjab Police, Paramdeep Singh Gill today inaugurated a cyber crime investigation cell at CIA, Sirhind.
Building for Academic Staff College inaugurated
Patiala, November 24
Dr Jaspal Singh, Vice-Chancellor of Punjabi University, inaugurated the new building, constructed by the university for Academic Staff College (ASC) on the university campus.
Chittisinghpura Massacre
Federation seeks fresh probe
Patiala, November 24
Terming it to be a failure of the Indian state system to ensure justice to it's citizens, the Sikh Students Federation took a serious note of the exposure made by former J&K Chief Minister Farooq Abdullah that "vested interests had sabotaged the investigations of Chittisinghpura massacre."
Dharni on Bar panel
Bassi Pathana, November 24
The Bar Council of Punjab and Haryana High Court, has appointed Amardeep Singh Dharni, lawyer and president of District Bar Association, as member of the disciplinary committee of the council.
Mentally challenged inmate found
Kharar, November 24
An inmate of Universal Disabled Care Taker Social Welfare Society, Raman Puri, was handed over to his brother and sister.


Follow norms while raiding rehab centres: HC
Chandigarh, November 24
The Punjab and Haryana High Court wants the police to follow proper procedure while carrying out any raid at drug counselling and rehabilitation centres.
Attawa resident convicted of murder
Chandigarh, November 24
A local court today convicted an Attawa resident of murdering a woman in 2008. Inderjit Singh was arrested for rape and murder of a Palsora-based woman.
FCI penalised for delay in release of pension
Chandigarh, November 24
The District Consumer and Disputes Redressal forum has directed the senior regional manager, Food Corporation of India, regional office (Punjab), Sector 31, and the assistant general manager (CPF), Food Corporation of India, regional office (North), Sector 24, Noida (UP), to pay Rs 40,000 in compensation to a complainant for causing him harassment by delaying the payment of pension.
Suspects told to join probe
Panchkula, November 24
The district police, groping in the dark over the fate of missing realtor Deepak Rai Sagar, got a shot in the arm when the Punjab and Haryana High Court directed the three suspects in the case to join the investigation.


10 erring cyber café owners booked
Chandigarh, November 24
The police has registered cases against owners of 10 cyber cafés operating in various parts of the city on charges of not maintaining proper records of Internet users visiting the cafés.
Hotelier held for failing to keep visitors' record
Chandigarh, November 24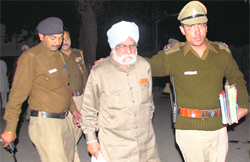 The police today arrested Gurbachan Singh, the owner of Sector 22-based hotel — Victoria Palace — for allegedly violating the prohibitory orders.

The police said the accused had not kept proper record of visitors to the hotel.




Gurbachan Singh, owner of Victoria Palace, in police custody in Chandigarh on Tuesday. Tribune photo: Pradeep Tewari

7 held for drinking at public place
Chandigarh, November 24
The police has arrested seven persons from different parts of the city for allegedly consuming liquor at public place.

560 cases of liquor seized
Panchkula, November 24
The police succeeded in intercepting a truck loaded with 560 cases of English liquor on its way from Chandigarh to Rajasthan and Gujrat.

Two killed in road mishap
Panchkula, November 24
Two persons were killed while two others were injured seriously when an auto-rickshaw collided head-on with another vehicle at Barwala-Dera, Bassi road, here today.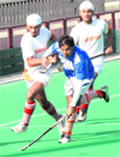 Namdhari XI, IOC in final
Chandigarh, November 24
Indian Oil Corporation (IOC) and Namdhari XI have entered final of the 46th Jindal Steel Nehru Senior Hockey Tournament being held at the Hockey Stadium, Sector 42, here today.





A match in progress in Chandigarh on Tuesday. Tribune photo: Pradeep Tewari
PU Campus emerge victorious
Chandigarh, November 24
Government College, Hoshiarpur, and PU Campus, Chandigarh, won the Panjab University Inter-College (men) A Division Tournament being held on the PU grounds here today.
5-wicket win for Ryan
Chandigarh, November 24
Ryan International School-49 defeated Government Model Senior Secondary School-26 by five wickets in the T20 match held here today.