Boom time in Reasi
The newfound district status and Jammu-Baramula railway project have made this sleepy town a lucrative real estate proposition, reports Dinesh Manhotra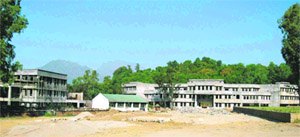 Reasi, a sleepy town located 68 km northwest of Jammu, is now witnessing a surge in the prices of property, especially after this administrative unit was granted district status a few months ago. The town and its adjoining areas have a population of about 60,000. Reasi, Ramban, Kishtwar and Samba were granted district status in April, 2007, and ever since then land prices in this area have appreciated a lot. While two years ago the price of one kanal area was Rs 40, 000, today it is around Rs 2 lakh.
GROUND REALTY
An ideal cupboard
Several tips on woodwork, joinery fittings, wood substitutes and cupboard shutters have been shared with the readers in this column. Yet queries are being received to discuss the cupboard design and its provisions for best comfort of the user. A common request is to suggest a design that may help in classifying the wardrobe items. Well, here are a few valuable tips on the issue:
Tax tips
Get sale deed registered at market price

Q. I intend selling my house. The agreed price would be around Rs 70 lakh. The maximum amount acceptable to buyers for registering the deed with the tehsildar is Rs 20 lakh. The price fixed by the authorities for minimum registration is Rs 6,000 per sq.yd. I do not want to be burdened with the balance unaccounted money that I don't need. With the proceeds I intend to purchase a flat in Dehradun where a cheque is acceptable to the builders. There was only one offer where the buyer agreed to make a registry worth Rs 20 lakh and pay me the balance amount by cheque. How do I account for this cheque amount of 50 lakh? How can I safeguard my interests?
REALTY BYTES
Rs 125 crore project launched
The Rs 2000-crore real estate SVP Group recently announced the launch of Gulmohur Residency project in Indrapuram. Spread over three acres, the project will showcase 308 spacious three-BHK apartments having four variants ranging between 1250 sq.ft,, 1350 sq. ft; 1450 sq ft; and 1650 sq.ft.