UP to shift 4,000 posts of cop to Uttarakhand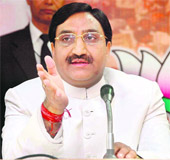 Dehradun, November 29
Describing his dialogue with Uttar Pradesh Chief Minister Mayawati as a resounding success, Uttarakhand Chief Minister Ramesh Pokhriyal Nishank said it was for the first time that a breakthrough in the vexed issue of distribution of assets had been reached with the two states agreeing to meet every month to resolve all pending matters.
Chief Minister Ramesh Pokhriyal Nishank addresses a press conference in Dehradun on Sunday. Tribune photo: Vinod Pundir

Great demand for silverware items
Dehradun, November 29
A wide range of silverware items in the city are attracting people to purchase these for gifting as well as decoration purposes. Not only do they prefer the silverware during the festival season, but, being affordable and attractive, these remain in demand throughout the year.
IMA set to add one more feather to its cap
Dehradun, November 29
The Indian Military Academy (IMA) here at Dehradun is set to add one more feather to its cap. The academy will set the record of producing 50,000 young officers for the forces of India and other 28 friendly countries. With this the IMA will become the only institute in Asia to have achieved the milestone.
Girl raped on promise of marriage
Dehradun, November 29
A resident of Ajabpur Khurd was booked for allegedly raping a 17-year-old girl on the promise of marrying her. According to the police, Israr, 21, allegedly enticed the girl to flee with him on the promise of marrying her. He allegedly took the girl to a secluded place on November 26 where he raped her.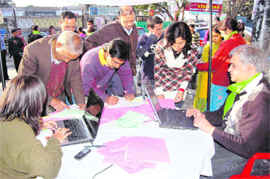 Doonites vote for environment
Dehradun, November 29
People of Dehradun are environment friendly. The fact came to the fore in a sample voting executed by NGO Citizens For Green Doon, where 1,784 persons voted at six places in the city by clicking their option on laptops.
A public referendum being conducted by the Citizens for Green Doon in Dehradun on Sunday. Tribune photo: Anil P Rawat
Equal opportunities sought for special kids
Dehradun, November 29
Banners gaily sailing in the evening breeze put up at the venue proclaiming the messages, "She can't be locked up forever", "Don't segregate us" etc, said it all. At the "Kadam Badayein Saath Saath" event, part of "Badhte Kadam" held today at Rangers College and put up by differently abled children, the message was loud and clear: Inclusion is the only answer and society cannot turn it's back on them.
BJP protests Centre's policies
Haridwar, November 29
Intensifying the attack on the Congress-led Central government, the BJP district unit is organising various protests and agitations to bring to public notice the apathy and negligence that the party believes is being done towards Uttarakhand.
AIDS control society holds awareness programmes
Dehradun, November 29
The Uttarakhand State AIDS Control Society (USACS) today organised various competitions for carrying out AIDS awareness among the youth. Over 19 college students participated in the competitions.
10 paramedical colleges participate in debate contest at health fete
Dehradun, November 29
A debate competition was held at a health fête at Hotel Madhuban, which will conclude tomorrow. Students from 10 paramedical colleges were gathered to participate in the competition. The topic of the debate was "Government has failed to curb the menace of HIV AIDS" and the participants have to speak for and against the motion.
Power corporation employees hold meeting
Dehradun, November 29
Power Corporation officers, supervisors and the Staff Association held a meeting at the office campus here today.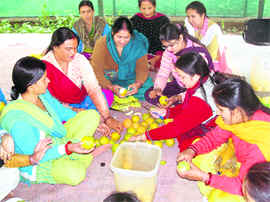 Training programme concludes
Dehradun, November 29
A 45-day training programme organised by the Himalaya Salahakar Sangthan and Bagwan Gramudyog Samiti sponsored by the Ministry of Food Processing, New Delhi, concluded at Ambiwala near Dehradun on Friday. Deputy Director of KVIC Om Prakash gave details about the programmes being run by Khadi Gram Udyog for setting up cottage industries.
Women get training at a camp organised by Bagwan Gramudyog Samiti at Shyampur village in Dehradun on Friday. A Tribune photograph