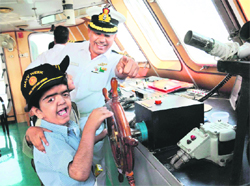 CRUISE CONTROL: Children enjoy a harbour cruise organised by the Navy as part of the Indian Navy week celebrations at the Naval Dockyard in Mumbai on Tuesday. — PTI
Land Scam
Act against guilty, MoD tells Army
New Delhi, December 1
Defence Minister AK Antony is in favour of taking stern action against the senior Army officers, who are responsible for wrongly issuing a "no-objection certificate" to private individuals for allowing construction on a 70-acre chunk of land adjacent to an Army base in Siliguri.
CAT crash: Sibal pulls up organisers
New Delhi, December 1
With the Common Admission Test for seven IIMs and several other business schools continuing to be hit by technical snags for the fourth day today, HRD Minister Kapil Sibal said in the Lok Sabha that the IIMs should have been more careful in the conduct of examinations as they had complete autonomy to hold the exam when they wanted and the way they wanted.
15mn mobiles sans IMEI go silent
New Delhi, December 1
Around 15 million mobile handsets, mostly cheap imports from China, went off air today after the government rejected a demand by telecom service providers to extend the deadline for cutting off services on phones that do not have a mobile equipment identity (IMEI) number.
Memorials Case
Justice HS Bedi offers to opt out
New Delhi, December 1
Justice HS Bedi today offered to quit the Supreme Court Bench hearing the Lucknow memorials case even as the court rejected the Uttar Pradesh Government's plea for resumption of maintenance work at the sites ahead of the Ambedkar's birth anniversary on December 6.
LS votes for two central varsities in J&K
RJD, BJP warn Centre of divisive potential of the move
New Delhi, December 1
The last hurdle in the way of establishment of two central universities, one each in Jammu and Kashmir, was cleared today, with the Lok Sabha unanimously passing the Central University Amendment Bill 2009 to allow for two universities in one state, as a special case. The government justified the move in the interest of "communal harmony and peace" in the sensitive state.
Judges' Appointment
SC moves SC!
New Delhi, December 1
The Supreme Court has filed two petitions with itself challenging Central Information Commission's orders for disclosure of information relating to appointment of three SC judges and the communication between Chief Justice of India and Justice R Raghupathy of the Madras High Court.
Rising prices find echo in RS
New Delhi, December 1
Noisy scenes were witnessed in the Rajya Sabha today over rising prices of essential commodities, which also infuriated Finance Minister Pranab Mukherjee.

No decision yet on Raje successor
Jaipur, December 1
It has been over five weeks since Leader of Opposition Vasundhara Raje put in her papers, but the BJP is yet to officially communicate her resignation to the Rajasthan Assembly Speaker. When Raje had tendered her resignation last month, the BJP steered clear of choosing her successor in view of the Assembly bypolls on November 7 and the civic polls on November 23.
Rajasthan Guv SK Singh dead


New Delhi/Jaipur, December 1
Rajasthan Governor SK Singh, 77, died in the Capital today following a month-long illness. He is survived by his wife Manju Singh and two sons — Shashank and Kaniska. The Governor, who had been India's Foreign Secretary in 1989, had been admitted to the intensive care unit of Sir Ganga Ram Hospital since November 5. The dead body was taken to his residence at New Friends Colony here. Singh was appointed Rajasthan Governor in September 2007, replacing Pratibha Patil after she was nominated as the UPA candidate for President.
Jadhav is Mumbai mayor
Mumbai, December 1
Reeling under successive defeats in the Lok Sabha and Assembly elections in Maharashtra, the Shiv Sena today got some respite when its candidate was elected mayor of Mumbai.