PUNJAB
HARYANA
JAMMU & KASHMIR
HIMACHAL
REGIONAL BRIEFS
NATION
OPINIONS
LETTERS
BUSINESS
SPORTS
WORLD
Disability no curse: Alva
Dehradun, December 3
Uttarakhand Governor Margaret Alva today called upon society not to see disabilities in humans, particularly children, as a curse. "What they have not got from the nature have been compensated by the nature by giving them special qualities," she added. She was speaking on the occasion of the World Disability Day at Asha School here today.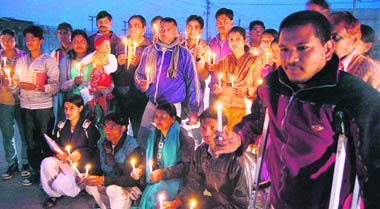 GIVE US LIGHT: The Uttarakhand Paralympic Association took out a candle march on the occasion of World Disability Day from Sevala Chowk to Transport Nagar in Dehradun on Thursday. Prem Kumar, president, Uttarakhand Paralympic Association, said the march aimed at creating awareness about the needs of physically challenged people. Through the march, the association also created awareness about the Disability Act,1995, that speaks of providing various facilities like equal rights, opportunities and full participation in all acts of life. Tribune photo: Anil P Rawat
U'khand green cover up 60 sq km
Decmber 3, 2009
Only awareness can help control AIDS spread: CM
Decmber 2, 2009
State capital stinking
Decmber 1, 2009
Woman strives to make mandua popular again
November 30, 2009
Govt promotes golden mahseer breeding
November 29, 2009
Ghats at Haridwar, Rishikesh get a makeover
November 28, 2009
Functions, rituals mark 26/11 anniversary
November 27, 2009
Admn turns blind eye to pavement encroachments
November 26, 2009
Birla chief launches multi-fuel pump set
November 25, 2009
Health Dept gears up for Maha Kumbh
November 24, 2009