Gender Tests
Diagnostic centre's record seized
Sirsa, December 6
SDM SK Setia today seized the two-year record of a local diagnostic centre that has come under scanner after the authorities got a lead regarding violation of the Pre-Natal Diagnostic Techniques (PNDT) Act from authorities in Mansa district of Punjab.

Health camp for poor in Ambedkar's memory
Sirsa, December 6
The Lalit Geetanjali Maken Foundation organised a health camp on the occasion of Dr BR Ambedkar Parinirvan Diwas in the Sanatam Dharma temple here today.
Avantika Tanwar being received on her arrival at the health camp organised by the Lalit Geetanjali Maken Foundation in Sirsa on Sunday. Photo: Amit Soni

Check on Drunken Driving
1,900 accidents in 11 months belie police claims
Karnal, December 6
As many as six hit-and-run accidents on highways every day has ridiculed the tall claims of the Haryana police to check drunken driving and over-speeding to contain road accidents in the state.
Seeking medical college, NGO writes to minister
Rewari, December 6
The Dakshin Haryana Vikas Lok Manch (DHVLM), a voluntary organisation of the Ahirwal region, has sent a communication to Union Health Minister Ghulam Nabi Azad seeking establishment of a medical college under the National Rural Health Mission at Manethi village in the vicinity of Kund town here.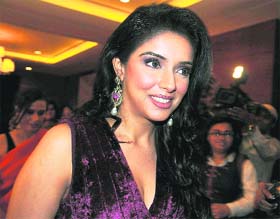 Bollywood actor Aasin at a hotel in Gurgaon on Friday night. — PTI
Ensure education to every girlchild: Guv
Narwana(Jind), December 6
Education and upliftment of women is a must for development of society and is, perhaps, a basic ingredient for nation's growth. Hence, it needs to be ensured that education is made compulsory for every girlchild.
HPSC to hold screening test by month-end
Chandigarh, December 6
The Haryana Public Service Commission (HPSC) proposes to conduct screening test for the posts of SDAO/APPO/ACDO/SMS in the Agriculture Department, labour officer-cum-conciliation officer in the Labour Department, election tehsildar in the Election Department.
Gotra Trouble again
Village elders seek to undo the knot
Rewari, December 6
Agitated village elders held a panchayat at Manethi village, 25 km from here, today to devise a way to seek the dissolution of the marriage of village youth Sunil Yadav (22) to village girl Sarla Yadav (21).


Five-year-old girl goes missing, search on
Gurgaon, December 6
Search operation is on for a 5-year-old girl, Shikha, who had come to visit the Sheetla Mata Temple here today with her family but went missing from there.

Rescuers at work to search for a five-year-old girl in Gurgaon on Sunday. Tribune photo: Sayeed Ahmed


Panel on job quota for physically challenged
Chandigarh, December 6
The state government has constituted a seven-member committee to frame a policy to provide reservation in direct recruitment to physically challenged persons in the services of Group 'A', 'B', 'C' and 'D'.
Assn seeks pension parity with Punjab
Bhiwani, December 6
The Haryana State Services Pensioners Association has asked the government to restore parity between pensioners in Haryana and their counterparts in Punjab.
Excise services automated
Rohtak, December 6
The department of customs and central excise, Rohtak, has announced the launching of automated services of central excise and service tax (ACES) here for the benefit of its clients and consumers.
Rowdies on bus
Schoolgirls approach DC
Rewari, December 6
As many as 12 girl students of Government Girls Senior Secondary School here have alleged that certain boys of Sulkha village make lewd remarks about them and make obscene gestures in a Haryana Roadways bus.
Woman returns bag with cash to owner
Rewari, December 6
Kavita Devi of Jhajjar district displayed commendable honesty, returning a money bag containing Rs1 lakh in cash and bank passbook to police personnel at Jatusana, 17 km from here, yesterday.