Talks in turmoil over Danish proposal
Copenhagen, December 9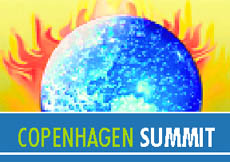 The climate summit was thrown into turmoil on its second evening as developing countries came together to condemn a Danish draft of the final Copenhagen declaration.
The existing UN Framework Convention on Climate Change (UNFCCC) and the Kyoto Protocol (KP) place the onus of mitigating emissions of greenhouse gases (GHG) squarely upon industrialised countries, as almost all the GHG, mostly carbon dioxide, in the atmosphere now has been put there by them.
But in a significant departure from that, the Danish draft proposal asks developing countries, except the least developed countries, to "commit to nationally appropriate mitigation actions, including actions supported and enabled by technology, financing and capacity-building."
Condemning the whole idea, Lumumba Stanislaus Di-Aping, Sudan's ambassador to the UN, said here that the Danish proposal "merges the UNFCCC and the KP and destroys both...It creates new sets of obligations for developing countries...it tries to have finance flows from South to North." Sudan is now the chair of the Group of 77 countries, which, together with China, negotiates climate treaties as a bloc on behalf of almost all developing countries.
The Danish proposal "tries to divide vulnerable and culpable countries in the developing world to preserve the economic supremacy of advanced countries," Di-Aping charged while addressing a press conference.
"It robs developing countries of their just, equitable and fair share of atmospheric space." India has also been quite upset with the Danish proposal, which was circulated Nov 27. Reacting to one point in the text that sets a date by which major developing countries would start reducing their GHG emissions, the so-called "peaking year", Environment Minister had threatened that India and other developing countries would walk out of the summit if any attempt was made to push this through.
Together with China, Brazil and South Africa, India had promptly cobbled together a counter-proposal, the so-called BASIC text.
The Danish government had seen the reaction to its proposal and had decided to disown it. Denmark's Environment Minister Connie Hedegaard had said Monday that it was not a proposal but a "discussion paper that had been withdrawn". The UNFCCC secretariat has also been at pains to point out that this was not a proposal submitted to it officially.
A member of the Indian government delegation said in a pre-summit meeting here last week, "numbered copies" of the Danish proposal had been circulated to some countries and then taken back after the meeting, a highly unusual move.
Di-Aping said G77 would not walk out of the summit over this issue. "However, we'll not sign an inequitable deal, we won't accept a deal that condemns 80 per cent of the world population to further suffering and injustice."
New climate-change index unveiled
Scientists on Wednesday unveiled a Dow Jones-style "climate-change index" aimed at showing in user-friendly form the perils posed by man-made global warming.
The index takes a basket of complex factors - carbon dioxide (CO2), temperature change, sea level and sea ice - and distils them into a single figure that is more easily understandable for the public, they said.
In 1980, the index stood at 34, its creators, the International Geosphere-Biosphere Programme at the Royal Swedish Academy of Sciences, said.
But from 1997, the barometer leapt suddenly, adding dozens of points each year as evidence of climate change accumulated. As of 2007, the index stood at 574. "We felt people outside global-change research are not clear about the scale of the changes scientists are witnessing," said IGBP executive director Sybil Seitzinger, who presented the index on the sidelines of the summit.
Warming to displace 1 bn people
Climate change and environmental degradation will force as many as one billion people to migrate over the next four decades to southeast Asia, central America and parts of west Africa, world's leading migration agency has said.
A International Organisation for Migration (IOM) report, said between 25 million to 1 billion people could be displaced by climate change by 2050.
It also identified Afghanistan, Bangladesh, most of central America and parts of west Africa and southeast Asia as "future hotspots" where large numbers of people are expected to flee as a result of climate pressures.
However, it found that few of the "climate refugees" are able to leave their countries due to lack of the means and the ability to travel to wealthier places. — Agencies