| | |
| --- | --- |
| Onlookers watch the mock drill at Sector 17 in Chandigarh on Monday. | The "terrorist" captured by the police. Tribune photos: Pardeep Tewari |
Three more swine flu deaths
Chandigarh, December 21
While three persons suffering from swine flu died at city hospitals here today, five others tested positive.
Bus ride to school may be costlier
Chandigarh, December 21
Students might now have to bear a 40 per cent hike in bus fee with the UT administration all set to levy road tax on private school buses.
'6-month RI not enough'
The orders pronounced today by the court of special CBI magistrate against former DGP SPS Rathore, holding him guilty of molestation and sentencing him to six-month rigorous imprisonment, have evoked a mixed response from people.
Night Food Street Contract
F&CC members pull up MC officials
Chandigarh, December 21
Municipal corporation officials were pulled up by members of the Finance and Contract Committee (F&CC) for not informing them on time about the expiry date of contract for the night food street near the PGI in Sector 14.
Garbage plant gets ministry's nod
Team says it meets all processing requisites
Chandigarh, December 21
A three-member committee of the union ministry of new and renewable energy have certified that the garbage processing plant at Dadu Majra for meets all requirements required for processing garbage.
Rs 9.14 lakh for developing 13 villages
Chandigarh, December 21
The Chandigarh administration has earmarked an outlay of Rs 9.14 lakh in the 11th Five-Year Plan (2007-12) with the aim of developing 13 villages on the pattern of sectors.
GMADA to partly develop connecting road
Mohali, December 21
In wake of paucity of funds, the Greater Mohali Area Development Authority (GMADA) has decided to partly develop the 300-ft wide road, proposed to connect the proposed international airport with the 200-ft wide road connecting the Zirakpur-Patiala road with the Chandigarh-Kharar road.
Modern bus stand for Zirakpur on cards
Zirakpur, December 21
The municipal council plans to construct a modern AC bus stand at triangle on Zirakpur-Panchkula intersection near Paras Down Town square. Besides, four new tubewells would be installed at Baltana ward No. 12, ward No. 13, Dhakoli and Pabhat village in the coming next year. This was stated by MC president Narinder Kumar Sharma today in a meeting.
Compassionate Cases
Arrange pvt jobs for kin, Guv tells officials
Chandigarh, December 21
UT Administrator SF Rodrigues today asked senior officers of the Chandigarh administration to make efforts to adjust the next of kin on some private job till they got government jobs on compassionate grounds.
Admn wants beam scales to go
Chandigarh, December 21
The UT administration has decided to ask traders to replace their beam scales with counter scales with immediate effect.
Probe sought into installation of security gates
Mohali, December 21
Councillor Kuljit Singh Bedi has demanded a probe into the installation of security gates in different parts of the town. The gates were currently being used for display of advertisements instead of providing security to residents.
'Indians lack self-discipline'
Chandigarh, December 21
We need to focus on knowledge, skills, attitude and discipline to build futuristic leaders with a global mindset, said DK Bakshi, executive director, Indo-Thai Chamber of Commerce, Bangkok.
Beware of calls from Pak
Chandigarh, December 21
The police today cautioned residents to beware of the unidentified persons making telephone calls from Pakistan, alluring people of winning huge amounts in lotteries. The police said it had received a number of complaints regarding unsolicited calls from different numbers having prefix +92 (the international telephone code for Pakistan).
Warning against LPG cylinder misuse
Chandigarh, December 21
Terming the use of LPG cylinders for purposes other than cooking as illegal, oil companies have warned consumers that LPG connections can be cancelled if used for non-cooking purposes.
Rising obesity sees kids suffering heart attacks
Chandigarh, December 21
Spending longer hours watching TV, playing video games for hours at a stretch and lack of physical activity combined with eating more fast foods in the form of pizzas, French fries, noodles, burgers, chips, sweets and calorie-rich colas are leading to increasing obesity among children in and around the city.
Mysore MC team in city
Chandigarh, December 21
A 20-member team of elected representatives and officers of the Mysore municipal corporation, led by Sharadamm, Deputy Mayor, visited the office of the local corporation here today to study projects in the city.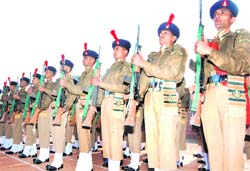 32 join ITBP ranks
Chandigarh, December 21
As many as 332 recruits from three different batches were formally inducted as constables into ranks of the Indo-Tibetan Border Police Force at an impressive passing out parade here today.



ITBP personnel present arms at their passing out parade in Chandigarh on Monday. A Tribune photograph

Seminar on use of pesticides
Panchkula, December 21
A one-day national seminar on excessive use of pesticides and chemicals was organised at Government College, Sector 1, here. The seminar was coordinated by Vimla Aggarwal, assistant professor, zoology, and compered by Richa Setia, assistant professor, microbiology.
Residents brave chilly winds
Chandigarh, December 21
Chilly winds continued to sweep the city and its adjoining areas for the second day today, forcing residents to remain ensconced in the warm confines of their homes.
Medicinal plants distributed
Zirakpur, December 21
To apprise the general public about environment pollution, a seminar on "social and environment pollution" was organised by the Joint Coordination Committee comprising of three social organisations viz. Senior Citizen Forum, Green Earth Environment Society and Samaj Sudhar Vikas Manch of Zirakpur yesterday.


CBSE schools to adopt HIV+ applicants
Chandigarh, December 21
In the upcoming session, schools affiliated to the Central Board of Secondary Education (CBSE) may soon be asked to mandatorily accommodate HIV+ applicant and even those who belong to HIV+ families.
PU Notes
PU teachers awarded
Chandigarh, December 21
Dr Praveen Rishi, associate professor, department of microbiology, Panjab University, has been conferred Fellow, Association of Microbiologists of India (FAMI) award during the golden jubilee conference of the Association of Microbiologists of India (AMI) at National Chemical Laboratory, Pune.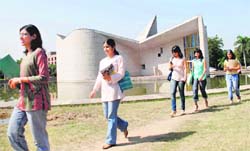 Looking Ahead: 2010
Panjab University
Autonomy for colleges, arrears expected
Chandigarh, December 21
Right from the Prime Minister's visit to his alma mater, to receiving the PURSE award from the Department of Science and Technology, Government of India, 2009 has been an eventful year for Panjab University.