A lot at stake for Cong, INLD
Geetanjali Gayatri
Tribune News Service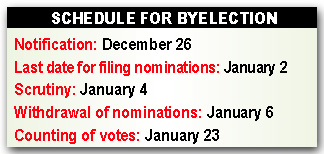 Chandigarh, December 22
Hardly has the dust settled over the recent Assembly elections and Haryana is readying to face its next political battle — at Ellenabad in Sirsa where political parties will cross swords yet again.
While this January 20 Assembly byelection is crucial to the prestige of the Congress since it is the party in power, it is equally important for the INLD, especially because the party cannot afford to lose from its pocket borough.
The other main parties, the BJP, the HJC and the BSP, are keeping their cards close to their chest. Sources in the BJP said a meeting of the parliamentary board would be called in a day or two to decide whether or not the party will contest the byelection. HJC supremo Kuldeep Bishnoi said his party would definitely contest the byelection and a meeting to decide on the candidate had been called tomorrow.
For the Congress, this byelection is also important since the party, as of now, has cobbled a majority with the support of the Independents who have been rewarded with positions in the Bhupinder Singh Hooda-led ministry. If it manages to win Ellenabad, the party, one short of a simple majority after the merger by Haryana Janhit Congress MLAs, would be able to stand alone irrespective of the Independents.
Among the names doing the rounds for the Congress ticket are that of Bharat Singh Beniwal, who contested the recent Assembly elections against the INLD supremo unsuccessfully. He ended up with over 48,000 votes, nearly 16,000 votes short of Chautala.
While he is rallying hard for the ticket, former OSD to Chief Minister KV Singh, who contested the October Assembly elections from Dabwali and lost, is also in the race. His contention is that while he had been nursing Ellenabad for the past over four years in the hope of contesting the election from the seat after it was de-reserved in the delimitation exercise, he was asked to move to Dabwali in the last few months before the elections. He now wants to test the waters in Ellenabad. Among other contenders is Anil Khodd, son of a former MLA from Ellenabad, who has the backing of a senior minister in the Cabinet.
In the INLD, former MLA Abhey Singh Chautala, seems the probable candidate for the Ellenabad seat since the party does not want to take any chances in the byelection. A defeat here could send out the wrong signals, which would undermine the achievement of winning 31 seats in the Assembly elections.
The party has already launched a campaign for the seat with the Chautalas extensively touring the area and addressing rallies. The other name doing the round is that of senior Chautala's covering candidate in the Assembly elections, Aditya Chautala.