Reddys 'fuelling' stir
Bangalore, December 23
As if having taken the cudgel against Karnataka Chief Minister B S Yeddyurappa is not enough, the Reddy brothers, Karunakara and Janardhana, both ministers in the BJP government in Karnataka, are also being accused of stoking the agitation against creation of Telengana in neighbouring Andhra Pradesh.
Japanese Prime Minister to visit India
New Delhi may seek cooperation on nuclear energy
New Delhi, December 23
Despite being well aware of Tokyo's deep-rooted nuclear allergy, New Delhi may broach the subject of Japan actively participating in India's growing civil nuclear energy programme when Japanese Prime Minister Yukio Hatoyama visits India later this month.
Copenhagen a base for binding pact: Pachauri


New Delhi, December 23
A day after opposition parties cornered Union Environment Minister Jairam Ramesh in the Rajya Sabha for India's shifting stance on climate change, Nobel Prize winning Inter-governmental Panel on Climate Change (IPCC) chairman RK Pachauri today came out in his support, saying Copenhagen accord has provided a foundation for a binding agreement to be developed while incorporating the details of specific commitments by all nations, particularly the developed ones.
BSP MLA's son opens fire in bar
New Delhi, December 23
The son of a ruling Bahujan Samaj Party (BSP) legislator from UP opened fire in the Nehru Place area here today, following a heated argument with the manager of a restro bar here. No one was injured in the incident. A case of attempt to murder had been registered against the absconding accused, Vivek Singh. "Vivek Singh, son of BSP MLA Chander Bir Singh, opened fire at the manager in Mocha restro bar. The bullet missed the manager and hit a wooden plank. Thereafter, he fled from the spot," said ACP Virender Singh.
Winter chill grips North India
New Delhi, Decemer 23
Icy winds coupled with steep drop in mercury intensified the winter chill in North India today, as people woke up to hazy and misty morning in several parts of the region.
Jockeying begins for govt formation in Jharkhand
New Delhi, December 23
Belying all hopes of a stable government in tribal Jharkhand, Assembly elections today once again produced a fractured mandate and a hung House, forcing the two main political parties Congress and BJP to seek partnership with all those they had disdainfully dumped in run up to the polls.
Scholarship scheme for minority students
756 fellowships on offer per yr; 30 pc for girls
New Delhi, December 23
The government yesterday launched the Maulana Abul Kalam Azad National Fellowship Scheme for minority students and another one to computerise state Wakf Boards.
Mobile No. Portability
BSNL may miss Dec 31 deadline
New Delhi, December 23
BSNL, the largest public sector telecom operator, is likely to miss the December 31 deadline set by the government to launch in metros the Mobile Number Portability (MNP) regime that allows users to transfer their cell phone numbers from one operator to another. For, the government has turned down BSNL's plea for a compensation of Rs 1,000 crore to implement the MNP.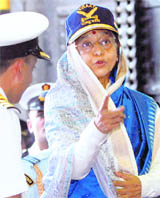 Prez: Navy vital in fighting terror
Mumbai, December 23
The Indian Navy is a major stakeholder in eradicating terrorism and preventing events like 26/11 terror attacks, President Pratibha Patil told seamen aboard INS Viraat today during her first outing on board India's aircraft carrier.




President Pratibha Patil visits aircraft carrier INS Viraat at Western Naval Command, Mumbai, on Wednesday. — PTI

World Bank may help NHAI
New Delhi, December 23
The World Bank is likely to come to the aid of the National Highways Authority of India (NHAI) as the $2-billion loan sought by the government for road development will reduce the total borrowing needs of the authority by 20 per cent to Rs 1,53,421 crore over the next 21 years.
No plan to wage war against Maoists: PC
Kolkata, December 23
The Centre has no plan to wage any war against the Maoists and liquidate them. Instead, the attempts should be made for bringing them to the mainstream through negotiations, Home Minister P Chidambaram said. He was participating in the "question & answer session" at a seminar here last evening which was organised by the CII.
Govt policies responsible for price rise: Mayawati
Lucknow, December 23
Capitalist-centric economic policies of the Congress-led UPA government were responsible for the unabated price rise and not global warming and the state governments as claimed by union minister for agriculture Sharad Pawar declared Chief Minister Mayawati here on Monday.

Maya sure to keep rivals on tenterhooks
Lucknow, December 23
On the eve of the New Year Chief Minister Mayawati has opened a virtual Pandora's box by promising to carve out more states out of the present day Uttar Pradesh.

Industry, agriculture to push growth
Chennai, December 23
As Tamil Nadu enters a pre-election year, the picture on the industrial and agricultural fronts looks rosy, as a major hurdle, power shortage is expected to be out of the way with the new additional capacity.