101 couples tie the knot at mass marriage event
Noida, December 28
Hundred and one couples from the economically weaker sections of society tied the knot at a mass marriage function organised recently by the Bharat Vikas Parishad in Noida.
6 vehicle thieves arrested in Noida
Noida, December 28
The Sector 49 police in Noida last night arrested six vehicle thieves and recovered one SUV. "The accused have been identified as Raju Thapa, Sonu Thapa, Prem Thapa, Ashish Kumar, Mukesh Kumar and Sanjay Singh. The first three are residents of Nepal.
Woman seeks Rs 61 lakh for disability caused as signboard falls on her
New Delhi, December 28 A woman, who suffered permanent disability after a district court signboard fell on her last year, has moved the Delhi High Court seeking a compensation of more than Rs 61 lakh.


Chilly morning greets Delhiites
New Delhi, December 28
Delhiites woke up to a chilly morning today as thick sheet of fog covered the city. "The minimum temperature recorded was 5.7 degree Celsius, at least one degree below average," said an official of the India Meteorological Department (IMD).

Thick fog covers India Gate in New Delhi on Monday. Tribune photo:Manas Ranjan Bhui
No change in green cover in 5 Delhi districts
New Delhi, December 28
In two years since 2005, there has been no change in the status of the green cover in five districts of the national Capital while it has declined in east Delhi due to tree felling, says a government report. North-east and north Delhi districts added 0.39 sq km and 0.04 sq km, respectively, to the forest cover from 2005 to 2007 owing to plantations, the Forest Survey Report 2009 said.
2 held for staging kidnapping
Girlfriend wanted to celebrate New Year in Macau, so boy got 'kidnapped' by friend
New Delhi, December 28
The police has arrested one Pawan Verma, alias Bunty (22), owner of an optical shop, and his friend Himanshu (22), for allegedly staging his kidnapping for ransom. According to the police, Pawan's girlfriend wanted to go to Macau for New Year celebrations and hence he, along with a friend, staged his own kidnapping to extract ransom from his father to finance the trip.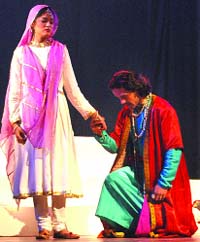 Artistes play characters of Anarkali and Salim during a play at National School of Drama in New Delhi on Monday. Tribune photo: Manas Ranjan Bhui
Two held for raping 15-year-old girl
New Delhi, December 28
A 15-year-old girl was allegedly raped by two men from her village in the Ranholla area of west district. The accused had been apprehended by the police after medical examination of the victim confirmed rape.
Big rush in DTC buses likely today as inspections on
New Delhi, December 28
As hundreds of low-floor Delhi Transport Corporation (DTC) buses go off roads tomorrow for inspection, huge rush is expected on almost all routes. Re-opening of offices after an extended weekend would put extra pressure on the buses.
Stadium construction disturbs DU teachers
New Delhi, December 28
Mere metres away from the old residential locality Cavalry Lane, home to some of the seniormost professors in Delhi University (DU), a rugby stadium for the Commonwealth Games is being constructed.
Minor fire breaks out at Indira Gandhi airport
New Delhi, December 28
A minor fire broke out inside an under-construction basement at the Indira Gandhi International Airport, today evening. According to a fire services officer, the fire had broken out inside the basement, which is near terminal 3.
Mystery shrouds girl's death
New Delhi, December 28
A 24-year-old girl was found dead under mysterious circumstances inside the bathroom in sector 5, Rohini yesterday morning. According to police, the deceased Divya had gone to take a bath but when she did not come out of the bathroom for almost an hour, her mother Kaushalya knocked the door, but she got no response.
Truck driver found strangled
New Delhi, December 28
A 30-year-old truck driver was found strangled inside his truck in the Swaroop Nagar area of north-west district, yesterday morning. According to the police, it was informed about the incident around 9 am by a passerby. The body was laying inside the truck which was parked near Kaushik Enclave.
Constable found drunk, suspended
Greater Noida, December 28
A constable was suspended after he was found drunk and involved in road rage after the car in which he was travelling with friends rammed into a jeep in the NTPC area under the Jarcha police area last night.
20 hurt as bus rams into truck
Noida, December 28
Twenty employees of a call centre were injured when their bus rammed into a truck today morning around 6.30 am in Sector 57, here. According to the police, after hit ting the truck, the bus ran over a divider. The injured were admitted to various hospitals. The driver cited fog as the reason behind the collision. — PTI
30 kids among new flu cases
New Delhi, December 28
There were no fresh deaths due to swine flu in the Capital but at least 68 more people were infected with the contagious virus on Monday, the authorities said. "We have reports of 68 fresh cases of swine flu of which 30 were children," Anjana Prakash, deputy nodal officer in charge of swine flu in Delhi, said. — IANS