Cong not junior partner: Soz
Jammu, January 5
On the completion of one year of the coalition government in the state, Pradesh Congress Committee (PCC) chief Saif-ud-Din Soz today asserted that his party was not a junior partner in the regime.
Constable killed in blast
Srinagar, January 5
A constable was killed in a blast in the joint-interrogation centre in Baramulla today.The police hasn't come out with any conclusive statement on the origin of the blast.However, sources said the blast seemed to have been triggered by some explosives kept in the centre.
Get ready for GST, Rather tells industry
Jammu, January 5
The Union government will hold a two-day meeting of the Empowered Committee of State Finance Ministers on January 7 and 8 to discuss suggestions and queries put forth by the representatives of various trade and industry organisations on the new tax regime of goods and service tax (GST).
Traders protest against police
Jammu, January 5
Traders at Nehru Market today protested against the police for letting loose the thieves that the shopkeepers of the area had caught while stealing the items from a shop late last night.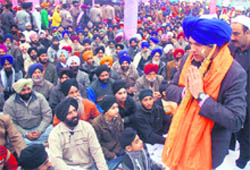 Gurpurb celebrated with fervour
Jammu, January 5
A large number of Sikh devotees gathered at Gurdwara Sri Guru Nanak Dev ji, Chand Nagar, Jammu, to celebrate the birth anniversary of 10th Sikh Guru Gobind Singh today.Defying the chilling cold, people from different walks of life started gathering in gurdwaras from early morning to offer prayers to the Guru.

Chief Minister Omar Abdullah greets devotees after getting siropa during the Gurpurab celebrations in Jammu on Tuesday. A Tribune photograph

Citizenship Rights to Refugees
Bring legislation in Assembly, BJP to Congress
Jammu, January 5
After Pradesh Congress Committee (PCC) chief Saif-ud-Din Soz assured to solve problems of the West Pakistani refugees, leader of the BJP Legislature Party Chaman Lal Gupta today asked the ruling Congress to bring legislation in the Assembly for grant of citizenship rights to them.
No headway in lecturer's death case
Jammu,January 5
Mystery shrouds the death of Dr Vankim Chander, a contractual lecturer with the Department of Statistics, University of Jammu who allegedly immolated himself at his residence in Muthi on Sunday night.
Tributes paid to CPM leader
Jammu, January 5
Tributes were paid to senior CPM leader and social activist Om Trisal on his second death anniversary. A function was organised by the state unit of the CPM which was attended by a cross section of people.
Forum activists interact with varsity faculty
Jammu, January 5
Activists of the National Secular Forum (NSF) who have been protesting against the "lax" examination section of University of Jammu visited different departments today and interacted with the faculty and students over the issue of marks tempering and mass copying.
Set up tribal affairs ministry, demand Gujjars
Jammu, January 5
A deputation of the Akhil Bharatiya Gurjar Mahasabha, Jammu and Kashmir chapter, called on Governor NN Vohra at Raj Bhawan here yesterday and presented a memorandum of demands to him.
WARM COMFORT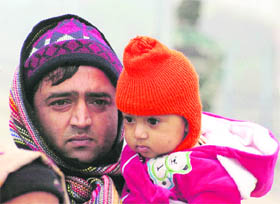 A man with his baby wrapped in woollens in Jammu on Tuesday. Tribune photo: Anand Sharma
School timings changed
Jammu, January 5
All government and private schools will start functioning one hour late from tomorrow.
National highway reopens
Srinagar, January 5
The 300-km-long Srinagar-Jammu national highway reopened to traffic today after traffic was suspended on it following snowfall and rain two days ago. The traffic was allowed to move from Srinagar and Jammu this morning, after the stranded vehicles on the highway were cleared yesterday.
Free eye-cum-medical camp held
Udhampur, January 5
As part of Operation Sadbhavna, the Sky Rippers Regiment on behalf of the Northern Command AD Brigade organised an eye-cum-medical camp at Ghordi village in Udhampur.