M A I N N E W S
NRIs may cast votes in next Lok Sabha poll: PM
Ashok Tuteja
Tribune News Service
New Delhi, January 8
Hailing the 'great contribution' made by the Indian diaspora in changing India's image abroad, Prime Minister Manmohan Singh today announced that his government was taking steps to see that overseas Indians were able to cast ballots in the next Lok Sabha elections to be held in 2014.
"I recognise the legitimate desire of Indians living abroad to exercise their franchise and to have a say in who governs India. We are working on this issue and I sincerely hope that they will get a chance to vote by the time of the next regular general elections,'' he said formally inaugurating the Pravasi Bharatiya Divas at the Vigyan Bhavan here.
He wondered why more overseas Indians could not return home to join politics and public life as they were increasingly doing in business and academia.
Nearly 1500 delegates from more than 50 countries are participating in the three-day conclave, hosted annually by the Overseas Indian Affairs Ministry and the CII.
Noting with a sense of regret that successive governments have not been able to deliver in full measure on the enormous promise and potential of the country, the Prime Minister said he recognised the frustration well-wishers of India feel when they lament why things don't work faster or why well-formulated plans and policies don't get implemented as well as they should be.
"It is probably true that we are a slow moving elephant but it is equally true that with each step forward, we leave behind a deep imprint. There is a price that we pay in trying to carry all sections of our people along in national development. It is perhaps a prize worth paying,'' he added.
Each citizen should feel that his or her voice was heard and have a sense of participation in national development. This was the only way to accommodate the enormous diversity of opinions and interests in the country. "It is also this characteristic that makes our democracy so vibrant.''
Describing India as one of the top investments destinations, Manmohan Singh said economic opportunities were expanding everywhere in the country. Overseas Indians, however, while being good savers, tend to be somewhat conservative investors. More remittances were placed in bank deposits. Foreign direct investment in India by overseas Indians was low and far short of potential, he said, urging overseas Indians to take a careful look at long-term opportunities now on the horizon in the country. Talking about global economic recession, the Prime Minister observed that India had weathered the crisis quite well.
He sought the active involvement of the Indian diaspora in accelerating the pace of economic and social development. ''In this context, it is important that we make efforts to connect the second generation of overseas Indians with their ancestral heritage and involve them actively in India's march forward.''
PM: Security of Indians overseas a priority
Ashok Tuteja
Tribune News Service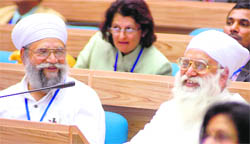 Sikh NRIs at the inaugural session of the 8th Pravasi Bharatiya Divas in New Delhi on Friday. Tribune photo: Mukesh Aggarwal
New Delhi, January 8
Prime Minister Manmohan Singh today chose the Pravasi Bharatiya Divas forum to express his anguish over the continuing racial attacks on Indian students in Australia.
"The security of our overseas workers and students is a top priority of my government," he said while addressing the three-day meet.
The PM's remarks came a day after External Affairs Minister S M Krishna advised Indian students to avoid going to Australia to pursue irrelevant courses.
The Australian authorities have so far not been able to give a convincing reply to India as to why the attacks on Indian students were continuing despite the measures they claim to have taken to address the issue. Yesterday, the Foreign Minister had also met Australian High Commissioner to India Peter Verghese and got a briefing on the steps being taken by Victoria police to bring to book the criminals who murdered Nitin Garg, a resident of Punjab.
India has also formally sought from Australia complete statistics regarding the number of attacks on Indians as also the statistical breakdown. New Delhi has also asked Australia to keep in place the series of measures already promised by the Australian authorities like better policing and better surveillance in crime-prone areas until such time as the attacks cease, and the Indian community in Australia was reassured about its safety and security.
Meanwhile, the PM said the government was also conscious of the need to structure an appropriate 'Return and Resettlement Fund' and was working on a project to provide a social security safety net for the Indian workers.
Union ministers woo NRIs with promises
Ajay Banerjee
Tribune News Service
New Delhi, January 8
A slew of Indian Union Ministers today collectively wooed non-resident Indians. They showcased how India was one of the top three hottest investment destinations in world, promised lucrative infrastructure bonds and listed out possible sectors for investment like telecom, manufacturing, technology transfer and skill building.
Delivering the keynote address at an "Interaction with Union Ministers: Diaspora- Interests and Concerns", Finance Minister Pranab Mukherjee said India could achieve 9-10 per cent growth and that the diaspora had an important role to play in this. The session was part of the three-day Pravasi Bharatiya Diwas organised by the Ministry of Overseas Indian Affair and the Confederation of Indian Industry. Union Minister of Commerce and Industry Anand Sharma announced with a flourish, "We have arrived and I can say with all confidence."
"The country had attracted the highest foreign direct investment and the foreign institutional investment. India will be the land of greens (a word for the US dollar) and I have no doubt in mind on that," the minister said as the visiting NRIs clapped in glee.
Union Minister of Road Transport and Highways Kamal Nath set the ball rolling by saying that last decade was decade of IT and this would be a decade of Infrastructure. One of the key financial shortfall was for infrastructure. He emphasised on the need for bridging this deficit and also on need for inclusive growth, he said building roads would help achieve both objectives.
Roads that traverse across country would help generate economic activity across country and create wealth. He said the target was to build 7,000 km of road every year. He added that for this a work in process investment of US $ 50 billion was required, which was an investment opportunity for the Indian Diaspora.
Latter addressing a press conference, Union Minister for Overseas Affairs Vayalar Ravi said infrastructure bonds would be issued. No target had been fixed on the revenue the government expects from these bonds. The country needs an investment of some US $ 430 billion in roads and ports.
Addressing the session, Adviser to Prime Minister of India Sam Pitroda said opportunities for the diaspora existed in the areas of information technology, knowledge and innovations, in India.