A couple makes idols of Goddess Saraswati in view of the forthcoming Saraswati Pooja, at Zirakpur on Monday.
Tribune photo: Nitin Mittal


Models during a fashion show at the Tagore Theatre in Chandigarh on Monday. Tribune photos
Southern sectors sans basic amenities
Chandigarh, January 11
High-level reviews for the development of infrastructure of southern sectors and allocation of crores of rupees for their upgrading by the Municipal Corporation (MC) authorities, have failed to change the face of the area.


Cold wave tightens grip
Chandigarh, January 11
The city continued to be in the grip of an intense cold wave even today with the day temperature remaining well below normal.



Warm Gesture: Shakti Rani Sharma, chairperson of the Indian Council for Social Welfare, distributes blankets to the needy in Kajheri village on Monday (Left) and a watchman tries to keep himself warm in Chandigarh (below) People return home in a three-wheeler after a day's work on the Chandigarh-Ambala highway. Tribune photos: Pradeep Tewari and Nitin Mittal/; and a cyclist braves the cold weather. Tribune photos: Vicky Gharu and Nitin Mittal


MC to train youths in plumbing
Chandigarh, January 11
The Chandigarh Municipal Corporation has started a plumber-training programme for the youth living below the poverty line for making them self-dependent. The project is being undertaken under the Swaran Jayanti Shahri Rozgar Yojana.
Admn to control fish population in Sukhna
Chandigarh, January 11
The Chandigarh administration has decided to control fish population in Sukhna Lake.
Industrial plots' conversion to get UT nod
Original allottees to be bigger gainers
Chandigarh, January 11
Original allottees of plots in the union territory's Industrial Area stand to be the major gainers as compared to GPA holders while seeking conversion of their leasehold property into freehold entities. An original allottee will have to pay Rs 16.2 lakh per 1,000 square yards for conversion of leasehold to freehold property while a GPA holder will have to shell out Rs 35.1 lakh for conversion of a plot measuring the same area.
Sector 57 gets hotline connection to waterworks
Mohali, January 11
Thousands of residents will now heave a sigh of relief by getting adequate water as the Punjab State Electricity Board (PSEB) has provided a hot line connection to waterworks in Sector 57 here, therefore ensuring uninterrupted power supply to the waterworks which earlier faced power cuts.
Property row involving Cong MLA takes new turn
Mohali, January 11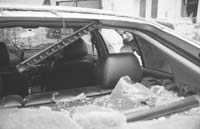 Investigations by the police into the dispute over possession of a section of a one kanal house in Phase 3B2 between Amandeep Singh, a close associate of Congress Kharar MLA Balbir Singh Sidhu, and Shinder Singh, state secretary of the human rights wing of the Punjab Pradesh Congress Committee, have revealed both had bought a disputed property and were trying to wrest control over part of the house on the basis of registry documents.
Shinder Singh shows his damaged car in Mohali on Monday. Tribune photo: Vicky Gharu
Cong forms panel to decide Babla's fatePradeep Sharma
Chandigarh, January 11
Caught in a Catch-22 situation over jailed party councillor of the Municipal Corporation of Chandigarh (MCC) Devinder Singh Babla, the local unit of the Congress today broke its silence and constituted a five-member committee to decide the fate of its senior leader.
BJP district No. 2 poll put off
Chandigarh, January 11
There seems to be no end to factionalism in the local unit of the BJP.
Sufiana kalaams soiree enchants audience
Chandigarh, January 11
The spiritual sanctity of invocatory renditions, mystical grandeur of Sufiana kalaams and romanticism of ghazal, all weaved into melodic recitals marked the Sham-e-Qawwali organised by the Pracheen Kala Kendra at their mini auditorium today.
Rotary Club honours HK Dua
Chandigarh, January 11
Pointing out at the depletion of nation's valuable energy in solving domestic issues like casteism, communalism and Naxalism rather than using them to become a superpower in the 21st century, HK Dua, Editor-in-Chief, Tribune Group of Publications, delivered a thoughtful address during the felicitation ceremony organised by the Rotary Club, Chandigarh, in Sector 18 here today.
Red Ribbon Express to reach city in Oct
Chandigarh, January 11
Home-cum-Health Secretary Ram Niwas today chaired a meeting of the executive committee of the Chandigarh State AIDS Control Society (SACS).
3,953 administered polio drops
Mohali, January 11
On the second day of the national pulse polio campaign, the polio drops were administered to 3,953 children below five years of age during a door-to-door drive carried out by 298 volunteers at 22,000 houses in the city here today.


Save heritage buildings for better marks
Chandigarh, January 11
The CBSE students can now score better marks by taking any initiative to protect and maintain various heritage buildings in the city.
Yash Pal urges varsities to be self-regulatory
Chandigarh, January 11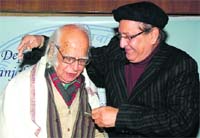 Urging universities to take a firm stand on its internal conflicts, Prof Yash Pal, former director of UGC, and chancellor of Jawahar Lal Nehru University, today inaugurated the national seminar on- 'Relevance of Philosophy in the Era of Science and Technology' at the ICSSR Complex Seminar Hall, Panjab University.

Prof Yash Pal being honoured by PU Vice-Chancellor RC Sobti in Chandigarh on Monday. A Tribune photograph
PUSU students call off hunger strike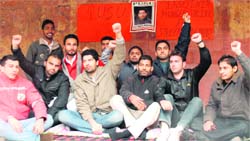 Chandigarh, January 11
Amid drama at the Law department in Panjab University here today, the demands of PUSU students were agreed upon by the university administration.


PUSU students sit on a hunger strike at the department of law, Panjab University, Chandigarh. Tribune photo: PradeepTewari
Animation institute inaugurated
Chandigarh, January 11
Finance Secretary Sanjay Kumar yesterday inaugurated a training institute, Animation Live.
Nishant shines in declamation contest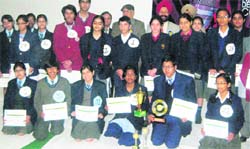 Panchkula, January 11
The first prize was bagged by Nishant Ojha, Government Model Senior Secondary School, Sector 35, Chandigarh, at Surya National Declamation Contest held at DC Model Senior Secondary School here today.


Winners of the Surya National Declamation Contest at DC Model Senior Secondary School in Panchkula on Monday. A Tribune photograph