Congress rolls out figures, ridicules INLD claim
Sushil Manav
Tribune News Service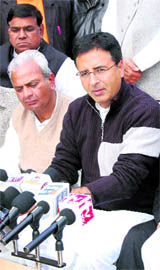 Haryana Minister Randeep Singh Surjewala at Kagdana on Tuesday. Photo: Amit Soni
Ellenabad, January 12
Responding to the challenge thrown by INLD candidate Abhey Singh Chautala, the Congress today gave details of development activities taken up by the governments headed by Om Parkash Chautala and Bhupinder Singh Hooda in Sirsa and Ellenabad.
Abhey Singh Chautala had pooh-poohed Hooda's claim that his government had spent Rs 1120 crore in Sirsa and Rs 270 crore in Ellenabad and offered to pull out of the contest if this claim was found correct.
He had demanded Hooda's resignation in case the latter was proved wrong.
Haryana minister Randeep Singh Surjewala today claimed that a sum of Rs 722 crore would be spent in Sirsa by the end of 2010-11 on strengthening power supplies in the district, whereas Chautala had spent only Rs 190.54 crore on the same.
He said the government had already spent Rs 411.32 crore out of this amount.
"The Chautala government set up four 33-KV substations at Sirsa, while the Hooda government has set up 14 sub- stations of which three fall in Ellenabad," Surjewala maintained, while addressing mediapersons at Kagdana village.
"The Chautala government released 2,871 tubewell connections in Sirsa, while we have released 13,528 out of which 3,103 are in Ellenabad. As many as 3,194 transformers were installed under the Chautala regime, while 11,741 have been installed under the Hooda regime, 6,234 in Ellenabad.
"Our government released 19,247 connections to BPL families on priority under Rajiv Gandhi Gramin Vidyutikaran Yojana, including 5,060 families from Ellenabad. No such move was initiated by the Chautala government."
The Congress would release figures spent in Sirsa and Ellenabad by other departments in the course of its campaign, he announced.
"We urge Abhey Singh not to withdraw from the contest as we want Ellenabad voters to deliver their verdict," Surjewala observed sarcastically.
Sampat Singh, Congress MLA from Nalwa, also released details of money spent by the Congress government in Ellenabad during the past more than four years and alleged the INLD was trying to mislead people.
"The Hooda government spent Rs 83.33 crore on power, Rs 58.18 crore on irrigation, Rs 44 crores on roads and buildings, Rs 15.04 crore from the Haryana Rural Development Fund, Rs 11.84 on technical education, Rs 3 crore on the judicial complex in Ellenabad and Rs 22.77 crore on rural and urban water supplies," he maintained.
He was talking to mediapersons at Nathusari Chopta.
Sushil Manav
Tribune News Service
Ellenabad, January 12
Former Haryana Chief Minister Om Parkash Chautala believes that Sirsa versus Rohtak will emerge the deciding factor on January 20 when Ellenabad goes to the polls.
Speaking in Chaharwala village, he said the people of Ellenabad had relegated all other issues to the backseat.
He alleged that Sirsa, Fatehabad and districts located on NH-1, where recovery of power bills was the maximum, were starved of power, while Rohtak with a poor record in the matter, was supplied maximum power.
He alleged the Congress has been making false claims on development of Sirsa and Ellenabad. "Figures being given by the Congress leaders are meaningless as these are all forged," he alleged.
"The Comptroller and Auditor-General report has cited bungling of hundreds of crores in power utilities and has exposed the misdeeds of the Congress leaders. So, of what meaning is such figures," he asked.
Accusing Randeep Singh Surjewala of alloting development works of his department to his chosen and untrained contractors, Chautala alleged sewer pipes were being installed in various parts without any foundation to siphon government money.
He said contractors from Rohtak had been duping the government by taking away soil worth crores from the bed of Ottu in Sirsa.
Chautala has been covering 12 villages of the constituency in a day and interacting with villagers, asking them to honour their promise to ensure the victory of his candidate by a margin bigger than his own.
He pleads with villagers to forget their grievances against the party, if any, and calls upon workers to bring the aggrieved ones to their fold.