Logistic strength
A course in logistics and supply chain management can open up a world of opportunities for job-seekers, writes Reena Ramachandran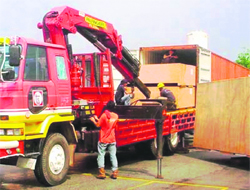 The rapid growth in international business and the consequent increase in cross-border movement of goods have led to the growth of the logistics industry. The key role played by the logistics industry in the economy of a nation is being recognised by everyone. The industry growth is driven by the setting up of firms that specialise in various facets of the logistics function like shipping; air cargo; warehousing; road transportation; freight forwarding; customs clearance etc. All the companies, specialising in one or more of the above mentioned areas, today offer exciting career opportunities to students with specialised training in the area of logistics and supply chain management.


Careercature
Sandeep Joshi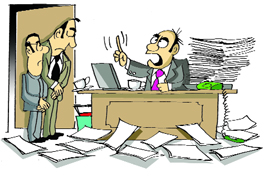 All of you should get organised and achieve business goals within specified time.
Rich in rewards
If you are good at problem solving, have a mathematical bent of mind and reasoning ability, then economics is the right subject for you, writes Usha Albuquerque
Many students when called upon to make their subject selection for the Plus II stage choose sciences through default. The responses often are: " I don't know anything about commerce, or economics, and I don't like humanities". Yet commerce and economics are subjects that every individual deals with from an early age ever since we start to buy goods and services or think about money matters. In fact, as is sometimes mentioned — economics is the science of commerce.
Career Hotline
Options for bank professional


Q. I'm a manager in a nationalised bank. My 16-year-old son is autistic. At this point he requires a lot of time and attention from me which I'm unable to give due to my current job. My working hours stretch from 9 am to 7.30 pm. I have done B.Com (H) from DU and M.Com from Rajasthan University, followed by CAIIB from IIBF. I also have a flair for teaching and IT. I want to know if at this age (I'm 46), I have some other options where I could spare the second half of the day exclusively for my son.
ON MY own
Art of managing money


Finance management is the backbone of organisations be it corporates, business houses or financial institutions. As much as it is a crucial aspect of a successful and profitable business, financial management yields a number of job options ranging from strategic financial planning to sales. With the inflow of more and more Foreign Institutional Investors (FIIs) in India and existence of market regulator Securities and Exchange Board of India (SEBI), finance and stock market sector has emerged as an exciting field with a plethora of professions branching out.

OFFICE Mantra
Root out JEALOUSY
Psychological research reveals that more than 50 per cent workers are secretly jealous of their co-workers. Jealousy — a combination of anger and wounded pride — can be very destructive at workplace.
Happiness @ work
Gems of ancient wisdom
Too much, too fast
The cause of constant irritation for many of us is that we are in a hurry to accumulate comforts or reach somewhere. Inflated salaries and easy-instalment schemes have fuelled this hankering further.