Downhill march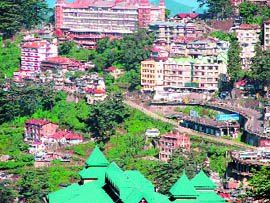 Lack of proper civic amenities and infrastructure has hit the sale of flats in industrial areas in Himachal Pradesh, writes Rakesh Lohumi
Despite visible signs of recovery in economy, the slowdown in the housing sector continues in Himachal Pradesh. The private colonisers who descended on the hill state in hordes following the opening of the sector are now a disappointed lot.


State capital Shimla also suffers from a lack of proper civic amenities to cater to the growing needs of residents
Tale of two IT cities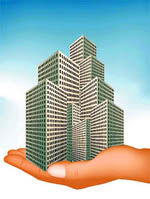 Bangalore IT sector is in purchase mode, but Hyderabad is cautious
It is mixed sentiments for some players in the real estate industry as IT sector in Bangalore trundles back on purchase mode but Hyderabad displays a cautious sentiment owing to the current political situation. "The IT customer is back on track", Sunil Mantri, Chairman of the Sunil Mantri Group, a leading real estate firm in the IT city, said. "The IT employee is back to buying properties", he said while stating that in its to be launched project on Sarjapur road, out of the 100 bookings 90 per cent were IT employees. "An IT employee who was worried about his job and cuts in salary and had gone slow on purchasing decisions, is now back trying to purchase," he said.
TAX TIPS
Exemption on second house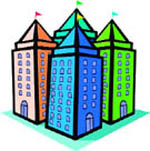 Q. I have two houses. The one purchased earlier is being used for self-occupation and the later one, which has been acquired in April 2009, has been let out. These were purchased out of my own funds as well as borrowing from bank. I have duly informed my office regarding the acquisition of these two houses. On going through the computation of deduction of Income-tax at source I have observed that interest being paid on the loan borrowed for the second house has not been taken into account. The deduction in respect of self-occupied house has been allowed to the extent of Rs1,50,000. Am I not entitled to deduction in connection with the borrowing for the second house?
Gifting compensation amount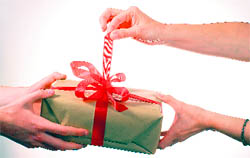 Q. Agricultural land owned by my brother was compulsory acquired by the Punjab Government for public purpose. The land was not the ancestral property of my brother rather it was self-acquired property. In 2007, my brother got enhanced compensation amount of Rs 30 lakh from the Court. Now he wants to gift the entire amount to me with the consent of his family members i.e. wife, son and daughters. So kindly advise me:
Deduction on self-occupied house
Q. I own a flat in Delhi that is self-occupied. My parents are also living in the said house. I have another flat in Chandigarh where I am working. The flat in Chandigarh has been financed partly by bank loan. The total interest paid on the loan for Chandigarh flat is about Rs 2.5 lakh. Am I entitled to the deduction of full amount of Rs 2.5 lakh against income from Chandigarh property?
Expenditure on repairs
Q. A part of my building has been acquired compulsorily by the Municipal Authorities for the purposes of widening the road. The acquisition of such part has led to a substantial damage to the other part. The same requires to be repaired and a very large amount will have to be spent to carry out the repair work. The compensation received may not meet the expenditure of such repair. Is it possible to claim deduction in respect of such expenditure against the compensation so received?
Circle rate and CG computation
Q. I am intending to sell my residential house situated in Hisar city and buy a residential flat in Faridabad. I am informed that for the purposes of computation of capital gain the circle rate will be taken as the rate for computing capital gain. Is the information so given to me correct?
Tax on insurance claim
Q. We are a partnership concern and are manufacturing packing boxes. The factory building and the machinery were completely destroyed in a fire that broke out on account of short circuit. Is the amount received from insurance company with regard to the destruction of these assets exigible to capital gains tax? I am advised that there has been some change in law, which brings such an amount to taxability.
GREEN HOUSE
Exotic treat
Strange is the world of plants and insects. However, whatever we know about plants and insects at present is not even a small part of what actually exists in Nature. Every year on the occasion of flower festivals one comes across new species. There is wealth of species hiding in the wilds.
Fortnightly Alert
If the shining sun is any indication, the weather may start getting warm in the next few days. So, all those who have deciduous fruit plants like peach, plum, pear, phalsa, grapes, mulberry etc. should rush to meet the pruning requirements of the plants. Once the plants sprout, this operation cannot be carried out. Those who want to plant these species should also hurry and get the saplings planted. For pear and grapes you may delay a bit as they are the last to sprout.