Bad strokes
With the World Cup only a few weeks away, hockey fans want all controversies resolved at the earliest and India to regain its lost glory, writes Prabhjot Singh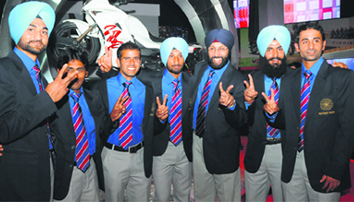 Subversive controversies marring elections to the unified Hockey India, incomplete stadia and national players alleging a step-motherly treatment sum up the dismal scenario just six weeks before India holds the prestigious World Cup. It could not have been worse.
Will the victory sign come true for India? Photos: Mukesh Aggarwal

A Disney heroine like none
Guy Adams on Tiana, the first ever African-American black cartoon princess, who is all set to hit UK
Our heroine is young, wholesome and effortlessly beautiful. Tiana works hard, smiles sweetly, and flutters her eyelashes a lot. After a series of unlikely events, she ends up marrying her Prince Charming. Then, we must presume, everyone lives happily ever after. So far, so normal, in the cotton-candy nature of fairytale romance, but do not be fooled. This leading lady is tearing down cultural barriers.
Say it with flowers
Triloki Das Khandelwal condemns the use of flowers for displaying wealth
A flower is beauty epitomised. While flowers are often used by people to greet one another, the devout use these in temples to pay obeisance to gods and deities. Notwithstanding varied ideologies and styles of life, this 'beautiful and tender creation of nature' reminds human beings to be kind and loveable.
Dhoti pants a rage
The traditional Indian dhoti for men has been adapted by women, says Radhika Simon
Yes, trouser options for women have gone multifold this year. Indian designers have gone a step further and, as though harem pants were not enough, they re-invented dhoti pants, and one key silhouette that is getting prominence are dhoti pants for women. Sorry guys, what was traditionally your drape is now gracing women's wardrobes.
We have not received Mannika Chopra's column Teleprompt this week