UN to launch Haiti emergency appeal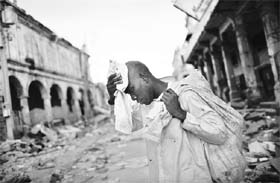 A man walks through a destroyed street after Tuesday's earthquake in Port-au-Prince.
— Reuters
United Nations, January 16
United Nations will launch an emergency appeal for $ 560 million to help the approximately three million victims of the devastating earthquake that hit the Haiti on Tuesday.
The funds would be used for urgently needed food, medical supplies, water and tents following the quake that devastated the poor Caribbean island nation of nine million people.
The majority of the funds will go for providing immediate relief while somewhere between $ 20-50 million will be used for longer term priorities like health, sanitation, agriculture and emergency education.
"Most of this money will go to urgent needs: food and water are in critically short supply," UN Chief Ban Ki-moon told journalists here.
"Given the number of people in the streets, without homes, we must provide shelter….we need tents, and more tents," he added.
"We urgently need medical supplies and, even more, emergency medical personnel."
UN's Emergency Relief Coordinator, John Holmes, noted the amount of the flash appeal was a first estimate based on preliminary information and could be revised in three weeks.
According to Holmes, the total international relief pledges so far are $ 360 million and some of these will go towards the appeals and other will be given bilaterally.
Meanwhile, United Nations spokesperson Martin Nesirky said 37 UN personnel have been confirmed dead and 330 remain missing from about 12,000 people working for the world body's all operations in Haiti.
There is no clear picture of the number of casualties that are speculated to be in the thousands. Holmes noted that around 27 search and rescue teams on the ground were "busting a gut" to find persons who were buried under the rubble.
Noting that each report on the devastation was seemingly worse than the last, the Secretary-General said that the first 72 hours were critical for recovering people alive and the equipment to move the heavy concrete was still needed.
"Preliminary estimates from our UN emergency teams show widespread damage to infrastructure in Port au Prince and other affected areas, with as many as 50 per cent of buildings in the worst-hit areas damaged or destroyed," Ban said.
"A high proportion of the 3 million people in the capital area are without access to food, water, shelter and electricity," he noted. — PTI