Pak intruder killed
Jammu, January 17
The BSF today claimed to have foiled an infiltration bid by killing a 25-year-old intruder in the RS Pura sector.




BSF and police officers examine the scene in the RS Pura sector where an intruder from Pakistan was shot dead . — PTI
Grenade Attack on Union Leader's House
Joint action committee calls for strike
Srinagar, January 17
The Employees Joint Action Committee (EJAC) has called for an indefinite strike in all government offices in the state from tomorrow in support of its demand for investigation in the case of grenade attack on its leader's house.


Women wait outside a kerosene depot in the Bawa area in Jammu on Sunday. Photo:Inderjeet Singh
Vohra mourns Basu's death
Jammu, January 17
Jammu and Kashmir Governor N.N. Vohra has mourned the death of former West Bengal Chief Minister Jyoti Basu, who died in Kolkata today.
Sikh body protests govt inaction
Jammu, January 17
A large number of people carried out a rally under the banner of the Nirbhow Nirvair Organisation (J&K) at Karan Bagh Chowk on the Airport road here today. They were protesting against the state government for not submitting the Ansari Commission Report.
Terrorism-hit to hold protests
Jammu, January 17
The Terrorism Affected People's Front (TAPF) has decided to organise conferences at all tehsil levels from February 2 to February 15 and will also organise dharnas on February 22 on the beginning of the joint session of the State Assembly and Legislative Council to mobilise public opinion in support of their demands.
R-Day Parade
State tableau to promote handicrafts
Jammu, January 17
The state tableau in this year's Republic Day parade will showcase a wood-carved hut, a big copper samawar and a life-like sculpture with traditional folk music in the backdrop as it will pass through Rajpath.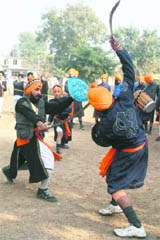 Youths play 'gatka' during a programme organised by the Dashmesh Akhara Gatka Party in Jammu on Sunday. Photo: Inderjeet Singh
Panun backs demand on UT status for Ladakh
Jammu, January 17
A meeting of the supreme council of the Panun Kashmir (PK) was held here today under the chairmanship of Dr Agnishekhar.
Six injured in clashes
Srinagar, January 17
At least six persons were injured as violent clashes between groups of youth and the police rocked several parts of the city and Sopore township.
SPO shot at, injured
Jammu, January 17
A Special Police Officer (SPO) with the Jammu and Kashmir police, Daleep Singh, was shot at allegedly by his father,Shanker Singh, over a minor land dispute at their house in Tirayath village in Rajouri district today,the police said.
Villager hurt in 'accidental' firing
Jammu, January 17
A villager was severely injured when he was "accidentally" hit by a bullet at the Army firing range in the Pargwal sector last evening.
'Need for coordination between intelligence agencies'
Jammu, January 17
To take stock of prevailing security scenario, the Counter Insurgency Force 'Romeo' organised joint operations and an intelligence-sharing conference at its headquarters here today.
One more tests positive for swine flu
Jammu, January 17
One more person has tested positive for swine flu in the state, taking the total number of cases in the state to 66, health officials said today. Four persons have died due to swine flu in the state so far.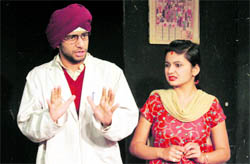 Punjabi play 'Doctor Palta' staged
Jammu, January 17
The Hindustani adaptation of the famous Punjabi comedy play 'Doctor Palta' was staged at Natrang Studio Theatre in the weekly theatre series 'Sunday Theatre', here today.



A scene from a play, 'Doctor Palta', presented at Sunday, Theatre, Jammu, on Sunday. A Tribune photograph
Hearing in Rajnish case on Jan 19
Srinagar, January 17
Anchal Sharma,aka Amina Yusuf, widow of Rajnish Sharma of Jammu ,who was allegedly killed in police custody a few months ago, appeared before a Magistrate here yesterday to record her statement.
Respite from cold
Srinagar, January 17
People of the state had some relief from biting cold this morning as the night temperature increased by a few notches due to cloudy skies.