CBI asks Rathore to join probe
Chandigarh, January 18
After recording the statements of the Girhotras and Anand Prakash and his family last week, the CBI has served a notice on former Haryana DGP SPS Rathore to join investigation in the Ruchika molestation case.
At 5.2 °C, city colder than Shimla
Chandigarh, January 18
Once again, Chandigarh remained colder than Shimla with the minimum temperature touching 5.2 °C in the city while Shimla recorded 5.6 °C today. Even Patiala and Ludhiana were warmer than Chandigarh with the minimum temperatures being 8.4 °C and 7 °C, respectively.



Social worker at 16
Chandigarh, January 18


At 16, Jaimeet Singh has achieved what others only dream of. A Class XI student of commerce at Vivek High School, Jaimeet has done the city proud by winning the Global Scholar Education World Young Achievers Award for social work. A state-level basketball player, he has been involved in social work ever since the neighbourhood kids decided not to burst crackers on Diwali years ago.
Jaimeet Gandhok

Sanjay Tandon new city BJP chief
Chandigarh, January 18
On the lines of having a younger national president, the BJP's local unit today elected 46-year-old 'young turk' Sanjay Tandon, son of former Punjab minister and BJP veteran Balramji Dass Tandon, as its head. However, his "unanimous" election as president was not a smooth affair with intense lobbying preceding the election at a meeting of the party's 'core committee'.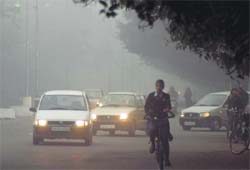 Fog throws life out of gear
Chandigarh, January 18
The city and its surrounding areas remained enveloped in fog today, affecting normal life. All flights from the city were cancelled while trains ran behind schedule due to speed restrictions.


A girl on way to school at 7:50 am in Chandigarh on Monday. Tribune photo: Manoj Mahajan
Property tax imposition a tall order for Chatrath
Chandigarh, January 18
Property tax imposition remains the biggest challenge before Mayor Anu Chatrath, who took charge of the office recently. In spite of a clear stipulation by the Centre, particularly in reference to the Jawaharlal Nehru National Urban Renewal Mission (JNNRUM) programmes, the UT has not been able to implement the same.
Cops working on various theories in murder case
Chandigarh, January 18
The Chandigarh police is analysing various clues, including tracking of victim Shashi Sharma's mobile phone, to achieve a breakthrough in the gruesome blind murder case. The killer(s) slit the victim's throat with such precision that it hinted that they could be professional.
Protest by UT staff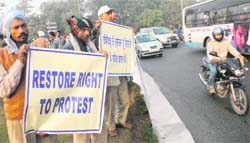 Chandigarh, January 18
The coordination committee of the Chandigarh administration and municipal corporation employees stage a protest by forming a human chain at the cricket stadium roundabout in Sector 16 today.
Members of the co-ordination committee of UT administration and MC employees hold a protest at the Sector 16-17 roundabout in Chandigarh on Monday. Tribune photo: Pradeep Tewari
Abortion due to wrong medication
Woman seeks action against chemist
Mohali, January 18
A resident of Phase III-B2 has complained to the managing director of the Punjab Health Systems Corporation that her foetus got aborted after she was allegedly given wrong medicine by a drug store.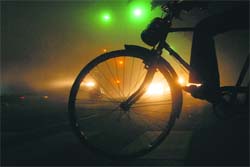 A cyclist waits for a chance to cross the busy road separating Sectors 9 and 10 in Chandigarh on Monday evening. Tribune photo: Vinay Malik
Traffic diverted for bridge widening
Panchkula, January 18
In order to remove the bottleneck on the road separating Sectors 7 and 18, the HUDA authorities have started widening the bridge near housing board chowk here today. While a slab on the bridge was laid today, the traffic from Panchkula to Chandigarh on the road was diverted through the road separating Sectors 17 and 18. The road, however, would be opened for the vehicular traffic tomorrow.
Housefed blames GMADA for delay
Mohali, January 18
The managing director of Housefed, Punjab, has blamed the Greater Mohali Area Development Authority (GMADA) for failing to provide sewerage connection and other public health facilities for the two plots it had sold more than six years ago leading to a huge loss to Housefed as well as its member allottees.
'Preferred posting' scam
3 inspectors record statements
Mohali, January 18
In the "preferred posting" scam of the Punjab Police, three inspectors today recorded their statement before the investigating officer here today.
Chided, Ashiana agrees to admit girl
Panchkula, January 18
Taking a U-turn, the Ashiana management has agreed to admit an orphan after officials from the social welfare department held meetings with the guardian of the child and officials from the home for destitute.
Brahma Kumaris pay homage to founding father
Mohali, January 18
Intensive meditation and public programmes to radiate vibrations of peace and goodwill were organised by Brahmas Kumaris today to pay homage to the institution's corporeal founding father Prajapita Brahma on his 41st ascension anniversary.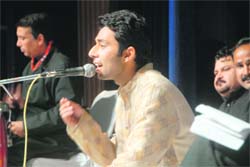 Musical tributes paid to Saigal
Chandigarh, January 18
"Aisa koi fankaar-e-mukkammal nahin aaya, naghmon ka barasta badal nahin aaya, sangeet ke mahir to bahut aaye hain, par doosra koi Saigal nahin aaya."




An artiste performs at the Randhwa auditorium in Chandigarh on Monday. Tribune photo: Vinay Malik
CITCO hotels' sales up 45 pc
Chandigarh, January 18 Duping fears of the global recession denting their business and earning prospects, the three CITCO-owned hotels in Chandigarh have posted more than 45 per cent increase in their sales in the three quarters of the fiscal year 2009-10.


Biz school interviews
Chandigarh, January 18
Preliminary interviews and group discussions for the management courses of IFM (The Institute of Finance and International Management) Business School will be conducted locally on January 20, a press note issued here said today.
Primary classes reopen
Chandigarh, January 18
After almost a month's break due to the chilly and foggy weather, the primary classes in the city schools finally re-opened today.
PU to check inflated mark assessment
Chandigarh, January 18
Panjab University will no longer accept internal assessment marks of a student if there is a difference of more than 20 per cent in the final examinations and internal assessment.
PU VC to be honoured
Chandigarh, January 18
Sri Guru Gobind Singh Study Circle, PU, will honour Panjab University Vice-Chancellor Prof RC Sobti at the ICSSR complex on Tuesday.