All-women police station in Mansa soon: IG
Mansa, January 20
"Punjab police is committed to maintaining peace in the state and criminals would be dealt with strictly,'' said IG Patiala range Parmjit Singh Gill while addressing media at Mansa today.
Grievances committee meeting
Abohar, January 20
Most of the senior officials preferred to despatch their juniors to face the complaints expected to be made by the non-official members during the quarterly meeting of the sub-divisional grievances committee here last evening, sources said.
Transparency in implementation of NREGA scheme sought
Bathinda, January 20
Demanding requisite daily wages for the labourers, the joint front of rural and agriculture workers' organisations today asked the state government to implement the NREGA scheme in a transparent manner. The demand was made at a meeting held in the Teachers' Home here today under the presidentship of a labour leader Ami Lal Bahilarr Mehma.
City's only multiplex awaits viewers
Bathinda, January 20
With occupancy of seats ranging between 12 to 30 per cent every show, the newly-constructed multiplex, the Big Cinemas of the Reliance group, here is thirsty for viewers.
Six died, 12 tested positive for swine flu in two months
Bathinda, January 20
During the past more than two months, as many as 12 persons from this district had been tested positive for swine flu while 18 had been tested negative. The district health authorities had sent the samples of throat swab of these 30 patients to the PGI, Chandigarh, to test it for the flu.
Woman, daughter killed in road accident
Faridkot, January 20
A woman and her 11-year-old daughter were killed while her husband and uncle were seriously injured when the car in which they were travelling rammed into a tractor-trailer probably due to fog at village Golewala on Faridkot-Ferozepur road, about 20-km from here, late this evening.
4-month-old female foetus found in Moga
Moga, January 20
A four-month-old female foetus was found abandoned lying near a railway track in the heart of the Moga town this morning.
GPF irregularities at Goniana school
Clerk booked, four principals under cloud
Bathinda, January 20
In the recently exposed Rs 2.5 crore General Provident Fund (GPF) scam in the Government Senior Secondary (Girls) School, Goniana, sleuths of the Vigilance Bureau (VB) have booked a clerk while four principals have come under the scanner.
Two FCI staff get 5-year jail term
Faridkot, January 20
The Chief Judicial Magistrate (CJM) of Faridkot DP Singla has sentenced two employees of the Food Corporation of India (FCI) to a jail term of five years and also imposed a fine of Rs 5000 on each of them in an eight-year-old case of criminal breach of trust by them being public servants.
Tributes paid to martyr
Abohar, January 20
Scores of citizens assembled at the Veer Haqikat Rai Chowk here on Tuesday to pay homage on Balidan Divas. Pramil Kalani, president of Sanatan Dharam Sabha, was followed by patron of the organisation Mahabir Prasad Kanodia, councillor Vimal Thathai, Vikram Garg and others in garlanding the lifesize statue of the great martyr.
Bhikhi National College clinch title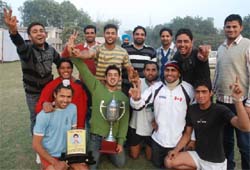 Bathinda, January 20
The National College, Bhikhi, clinched the title of the Inter College Punjabi University Circle Style Kabbadi Championship by defeating the host, Rajindra College, Bathinda, in a nail-biting final held at the college stadium today.




Jubilant teammates of the National College, Bhikhi, after lifting the trophy in Bathinda on Wednesday. Tribune photo: Pawan Sharma