SC, ST members protest with animals
Jammu, January 20
An unusual protest took place in the city today when activists of the All India Confederation of SC/ST Organisations marched behind cows, buffaloes, camel and horses, all the while beating drums and raising slogans against the state government.
IED defused in Mendhar
Jammu, January 20
A major tragedy was averted today when jawans of the 37 Rashtriya Rifles found an improvised explosive device (IED) in the Mendhar area here today. The Mendhar police said the Rashtriya Rifles personnel found an IED planted near the Dak Bungalow area of Mendhar at about 10 a.m and immediately informed senior officers.
Quash drivers' selection list: Khajuria
Jammu, January 20
Charging the coalition regime with bias against the Jammu region, the BJP today regretted that the state government had been following the previous government in giving preferential treatment to the members of a particular faith and the residents of a region.
Omar govt has failed on all fronts: PDP
Jammu,January 20
Terming the National Conference led-coalition regime as a failure on all fronts, vice- president of the Peoples Democratic Party (PDP) Trilok Singh Bajwa today said Chief Minister Omar Abdullah had been repeating the same blunders which were committed by earlier National Conference regimes.
Miscreants break into bank, burn account books
Jammu, January 20
Some persons broke into a bank at Phalaian Mandal village in Satwari late last night and burnt account books. However, they did not touch the cash lying in the strongbox. A dog squad inspects the scene where miscreants broke into a bank in a village in Satwari on Wednesday. Photo: Inderjeet Singh
Desist from ceasefire violations: Omar to Pak
Swankha (Samba), January 20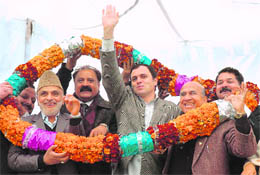 Expressing concern over recent incidents of ceasefire violation on the International Border (IB) and the LoC, Chief Minister Omar Abdullah today asked the Pakistani authorities to desist from such activities as such acts would spoil peaceful atmosphere in this region. He further said it was in the interest of Pakistan to reciprocate peace initiatives of India rather than creating hostility.

Chief Minister Omar Abdullah and other party leaders being felicitated during a National Conference rally in Samba on Wednesday. Tribune photo: Anand Sharma
'No report of land occupation by China'
Swankha (Samba), January 20
Chief Minister Omar Abdullah today endorsed the Army's stand on Chinese incursion in Ladakh and said: "as far as the undisputed territory is concerned, we have no report about occupation of land by China".
I was forced to marry Rajnish, says Anchal
Srinagar, January 20
Anchal Sharma, aka Amina Yusuf, widow of Rajnish Sharma who recorded her statement in the court of the Chief Judicial Magistrate here yesterday alleged she was forcibly taken to Jammu by Rajnish and his three friends in August last year, where she was forced to marry Rajnish and made to sign a number of papers.
MC staff call off strike
Srinagar, January 20
Employees of the Srinagar Municipal Corporation today called off their strike after the government gave them assurances that their demands would soon be redressed.
Police Post
Students boycott exams in protest
Jammu, January 20
In protest against the proposal to set up a police post on the campus, at least five students of Jammu University boycotted semester exams today. The Progressive Students Association maintained that its secretary Rozi boycotted the exam. She was joined by students of the Law Department Rohit Sharma, Arif, Ajay and Ruhaniyat Jamwal.
Women's panel gets chairperson
Jammu, January 20
The J&K State Commission for Women has finally got a chairperson after remaining headless for seven years. An official note said MLA Shamima Firdous would be the chairperson of the commission and would enjoy the status of a Minister of State.
Sopore peaceful
Srinagar, January 20
After days of violent protests, life in Sopore town of Baramulla district returned to normal today. Violence had erupted in the apple rich town last Friday after militants attacked a police station in which a civilian and a policeman were killed. "The situation in the town returned to normal today after five days of violent protests," said a police officer.
Havildar commits suicide
Jammu, January 20
A havildar in his mid-forties committed suicide by shooting himself with his service weapon in the Kaluchak Army area here today.
Man held with charas
Jammu, January 20
A 28-year-old man was arrested with one and a half kg charas at Nagrota here today. The police said the accused had been identified as Shalu Ram of Udhampur.