M A I N N E W S
Power boost to Bathinda rail link
Cabinet nod to electrification of Rohtak-Bathinda-Lehra section
Girja Shankar Kaura
Tribune News Service
New Delhi, January 21
The freight and passenger traffic on Rohtak-Bathinda-Lehra Muhabat section of Northern Railways is set to increase with the government today approving the electrification of the stretch at a cost of Rs 215 crore.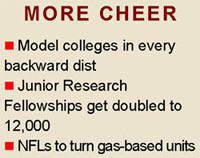 The approval came at the meeting of the Cabinet Committee on Infrastructure headed by Prime Minister Manmohan Singh. The project will be completed within a period of five years.
A statement released after the meeting said on completion of the electrification work, goods trains would be able to go right up to the thermal power plants at Kattar Singh Wala and Lehra Muhabat in Punjab. Electrification from Rohtak to Shakurbasti in the Capital is already under progress.
The electrification will also help decongest the already saturated Delhi-Ambala-Kalka section, enabling movement of freight traffic through the Rohtak-Bathinda link.
The CCI also approved the electrification of Shoranur-Mangalore-Penambur section of Southern Railways at a cost of Rs 302.50 crore. The project work is expected to be completed by 2014-15, benefiting the states of Kerala and Karnataka. This will also facilitate faster movement of goods and passenger traffic on the Penambur-Mangalore-Kannyakumari section. The two projects would be undertaken by the Central Organisation for Railway Electrification, Allahabad.
In a separate decision that would immensely benefit the science students, the government has decided to double the number of scholarships for doctoral studies in science.
The Cabinet has approved a proposal for increase in the number of Junior Research Fellowships (JRF) through CSIR-UGC National Eligibility Test (NET) in the country.
"The main objective of the JRF-NET is to identify talented students, who could be enrolled for PhD programmes in specific science domains," a government spokesman said.
The CSIR had decided to offer 6,000 JRFs during the Tenth Plan period. The total cost of providing fellowships to around 12,000 students in the Eleventh Plan is estimated at Rs 444.34 crore. It would also help address the issues related to shortage of scientific manpower in the country, added the spokesman. In a move that would bring more cheer to the education sector, the government approved setting up of model degree colleges in the 374 educationally backward districts of the country.
There was also an approval for conversion of three National Fertiliser Ltd plants to gas-based units at an investment of over Rs 4,000 crore. The Cabinet Committee on Economic Affairs also allowed income tax exemption to subsidies given to these projects.