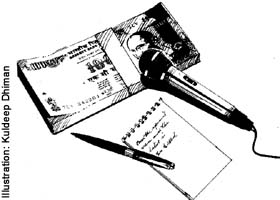 THE practice of paid news is not a recent phenomenon. It was blatantly evident in the recent Assembly and Lok Sabha elections. It has been there all along coverage of corporates also. Earlier, it was limited to a few journalists, and covertly. It has now become an overt and institutionalised affair as if there is nothing unusual or deviant about.
It has now reached the proportion of being described as the "fourth estate on sale". This practice is no longer limited to smaller or regional language news media, but happening all across news media. Like "overzealous advertisement managers". There are also overzealous journalists. This practice, if not addressed now, would become formally overt as a normal course of news media's function.
It is difficult to define "paid news". It could also be described as "quid pro quo news". It may be better to describe the phenomenon as "unfair" or "camouflaged" news or ad. It may not always be possible to establish something as unfair or camouflaged. But it should be possible to develop a methodology even without "circumstantial evidence".
There could be an independent monitoring and analysis arrangement in a transparent way for six months period before an Assembly poll. An Advertising Standards Council of India-like arrangement could be mobilised by the Press Council of India (PCI) and the Election Commission together. Various bodies like the Indian Broadcasters Foundation should also be involved in formulating guidelines. But we should not wait for a consensus.
The much talked about political reforms, particularly electoral reforms, are yet to see the light. In the meanwhile, it is too well known how money and media power in electoral politics of the country has been on increase. Now "note for vote" phenomena nationwide too has been brought out. Thus, transparency by way of disclosures both by political parties and contesting candidates is important.
The Election Commission measures to restrain money power and media power should be viewed as within its purview. In a democracy, both "free and fair elections" and "free press" are equally important. Each should sustain the vibrancy of the other.
The situation calls for protective measures and corrective initiatives by news media themselves on their own and in their own interest and by other stakeholders in the civil society. No single initiative or measure could curb such deviant behaviour. A combination of them is required in the spirit of "checks and balance". The best bet of course is a more active audience and citizenry.
However, in the absence of such sustained activism, three pronged efforts are needed — first from within news media themselves, individually and as a Fourth Estate institution. Secondly, professional bodies like academics, independent research and civil society groups. Thirdly, regulatory agencies like the Press Council of India, Election Commission, Information Commission, and Telecommunications Regulatory Authority of India (TRAI), etc.
There are corporate instruments, not editorial. Discussions on pros and cons of this syndrome need to be encouraged so that more reliable / relevant criteria could be evolved in such a way that the credibility of the news media is retained.
The practice of disclosure should happen at two levels. One, by the news media to state conflict of interests in the course of news coverage or presentation. The media should also disclose its own ethical code or standards. It should indicate the responsible person for such disclosures periodically, like Readers' editor, ombudsman or a panel of internal and external experts.
The disclosure should also be of revenues, linkages with other industries/ corporates shareholding in other media. The disclosure should be built into the reporting pattern just as the Mint daily has been doing for a couple of years. The news media, for example, should report on its own how much space/time it has devoted to commercials in the previous quarter or six months. Editors too could disclose their assets voluntarily and periodically in their own interest.
There is need for redressal arrangements. Complaints about any aspect of media operations have positive implications, on contents. There should be some provision for readers/ viewers to "write back" or "talk back" and for an explanation in turn by the person responsible in the news media. The Readers Editor of The Hindu has set a good precedence of taking note of complaints and explaining where necessary as he did in the case of paid news phenomenon.
The news media should promote such an arrangement so that readers/ viewers are aware of it. This is over and above what the state agencies are expected to do. In the more specific context of paid news during elections, the Election Commission should be both proactive and also take on measures to curb such practices on its own and preferably with the Press Council of India.
Academic bodies, independent research agencies and civil society groups should be encouraged to monitor media contents and articulate their views from time to time. Several such independent media watch groups are needed in the country. Basic data based on trends as space/time for advertisements and the kind of analysis of ad contents is essential for preventive initiatives. The Centre for Media Studies has been doing this. In fact, way back in 1995, it described "Marketing media not mass media". And in 2001 it brought out a publication for the first time Paradigm shifts in media.
Professional bodies engaged or associated with news media in various capacities like the Editors Guild, the Advertising Standards Council of India, journalists' associations, the Indian Broadcasters Foundation, etc should take initiative towards a more responsible and accountable news media. This could be done by setting up their own panel as the Editors Guild of India did in the case of paid news and codes or guidelines for their members particularly on conflict of interest.
State bodies like the Press Council of India, Information Commissions, TRAI, and the Election Commission need to be proactive. Only then they could play their role. But their taking up deviation of individual news media is equally important.
The Press Council should come up with guidelines after involving the media across the country (even if a consensus is not possible) and the Election Commission should take the responsibility to implement the same.
The media should be brought under the RTI Act so that some accountability comes into media operations and management.
Government media campaigns other than on specific occasions should be discouraged six months before the elections. Real time counselling service to individual journalists, leaders, candidates in specific situations how they should go about in a given context. This counselling could be by an independent body but specialised like the Press Council, Centre for Media Studies, etc.
Guidelines for news media on poll coverage, however broad they may be, should be formulated. Both television channels and newspapers should be viewed together as to their coverage of the candidates, parties, issues and the campaign together.
There should be limits on advertisements either in terms of percentage of space or time or in terms of percentage of revenue from commercials. But it may not be legally sustainable. This could be a voluntary and industrial effort.
In addition, advertisements of all kinds should be positioned distinctly to demark from the edited space/time the same way as facts and comments.
Pay news or practice of camouflaged news or advertisements is not limited to election time. It is not something new in 2009 Lok Sabha elections. The practice has been there in so many different contexts and for much longer too.
It is not always possible to isolate such coverage. Circumstantial evidence may not always be possible. Nonetheless, guidelines can be evolved for effective monitoring and analysis. By not taking cognisance even when brought to their notice, the concerned agencies have failed and professional bodies went along. The malaise is much deeper.
As free and fair elections are as important as a free and independent press, correctives are needed in our electoral process too. The issues involved need to be addressed holistically. The cleaning wounds approach would only have a temporal effect.
The writer is Founder Chairman, Centre for Media Studies Academy of Communication and Convergence Studies, New Delhi