Notorious criminal in police net
Patiala, January 25
Seventeen days after he escaped from the police custody, Patiala cops today managed to nab notorious criminal Praveen Kumar Pandit.
Non-teaching employees strike work
Patiala, January 25
Members of the Punjab and Chandigarh Non-teaching Employees' Union struck work and staged a dharna in front of the principal's office at Modi College, Patiala. They were protesting against the non-implementation of the Fifth Pay Commission recommendations for the non-teaching employees of the private colleges.
Book trust holds programme
Patiala, January 25
The National Book Trust of India, along with the department of youth welfare, Punjabi University, Patiala, organised a literary programme on the university campus today.
Stress on preserving environment
Patiala, January 25
Presiding over the valedictory session of the national conference on "Recent advances in chemical and environment sciences (RACES-2010)", Vice-Chancellor of Rajiv Gandhi National University of Law, Patiala, Dr Gurjeet Singh on Saturday stressed on the role of judiciary in the preservation of environment.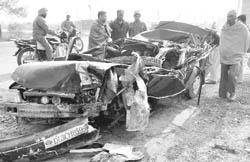 Accident claims two lives
Kharar, January 25
Two persons got killed in an accident when a car rammed into a stationary truck near Saneta village on the Banur-Landran road.





The vehicles involved in an accident at Saneta village on the Banur-Landran road on Monday. Tribune photo: Vicky Gharu
Pre-recruitment camp for Army aspirants
Fatehgarh Sahib, January 25
A pre-recruitment camp for Army aspirants will be held at the District Sainik Welfare Office here from February 14. Stating this here recently, District Sainik Welfare Officer Col Sudhanshu Kumar Randev (retd) said besides physical training, a written test would be conducted for the aspirants.


HC sets targets for district courts
Chandigarh, January 25
Following the guidelines issued by the Punjab and Haryana High Court, the litigants in the district courts can now expect speedy disposal of their cases.
Defence wants NCB ex-sepoy summoned
Chandigarh, January 25
The case involving Israeli national Lior Avi Ben Moyal under the NDPS Act has taken a new turn, with the defence today moving an application under Section 311 of the CrPC for summoning Paramjit Singh, former Narcotics Control Bureau (NCB) sepoy, as witness.


2 injured in road mishap
Zirakpur, January 25
Two women were injured after a car driver got fits and rammed the car into a divider on the Chandigarh-Ambala National Highway here this evening.
Two cases of stabbing in city
Chandigarh, January 25
Two persons were injured in separate incidents of stabbing in the city. Ram Kishore of Gurusagar Sahib Colony, Maloya, reported to the police that his neighbour Ranbir Singh, along with his brothers Rajbir Singh and Mahabir Singh, assaulted and stabbed him near his residence last night.
Three held for vehicle theft
Mohali, January 25
With the arrest of three members of a gang of vehicle thieves, officials of the CIA wing and the Kharar sadar police station have claimed to have solved several cases of vehicle theft in the district. Several stolen vehicles and spare parts of vehicles, valued at Rs 8 lakh, were recovered.
3 youths held for snatching
Chandigarh, January 25
The police arrested three youths on the charges of snatching a jacket and a wallet of two students.


Pace Riders book berth in semis
Chandigarh, January 25
All-round performance by Parvesh Sharma helped the Pace Riders beat Punjabi Tigers by seven wickets to enter the semifinals of the first U-13 Tricity Premier League (TPL) Cricket Tournament being held at Banyan Tree School ground, Sector 48, here today.
GMSSS-19, Carmel script facile wins
Chandigarh, January 25
Government Model Senior Secondary School, Sector 19, and Mount Carmel School, Sector 47, trounced Swami Ram Tirtha Public High School, Mohali, and Sri Aurobindo School, Sector 27, respectively, in the Times Cremica Inter-School Tournament held here today.
SGGS Khalsa College emerge champs

Chandigarh, January 25
SGGS Khalsa College, Mahilpur, won the Panjab University Football (men) A-Division Championship, while GHG Khalsa College, Gurusar Sadhar, SGGS College, Chandigarh, and BAM Khalsa College, Garshankar, bagged the second, third and fourth positions, respectively.
A player of the SGGS Khalsa College, Mahilpur, on his way to score a goal against the SGGS College, Chandigarh, during the PU Inter-College Football Tournament on Monday. Tribune photo: Pradeep Tewari
Six selected for civil services tennis meet
Chandigarh, January 25
A six-member tennis team has been selected by the Chandigarh sports department to participate in the six-day All-India Civil Services Tennis Tournament to be held at the Secretariat Sports Club, Old Secretariat, Patna, from January 28.
Skating trials from today
Chandigarh, January 25
Trials to select probables for the 47th National Speed Skating Championship (sub-junior, junior and senior) for boys and girls to be held in Nagpur from February 3 will be conducted by the Chandigarh Roller Skating Association from January 26.