Sell potato crop early, experts tell farmers
Nainital, January 29
A team of agriculture scientists of Gobind Ballabh Pant University of Agriculture and Technology at Pant Nagar has advised farmers to sell their potato crop immediately after harvest as there is no chance of an increase in prices for the next two months.
17 milch animals perish in fire
Haldwani, January 29
As many as 17 milch animals are learnt to have perished while another 11 have sustained injuries in a fire at Kusumkheda near here.
Forward trading behind price rise: BJP
Dehradun, January 29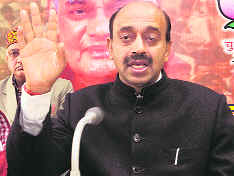 Bhartiya Janata Party's national general secretary Vijay Goel has sought a check on forward trading on food grains terming it as responsible for fueling price rise in the edible commodities market. At a press conference in sate BJP office, Goel said the speculation and futures trading in essential commodities have a direct impact on inflation and thus needs to be curbed.
Vijay Goel, national general secretary of the BJP, addresses a press conference in Dehradun on Friday. A Tribune photograph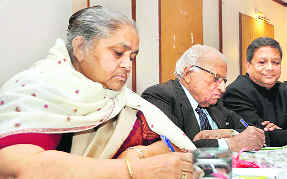 SC commission holds public hearing
Dehradun, January 29
Distribution of caste certificates, filling up of backlog vacancies and Hanol temple episode found mention in the National Scheduled Castes Commission initiated public hearing today in Dehradun.
Members of the National Scheduled Castes Commission hold an interactive session in Dehradun on Friday. A Tribune photograph

Ministerial staff's meeting with admn today
Dehradun, January 29
Two failed meetings with the administration have further frustrated the agitating employees of the Uttaranchal Federation of Ministerial Services Association, who have been on a strike for the past 19 days.
Guru Ravidas Jayanti
Governor, CM extend greetings
Dehradun, January 29
Margaret Alva, Governor of Uttarakhand today greeted people on the occasion of Guru Ravidas Jayanti, which will be celebrated tomorrow.
Youth commits suicide
Dehradun, January 29
A youth, who was in his early twenties, allegedly committed suicide by consuming poisonous substance at Tunwala, Raiwala, here today. He was reportedly tense over not being returned the money he had lent to the family of his beloved.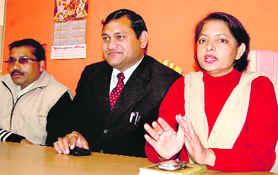 Bar Council suspends advocate
Dehradun, January 29
The Uttarakhand Bar Council today suspended the license of advocate Sanjay Sharma, who had allegedly abused and misbehaved with district judge Indira Ashish during the hearing of a rape case on Thursday.
Razia Beig, president of the Uttarakhand Bar Council, addresses a press conference in Dehradun on Friday. A Tribune photograph

35 farmers of Roorkee honoured
Roorkee, January 29
Five farmers of the area have received the Kisan Bhushan title while 30 farmers have been conferred the Kisan Shree title by the Agriculture Minister under a programme for the Extension Reforms Scheme here recently.
BJP forms working committee
Dehradun, January 29
The state BJP today announced its 51-member working committee that includes 19 permanent invitees.