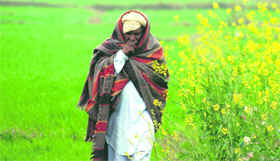 A farmer in a field in the RS Pura sector on Friday. Rain across Jammu ended the dry spell, bringing relief to the farmers in the region. Tribune photo: Anand Sharma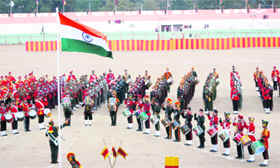 A military band performs during the Beating the Retreat in Jammu on Friday. Photo: Inderjeet Singh

Agnishekhar coordinator of poets' conference
Jammu, January 29
Noted Hindi poet and senior leader of the Panun Kashmir Dr Agnishekhar has been appointed as event coordinator of the Fifth International Poets' Conference on issues like exile, trauma and survival of uprooted communities in view of the conflict. The conference is scheduled to be held at Mysore next month.
Traffic on Jammu-Srinagar highway suspended
Srinagar, January 29
Breaking a long dry spell, the Kashmir valley and its upper reaches received moderate to heavy snowfall since last night, which led to the suspension of traffic on the 300-km-long Srinagar-Jammu National Highway due to heavy accumulation of snow around the Banihal Tunnel. The valley had witnessed the first snowfall and rains on January 3 early this month, while the dry weather conditions prevailed throughout the season.
Hand over NHPC projects to state: CITU
Jammu, January 29
The state unit of the Centre of Indian Trade Unions (CITU) has demanded the handing over of Dulhasti, Salal and Uri hydroelectric projects being managed by the National Hydroelectric Project Corporation (NHPC) to the state in lieu of losses suffered on account of the Indus Water Treaty.
Local student to lead NCC cadets to Nepal
Jammu, January 29

Nekha Khajuria of GGM Science College here will lead a delegation of NCC cadets to Nepal for the NCC Youth Exchange Programme. A press note says Nekha is part of the exchange programme for which proficient NCC cadets are selected after an extensive test and sent on tour to other countries.
NCC cadets who returned to Jammu on Friday after ending the basic leadership course at Wadhwa in Maharashtra. The cadets secured the first position in the cultural competition. A Tribune photograph

Centre 'warned' against restoring pre-1953 status
Jammu, January 29
Vision Kashmir, a newly formed organisation of displaced Kashmir Pandits ,has warned the Centre against restoring the pre-1953 status to Jammu and Kashmir and also cautioned that any such attempt would prove disastrous for ethnic and religious minorities in the state.
Rewards for wards of serving cops
Jammu, January 29
In recognition to the high academic merit of the children of serving police personnel, DGP Kuldeep Khoda today sanctioned a reward of Rs 5,000 each in favour of 32 students.
PDP has emerged as voice of people, says Mehbooba
Jammu, January 29
Buoyed over joining of Choudhary Hussain Ali Bafwa, Bahujan Samaj Party (BSP) general secretary, in her party, PDP president Mehbooba Mufti today asserted that her party had become voice of the people of the state as the ruling coalition had badly failed to come up to the expectations of the common masses. She said the people had realised that only the PDP could fulfil their wishes and aspirations.
Vohra, CM greet people on Guru Ravi Dass Jayanti
Jammu, January 29
Governor NN Vohra has extended warm greetings to people on the auspicious occasion of Guru Ravi Dass Jayanti.
Security to be beefed up for Shivratri
Jammu, January 29
Keeping in view threats from militants, the authorities have decided to deploy additional security forces during the three-day Shivratri festival at the holy cave of Shiv Khori in Reasi district.
3 Army men killed in mishaps
Srinagar, January 29
Three Army personnel, including a Junior Commissioned Officer (JCO), were killed and as many injured in two road accidents in the state today. JCO Mira Singh and Lance Naik MS Maheske were killed and three soldiers injured when a vehicle of 11 Engineering Regiment of the Army skidded off the road near Khardonga, in Leh district, a police spokesman said.
Clerk held for taking bribe
Srinagar, January 29
The State Vigilance Organisation here today arrested a judicial clerk, Tehsil Office, Srinagar, who was caught red-handed while accepting a bribe for the issuance of the copy of an acquittal order.