| | |
| --- | --- |
| IN THE TWILIGHT ZONE: Two men taking a walk are silhouetted by the setting sun in Chandigarh on Monday. Tribune photo: Pradeep Tewari | The setting sun gives the impression of a street lamp that's on. Tribune photo: Nitin Mittal |
Chill returns
Chandigarh, February 1
After a brief respite, chilly winds returned today, with the minimum temperature falling by 2 °C in the city. The minimum temperature was recorded at 6.8 °C while the maximum temperature was 22 degrees.
Administrator for prompt grievance redress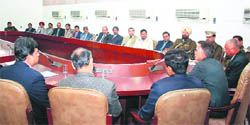 Chandigarh, February 1
The Chandigarh administration will adopt a positive attitude in dealing with various problems of the general public and initiating development projects in the city, Punjab Governor and UT Administrator Shivraj V. Patil said here today.
First public hearing session in progress at the UT Secretariat in Chandigarh on Monday. A Tribune photograph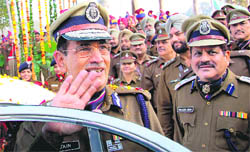 Goof-up mars DGP's farewell
Chandigarh, February 1
A goof-up due to 'indiscipline' marred the farewell parade of Director-General of Police (DGP) Shanti Kumar Jain today when he failed to meet mediapersons during the function.

Bidding adieu: UT DGP Shanti Kumar Jain waves to fellow policemen during a farewell parade at the Police Lines at Sector 26 in Chandigarh on Monday. A Tribune photograph
Patil honours NCC cadets
Were placed second in R-Day parade
Chandigarh, February 1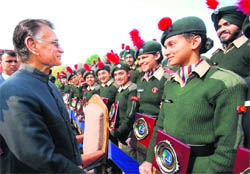 The Punjab, Haryana, Himachal Pradesh and Chandigarh NCC Directorate bagged the runners-up position at the national-level Republic Day Camp held in New Delhi in the month of January. As many as 17 directorates participated in the camp. This is the directorate's best performance in the past 34 years.
Punjab Governor Shivraj Patil with NCC cadets, who participated in the New Delhi Republic Day parade and Prime Minister's Rally, at Punjab Raj Bhawan, Chandigarh, on Monday. Tribune photo: S Chandan
Departments owe Panchayat Bhawan Rs 5.5 lakh
Chandigarh, February 1
The UT Guest House is not the only building when it comes to pending bills. The Panchayat Bhawan in Sector 18 has also to recover amounts from departments of the administration.
MC issues ad display guidelines
Chandigarh, February 1
The municipal corporation today issued Advertisement Control Act guidelines for the display of advertisement banners and boards to traders to avoid stringent action against them by the authorities.
Construction of 2,000 houses on hold
Mohali, February 1
The project related to the construction of about 2,000 houses for the economically weaker sections of society, announced by the Punjab Chief Minister more than a year ago, has failed to take off, as the Greater Mohali Area Development Authority (GMADA) is reeling under severe financial crunch.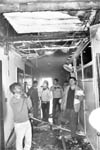 Fire engulfs HUDA office
Panchkula, February 1
Fire broke out at HUDA's office in Sector 6 here today, creating panic in the area. The fire, which reportedly erupted due to a short circuit, destroyed the duct of electricity wires on all four storeys of the building. The building houses the offices of the administrator, estate office, chief town planner and chief architect.

Fire brigade personnel and officials assess the loss at the HUDA's headquarters where fire broke out in Panchkula on Monday. A Tribune photograph
No lovers for portraits at National Gallery
Chandigarh, February 1
Despite repeated efforts of the UT administration to revamp and digitised National Gallery of Portraits, Sector 17, the gallery awaits visitors.
Punjabis more aware about safe sex than Haryanvis
Chandigarh, February 1
If the sale figures of condoms in this part of the region are an indication, Punjabis can surely be said to be more concerned about safe sex than their counterparts in Haryana.
Trends in joint replacement discussed
Chandigarh, February 1
Navigation in joint replacement surgeries has proved to be a boon to patients, as it helps in reducing post-operative problems in patients, says pioneer of computer-navigated surgery, Dr Frank Lampe from Germany.
Sale of adulterated vegetables goes unchecked
Zirakpur, February 1
Adulterated vegetables are on a rampant sale at Zirakpur and surrounding areas. The residents claimed that they had mostly bought the vegetables from local mandi or the vendors that comes at their doorsteps.
Sub-committees of MC constituted
Chandigarh, February 1
The city Mayor, Anu Chatrath, today constituted nine sub-committees for this year. All committees comprise of nine members. For the road committee, Resham Chand Jakhu has been appointed chairman and HC Kalyan vice-chairman while for the water supply and sewerage disposal committee, Vijay Singh Rana is the chairman and Ram Sumer Morya vice-chairman. The sanitation committee chairman is Sarita Sharma and Dr Neelam Malik is the vice-chairman.


| | |
| --- | --- |
| BIRDS OF A FEATHER FLOCK TOGETHER: Two swabs ebhit a swim at the Sukhna Lake in Chandigarh on Monday. Tribune photo: Manoj Mahajan | TASTE OF CHINA: After making a mark in the electronics industry, Chinese apples are invading the city market. A Tribune photograph |
Visa Woes
UK to act tough with private colleges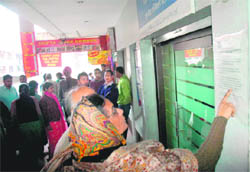 Chandigarh, February 1
After the quarterly report of Australia's immigration department related to increase in fraud cases due to private colleges, the UK government has been quick to identify the ripple effect.



Parents check the notice outside the UK visa application centre at Sector 8 in Chandigarh. Tribune photo: Manoj Mahajan
PU students condemn endorsements on campus
Chandigarh, February 1
Panjab University Campus Students' Council (PUCSC) opposed the policy of the university authority to promote the commercial activities on the campus.
Students exhibit talent at education fete
Mohali, February 1
In a unique social initiative, Quark Prayas, a community development initiated by a group of volunteers, provided a platform to students of underprivileged institutes in and around Chandigarh to exhibit talent by organising an education fête here.
Project on animals concludes
Chandigarh, February 1
Project Roar, a four-month project on animals, concluded with a wildlife exhibition at The British School, Sector 44, here today.
Workshop on women, research
Chandigarh, February 1
On the fifth day of the workshop "Capacity Building for Women Managers in Higher Education -Sensitisation, Awareness and Motivation (SAM)" held at Government College for Girls, Sector 42, Dr Shashi Kaul spoke on "Women and Research".
Career counselling week ends
Chandigarh, February 1
The career counselling week concluded at GGDSD College, Sector 32, today.
Session on cyber safety
Chandigarh, February 1
St Kabir School at Sector 26 conducted an interactive session for students on 'Cyber safety for kids online' here today.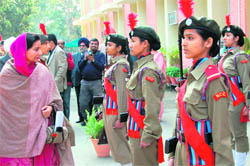 Founder's day
Chandigarh, February 1
Guru Gobind Singh College for Women, Sector 26, celebrated its founder day here today.





Preneet Kaur, Minister of State, External Affairs, Government of India, at the Guru Gobind Singh College for Women, Sector 26, Chandigarh. Tribune photo: S Chandan