Success Soiree
The booming animation industry provides a huge scope for those interested in this fascinating career, writes Usha Albuquerque
The recently released blockbuster film Avatar that has already surpassed Titanic as the highest-grossing movie worldwide is a mind-blowing 3-D experience of a futuristic war on a distant alien planet, full of lush environment and unparalleled special effects.
Careercature
Sandeep Joshi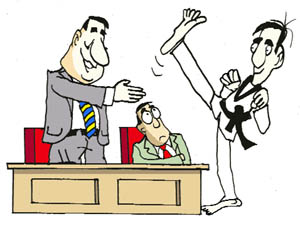 You are hired as personal manager. Your additional skills will be useful.
Industry Insider
Specialisation is the key
Naveen Gupta forayed into IT education in 2000, and later into animation and visual effects education with a major animation training brand, where he grew from a business partner to a master franchisee, and later into a dynamic leader heading the organisation as its Chief Operating Officer.
You are worth it
Rewarding yourself for a job well done is a good way to keep the morale and motivation high, writes Neha Kapoor
Suhasini, an employee working with an MNC, was handed over the charge of organising an event for the organisation. It was the first time that she had been given such a great responsibility involving coordination among diverse departments and diverse groups of people, besides management of money and materials. No doubt, she executed her responsibility with utmost dedication and devotion but the final day was not without its share of faux pas.
Career Hotline


Interest in astronomy
Q. I am in Class XII and wish to study astronomy. Can I study this subject at the Bachelor's level? What are the minimum qualifications required?
n Good demand for physicists
n Apt aptitude
n Guarding the coasts
n Ride high